Mohammad Amir has the skills he needs - notably his inswinger - and the nous to use it in the most effective way possible. In Twenty20 cricket, all it takes is a few balls to change the match

Shikhar Dhawan and Yuvraj Singh have never faced Mohammad Amir. And Suresh Raina and MS Dhoni have faced five deliveries each against him © Getty Images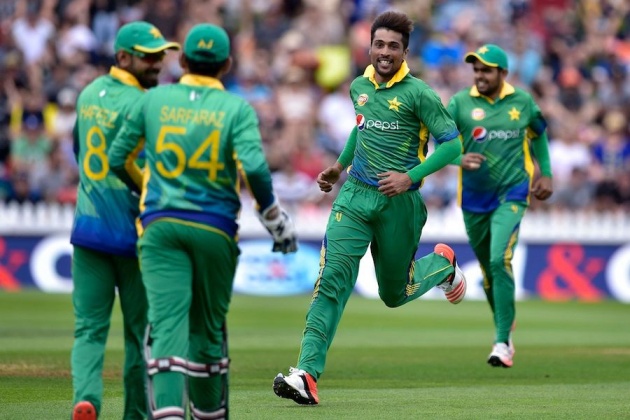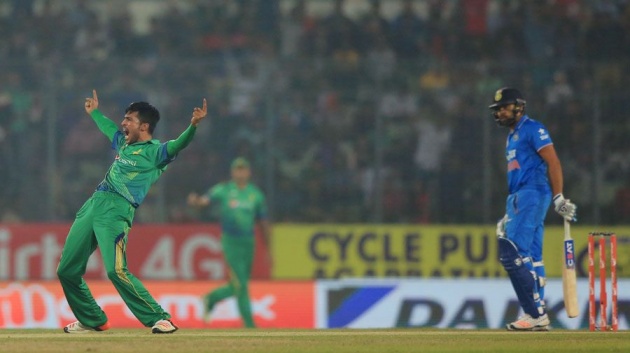 Mohammad Amir has only ever bowled 107 balls against Indian batsmen in international cricket. It is likely he will up that number by 24 on Saturday in Mirpur, as much as it is likely that he will finally get to land his first delivery on an Indian ground three weeks from now at the World T20.
Since his ban for spot-fixing in 2010, Pakistan and India have played only one bilateral series against each other. One-off meetings in multi-team tournaments rally the number of matches up to 12 over a period of nearly six years. That's almost as surprising as the fact that Amir, still only 23, is the second-youngest member of the Pakistan squad in the Asia Cup. He was the youngest when he debuted as a 17-year old in 2009. His talent was apparent and the romance was compelling. A teenaged left-arm fast bowler who generated prodigious swing with pin-point accuracy. It would have been one surprise too many if Amir's idol had not been Wasim Akram.
Several eventful years later, Amir had laid himself bare in an interview. He spoke of losing hope and his family helping him find it; of his growth as a person and the expectations he has for the future. It was then a casual reference that slipped out - the desire to become a legend. Amir's story certainly makes people sit up and notice. So that's a start.
Some see him as the young lad whose front foot strayed on captain's orders five years ago at Lord's. Others believe, at 18, he was old enough to know better. The Southwark Crown Court did and sent him to juvenile prison. Now we bring another faction of people that Amir's career timeline has created. Those who believe he has done the time for his crime.
The PCB falls into his category as it fast-tracked his return to international cricket. There were some wrinkles to handle before Amir got back into the Pakistan fold, but a picture taken in New Zealand, where he is bursting from laughter looking at Pakistan's one-day captain Azhar Ali, who hadn't been his greatest fan a few weeks prior, hints that all is well now. All of this puts a permanent spotlight on Amir. And now he is going to play an India-Pakistan match.
Amir was first in line at the fast-bowling nets in Fatullah. Umar Akmal was at the other end. After the luxury of a few warm-up deliveries, a trap was set in motion. Amir slid a few across the right-hander, dragging Akmal's feet in front of the stumps. Then came an indipper, which the surprised batsman just about fended away. Azhar Mahmood, a temporary consultant with the team, was watching from the umpire's position. Waqar Younis was a few paces to the right.
Amir kept running in, even as the next lot of Pakistan seamers began practice. Mohammad Hafeez was on strike now and the left-arm quick tempted him into driving away from the body. The ball pinged off the inside edge and crashed into the stumps.
None of this is to say he's going to be the only threat India will face on Saturday on a Mirpur track that has been partial to the fast bowlers at least during the Powerplays. Both Akmal and Hafeez in that very training session cut and pulled him with ease. This is Amir's second tour back with the Pakistan team; and he didn't particularly trouble the New Zealand batsman on his first. He took a PSL hat-trick earlier this month, but he must be anxious to now play India; the lengthy training session hints as much. Last month, Amir's coach Waqar had said he was "not at his best, but getting there."
The point simply is that Amir still has the skills he needs - notably the left-arm fast bowler's inswinger - and the nous to use it in the most effective way possible. In Twenty20 cricket, all it takes is a few balls to change the match.
India have not had much first-hand information about Amir. Shikhar Dhawan has never faced him. Yuvraj Singh has never faced him. In fact, from this squad, Harbhajan Singh has the most experience playing Amir - 11 balls. And he won't likely play tomorrow. Suresh Raina and MS Dhoni have faced five each, Virat Kohli six, Rohit Sharma seven.
India's top order has world-class batsmen in the prime of their careers. The threat of a slightly unknown entity does not deter them. "I have played Amir before," Rohit remembers, "but I am preparing for all of them. It's not about one individual. We have to be well prepared. We are up for the challenge and we will see what they have for us in store. I won't focus on one bowler. They have a good bowling attack, so we will take all of them seriously."
Not to mention India can turn around and say players like Dhawan, Yuvraj and Hardik Pandya not having faced Amir is an ace up their sleeve. All of it makes for a delightful story.
So when Amir runs in to bowl on Saturday, remember that he has dismissed Kumar Sangakkara twice in a Test. When Kohli takes guard, remember that he has the best average (minimum 500 runs) and the least dot-ball percentage (minimum 500 balls) in T20Is. And remember this is India-Pakistan cricket.