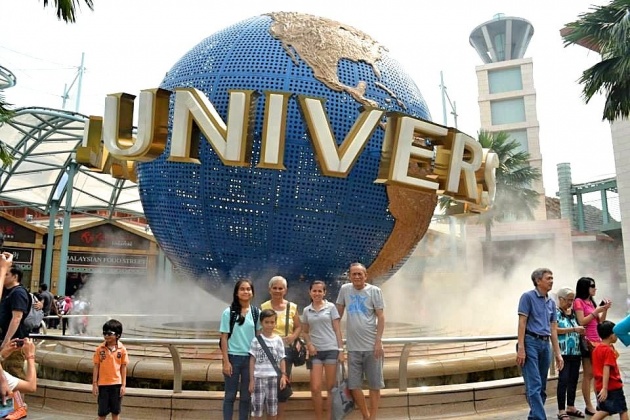 Iconic Universal Studios Rotating Globe / Photo Credit: Dimpsy
Always been in a trance of seeing the iconic rotating globe symbol of Universal Studios during girlhood days that I kept for so long. Standing in front of the iconic globe feeling the drizzle and haze was such a completion of my girlhood half-conscious state mind. I never imagined experiencing what's beyond the silver screens, meeting and greeting the stars and even took rides of some blockbuster films that I've seen. All these made possible and accessible at the Universal Studios Singapore (USS).
UNIVERSAL STUDIOS SINGAPORE
Universal Studios Singapore is the second Universal Studios theme park that opened in Asia next to Japan. The park promotes as "one-of-its-kind theme park in Asia". True to its marketing, Universal Studios Singapore as for me is one-of-a-kind adventure as I may commend it. Comparing it to Disneyland, Universal Studios is indeed a one-of-its-kind with regards to rides, shows, and attractions based on firsthand experience. Sad thing we cannot bring cameras during the rides during our time. But I think now it is allowed, I've seen more blogs and videos with their adventure rides.
7 THEMED ZONES OF UNIVERSAL STUDIOS SINGAPORE
As I mentioned in my recent submitted blog -- Sentosa Island, USS consists of seven themed zones. You will surely enjoy the different thrills and excitement that every zone has to offer. Various shops, restaurants, and movie-themed attractions that kids and kids-at-heart will surely love.
1. HOLLYWOOD
A Broadway-style theatre welcomes you at the main entrance of the park. Accompanied by several restaurants and refreshments, gifts and retail shops, and various attractions and entertainment shows. It's a replica of the well known Hollywood Walk of Fame where you get the chance to meet and greet the stars of Universal Movies like Wacky Woody Woodpecker, Marilyn Monroe, Minions and a lot more.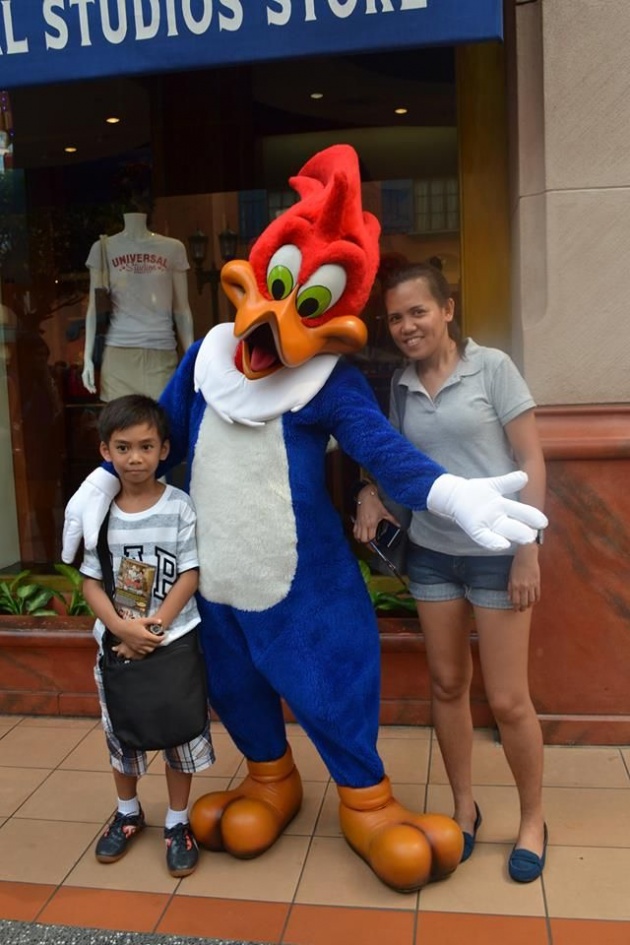 Wacky Woody Woodpecker / Photo Credit: Dimpsy
One star that I bumped into few steps away from the main entrance and had a meet and greet is Wacky Woody Woodpecker. A quick mandatory snap was then graced to us.
2. NEW YORK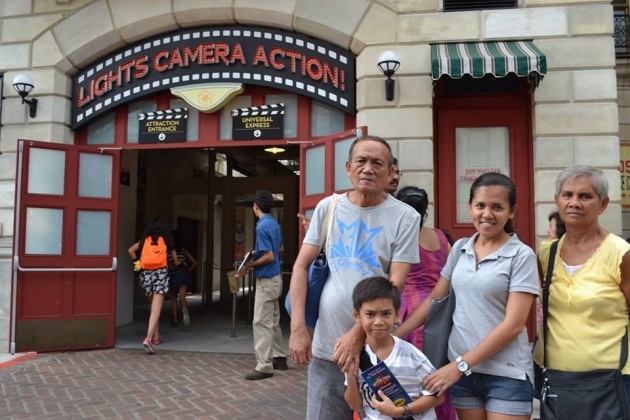 Lights! Camera! Action / Photo Credit: Dimpsy
A theme based on New York City during the 19th centuries era with classic landmarks and buildings as you walked on the streets. Here you can find the New York Public Library and one of the highlights of this zone is the show: Lights! Camera! Action!, hosted by Steven Spielberg. A mimic show about a hurricane that is bound to hit New York City. Special effects are being used while watching the show. You can evidently see how movie effects are created in a not so huge room. Thumbs up for the spectacular effects. I highly recommend the show as a must-see show. Impressive!
3. SCI-FI CITY
If you are a roller coaster lover then Sci-Fi City is for you. This is the home of the worlds tallest dueling roller coasters based on a 2004 American military science fiction television series -- Battlestar Galactica. It was not operational by the time we got here because of closure for maintenance purposes. The dueling roller coasters are Battlestar Galactica: Human -- a seated roller coaster ride for speed without inversions while the other one is the Battlestar Galactica: Cyclon -- is designed to have various inversions and maneuvers.
BATTLESTAR GALACTICA: CYCLON MANEUVERS

Cobra roll

Corkscrews

Vertical Loop

Zero-g roll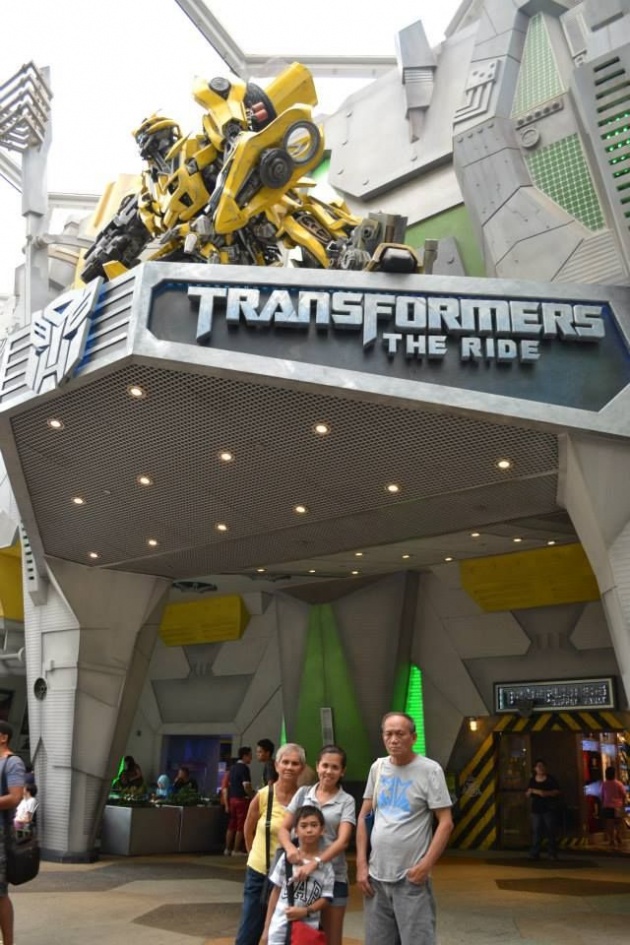 Transformers: The Ride / Photo Credit: Dimpsy
You can try out some other rides like Accelerator and Transformers: The Ride. The latter was my favorite ride among all rides. Not an avid fan of Transformers though but it was the best ride ever. A ride with wrap-around huge screens with realistic 3D-HD video throughout the ride and an added 4-D effects of fog, water spray, hot air, wind, and quakes that make it lifelike. Again, a must try in USS.
4. ANCIENT EGYPT
Discover the historical adaptation of Ancient Egypt during the Golden Age of Egyptian Exploration in 1930 in an enclosed steel roller coaster dark ride. This zone features the typical Ancient Egypt discoveries such as Pharaohs' tombs, pyramids, and obelisks. Patterned on the popular film "The Mummy" starred by Brendan Fraser. Aside from The Revenge of the Mummy, Treasure Hunters ride is another option that you can also enjoy but I opted not to take this one for time constraint.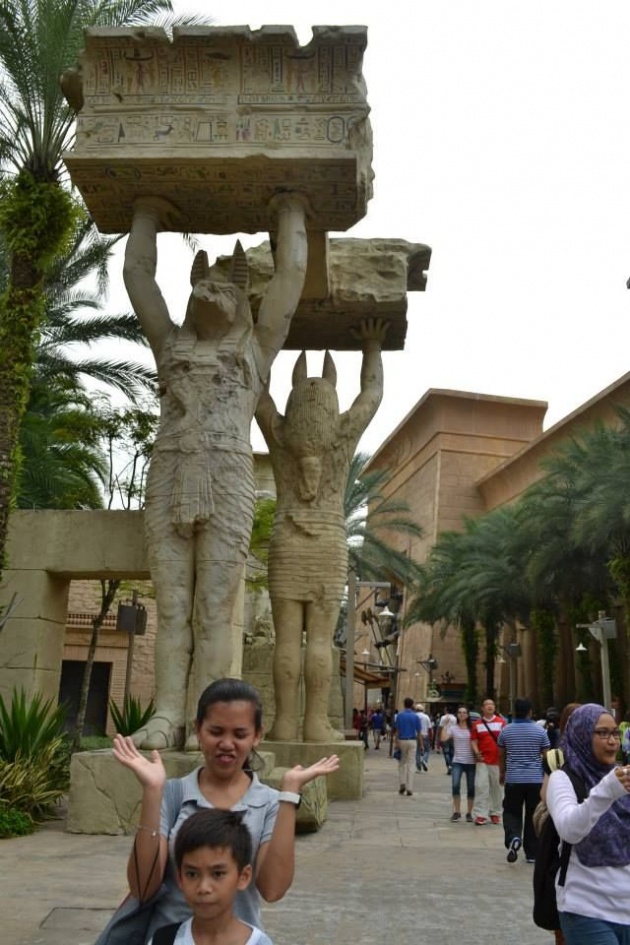 Revenge of the Mummy at Ancient Egypt zone / Photo Credit: Dimpsy
Mimicking the statues at the Ancient Egypt zone. Pose was all I did since I actually backed out from The Revenge of the Mummy queue with my niece during my visit into this zone. The ambiance alone while in the queue is quite scary. Loudspeakers are everywhere while in the queue and hearing those screams and the shivering sound of the mummies. Last minute when I told my niece to turn back from the queue. Hahaha, can't forget the facial reaction of my niece. Sorry not a fan of horror movies, but it's a good show as what I've heard.
5. THE LOST WORLD
There are two popular movie films patterned in The Lost World zone that the whole family can enjoy. The Jurrasic Park by Steven Spielberg and Waterworld starred by Kevin Costner.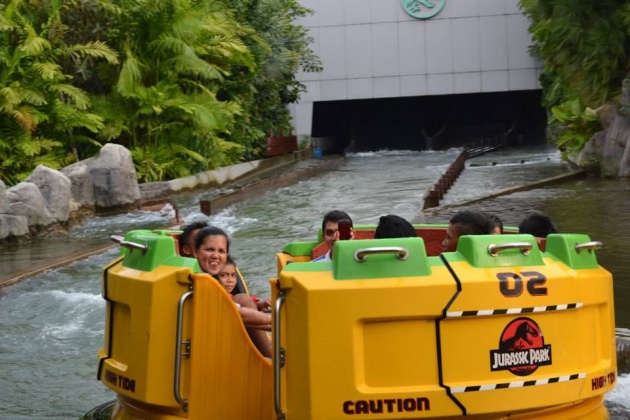 Jurrasic Park Rapids Adventure / Photo Credit: Dimpsy
In Jurrasic Park, it features rapid adventures one of the famous water rides in other Universal Studios parks. It will bring you about the history and adventures of dinosaurs in a jungle in a round buoyant ride cruising the flowing river. A fun, exciting and splashing experience and make sure to have a water-resistant coat for wet protection but if you want to get wet it's an opt for you.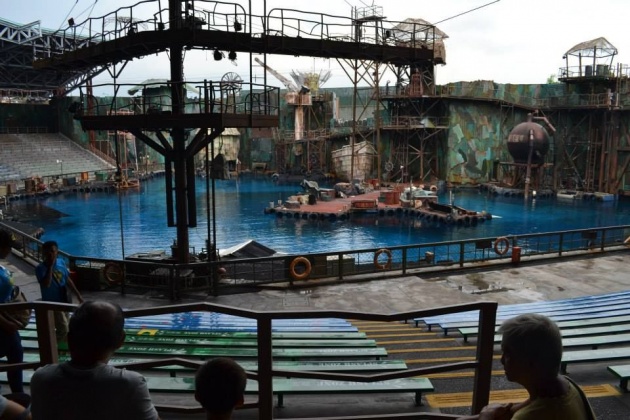 Waterworld / Arena Photo Credit: Dimpsy
While on the other hand, the Waterworld adventure is a stunt live show accompanied by mostly pyrotechnics settled in an arena. Sadly we weren't able to watch the snow since it was suspended due to weather condition. Just a heads up, Singapore is also called the lighting capital of the world and I can attest to that after witnessing a lightning strike followed by a booming thunder and a heavy rain last October 2013 during my first visit. Since Waterworld uses pyrotechnic materials, they suspended the show for security purposes and other outdoor rides as well are all suspended.
6. FAR FAR AWAY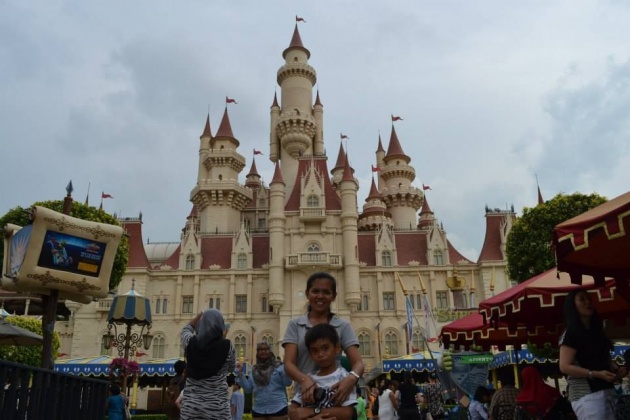 Far Far Away Castle / Photo Credit: Dimpsy
A DreamWorks Animation inspired zone that features daily life of some fairytale characters. But the highlight of this zone is the 40 meter tall "Far Far Away Castle" that has a special participation of Shrek and Princess Fiona, Donkey, Pinocchio, Puss In Boots, and Prince Charming.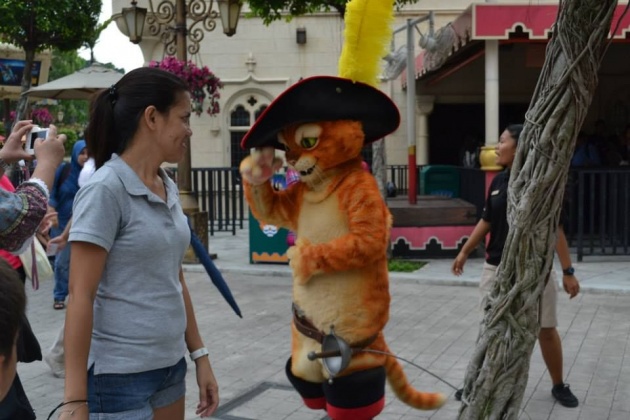 Meet and Greet with Puss in Boots / Photo Credit: Dimpsy
But I only got to meet and greet Puss In Boots up close. While I was in the queue with my nephew for Enchanted Airways roller coaster ride, by far I saw Shrek and Princess Fiona meeting and greeting the guests in the castle but I was able to watch the Shrek 4D Adventure that has a 3D telescopic effect.
7. MADAGASCAR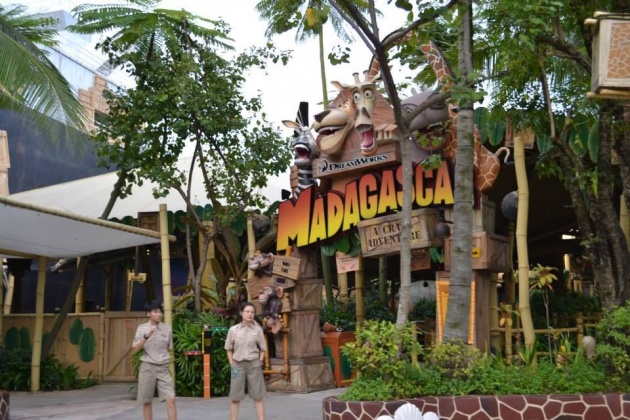 Madagascar / Photo Credit: Dimpsy
Another DreamWorks Animation film inspired zone that features a tropical jungle ride with the four zoo animals, Alex, Gloria, Melman, and Marty who escaped from the Central Park Zoo and was washed to the island of Madagascar in an unfortunate crash. This ride is best for kids and kids at heart as well. I had--well it's not only me but others on the raft also had similar funny experience nearly at the end of the journey. Hahahaha, it was so funny but at the same time sheepish. I'd rather not spill the beans just so it won't spoil your planned visit. That is something that you will look forward to. So have a great journey ahead hahaha.
♥ ♥ ♥
Well, I guess I'm at the end of my Universal Studios journey. I may have explored all the seven zones but mind you, not all rides and shows featured in each zone were explored. As I may suggest, be an early bird in going to USS and be there during the weekdays to beat long queues. If you are fond of walking you can explore the park in a day for as long as proper time management of all the shows and rides once you have the USS guide map. So tick off all the thrills and fun indicated in the USS guide map as possible as you can.
Universal Studios Singapore / Video Credit: SG Yap via Youtube
Here is a complete walkthrough video of the Universal Studios Singapore by SG Yap via Youtube. Enjoy watching.
It was such a one of a kind adventure. I hope you will find it similarly as I do. Thank you and have a one of a kind of adventure in Universal Studios Singapore.
♥ ♥ ♥
Here's a Querlo Chat for you.
Singapore related blogs that you might want to read: