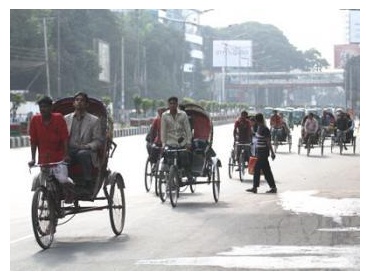 Commuters in Dhaka city, especially office goers, have been experiencing immense suffering since Monday morning for lack of vehicles on the road. At times, they are even made to pay twice the actual fare for going to places.

No buses started for Dhaka from Narayanganj since 7:00am, leaving the commuters with no other option but to travel in CNG autorickshaws and human haulers.

Alam, a rickshawpuller in Narayanganj's Shibu Market area, said, "It's a hartal enforced by the government. Local buses do ply on the road on other hartal days, but today is different."
"I would not have brought out the rickshaw had I known about it," he said, adding that he is unsure how he would manage Tk 300, the money he has to pay the owner of the rickshaw.
"Vehicles do ply on the road during hartals. It's not a hartal today. Then why there are no buses on the street?" one Asaduzzaman in the stadium area posed a question.
In Signboard area, hundreds of people were waiting for a vehicle. A bus comes every 15-20 minutes, but they all are over-crowded. Hence, they do not take any passenger.
Rafiqul Islam of Islami Insurance, who had been waiting for a vehicle for half an hour, said, "This is nothing new. But if such a situation would take place over a rally, why do not they keep the offices closed?"
He then got a CNG autorickshaw, but had to pay twice the actual fare.
Sergeant Mushfiq at Motijheel said police have been deployed in the area at night and so far no untoward situation has been reported.
On lack of vehicles despite the day not being a hartal, he said, "It depends on the owner. How do I know why they chose not to go out?"
A human hauler, which usually travels from Jigatola to Mohammadpur, was plying its trade from Motijheel to Shahbagh to cash in on lack of buses.
Swarna, a City College student, said, "The fare is Tk 8. But today they are making us pay Tk 20."
At Shahbagh, some human haulers were seen taking Mirpur-bound passengers. They were charging Tk 40, whereas the actual fare was Tk 15-20.
When a driver of a human hauler was asked why they are charging so much, he replied that they have to pay the owner an increased figure and additional costs have also risen.