I still couldn't believe I have seen a White Tiger, a Cheetah, a Cotton Top Tamarin, a Kangaroo, Wildebeests, Greater Kudusblesboks, Waterbucks, Otters and a lot more Safari animals without paying hundreds of bucks of fare tickets to Africa! All of them I got to see up close in Cebu!

Cheetah walking like they are in a mode of catching some victims. Image credits: Jean Beltran via bitLanders
Today, I would like to share a day full of awe, adoration, and learning as James and I toured the premiere safari park in the country, I am referring to Cebu Safari and Adventure Park.
About Cebu Safari and Adventure Park
Senyorito Michel Lhuillier had been wanting to be a farmer, that was his dream job according to him when interviewed by a local tv network. Yes, you read it right, this Pawnshop-tycoon and businessman had been wanting to be a farmer himself and I am in awe upon knowing that because in the Philippines, most of the teenagers would not want or dream of becoming a farmer. Yet, here is this tycoon, wanting to be one.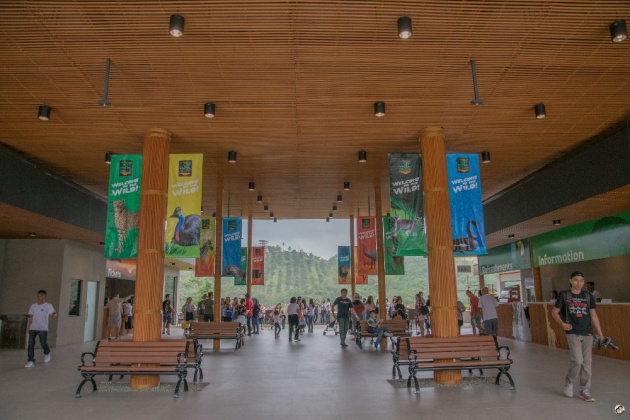 This is the base camp. Image credits: Jean Beltran via bitLanders
This idea starting becoming a realization as Senyorito bought a huge land property in Carmen, Cebu, a hilly part of the town with streams and rivers flowing in the different parts of the land thus a perfect place for animals to live ine even the Safari animal ones. It also has rainforest and cold weather!
Ten years ago, the construction inaugurated but he also has forty years old orchids and flower garden which he also features inside the park. The Cebu Safari and Adventure Park have over 100 species of animals not endemic to the Philippines of course and currently, they have more than a thousand animals living inside!
But this is not all about Safari animals like any other zoos because the park will also be building adventure activities such as ziplines, rides and soon a resort, rooms will be available for guests to stay for a night or two.
Cebu Safari and Adventure Park Review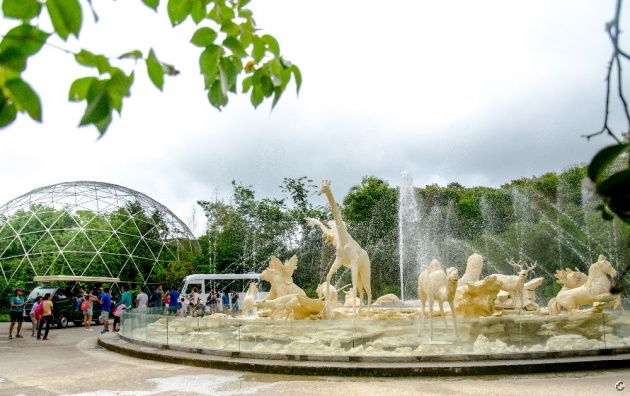 Safari Fountain at the entrance. Image credits: Jean Beltran via bitLanders
As early as five in the morning, my husband and I hit the road as Carmen is two hours drive from Cebu City, we wanted to be early birds so we could be the first batch stepping on the park plus we want to avoid traffic! We had breakfast at Jollibee Danao at six thirty, I ate tuna pie but they didn't serve coffee at that hour which was a disappointment but anyway, we were okay with hot chocolate instead.
It was quarter to eight when we arrived at the gates, it was a bit sparkling but the smiles from the securities welcoming us was all we needed to smile back as well. It was evident, the crew here are all cheerful and accommodating while they verified if we have a booking.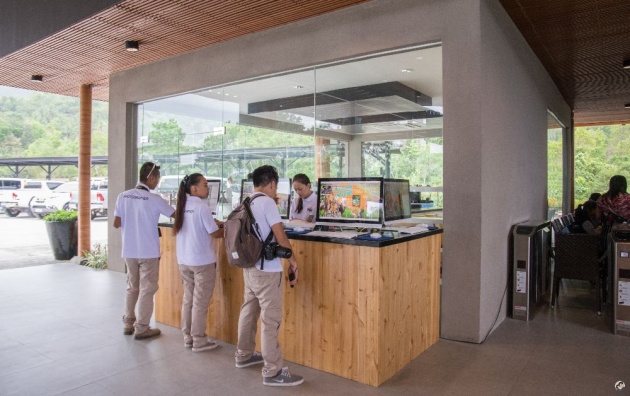 There are also photographers deployed in different areas of the park. Image credits: Jean Beltran via bitLanders
By eight, we were entertained inside and showed our way towards the receiving area. Our payment was verified at the Tickets booth, wristbands were handed and we headed towards the briefing area.
Reminders:

1. Strictly no smoking
2. Strictly no bringing of food inside the park
3. No selfie sticks and monopods allowed when near to the animals as they might think someone's feeding them and they'll grab the items
4. No flash photography, this may cause the animals to feel irritated and disturbed
5. No touching or even holding the animals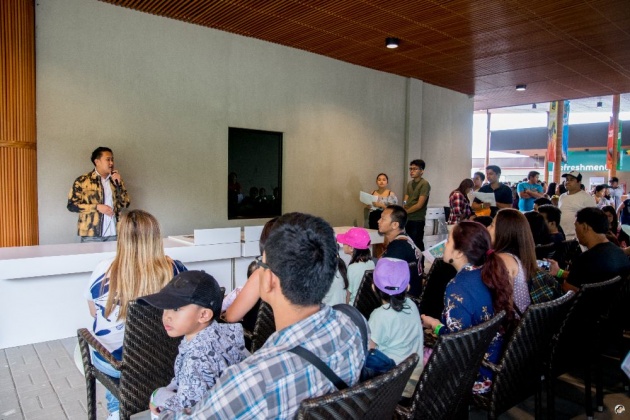 The briefing area. Image credits: Jean Beltran via bitLanders
A printed information sheet and the map is also given to each guest plus it contains a suggested route but going your own way is still fine.
Trams are provided so guests can move around but the walking is still very needed and still, what most would be doing, however, there were certain exclusive group bookings which has their vehicles moving from one spot to the other, taking them to their next stop.
Different stops offer a variety of animal groups, refreshments and comfort rooms are also available in every section so there's nothing to worry about starving or peeing while walking through the vicinity.
Video credits: Jean Beltran via bitLanders
Majority of the crews are knowledgeable of the whereabouts of the park thus there's nothing to worry if you feel like you are lost and if you don't know how to read the map, they can point you out to the right direction. I only met one crew who was not very equipped with the know-how or where to, that was when we were in the Canopy Trail and I was asking a staff what's at the end of the trail and he said he is not sure yet as he is still very new. I understood his reason and appreciate his honesty. The end of the canopy was just the road going to the Orangutan.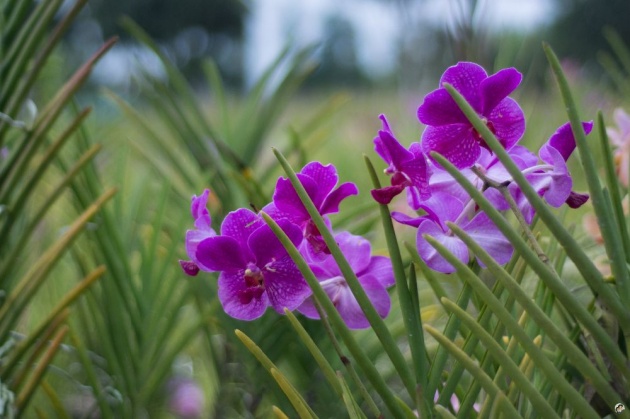 Pretty and healthy orchids. Image credits: Jean Beltran via bitLanders
James and I tried to follow the recommended route but when we were about to go to the next route, the guests who were with us suggested we should go to the Safari Outpost first to feed the birds, so our route was a bit of messed up after that, however, all was good as we were able to get to the entire stops.
Our first rout was at the Michel's Garden which showcased his four-decade-old orchids! Seeing them reminded me of my mother who's an orchid fan and lover. There's a multitude of them planted perfectly in a slope garden area. They filled a land area almost the same as a barrio, a little section of a town. Mayana and orchids, a terrace of colored shrubs and plants as well as dancing ladies can be seen here too. There's also a Pavilion in the heart of the garden, overlooking another wide range of orchids. In the map it shows they are building a bridge going to that section, it is still under construction at that day.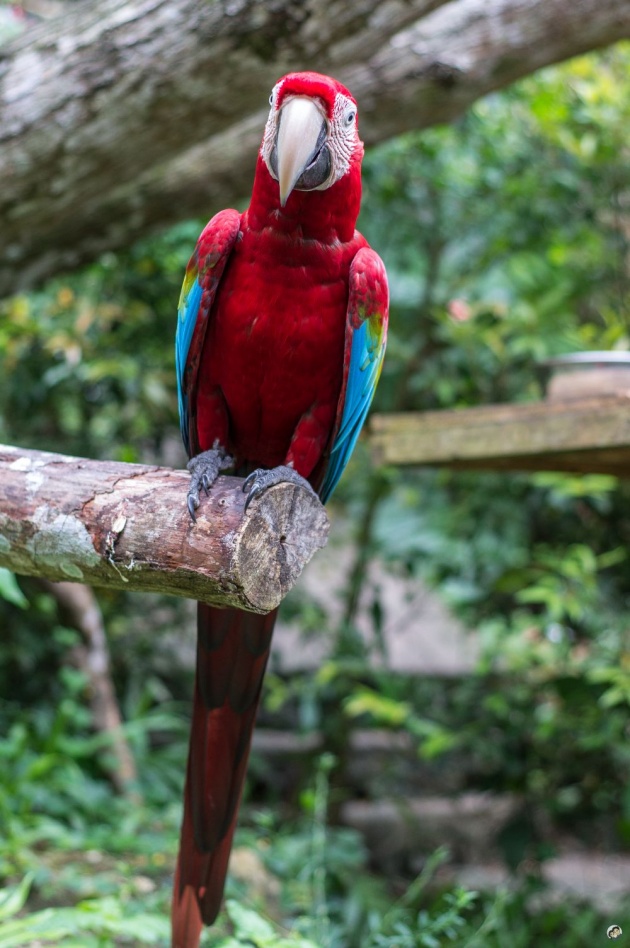 One of the Macaws in the Aviary. Image credits: Jean Beltran via bitLanders
Second stop was the Safari Outpost where James and I found a Macaw Aviary, guests can pay Php 40 for a pack of sunflower seeds, the Macaw's favorite snack. Aside from the Macaws, they have Green Winged Macaws and Scarlet Ibises which were a bit shy, they stayed at the back covered by the trees of this aviary.
Getting out, we found two Cotton-top Tamarins, both of us were adoring their cuteness! They are so small yet so active! Reminded me of the Tarsiers but they are a little bit bigger than the latter.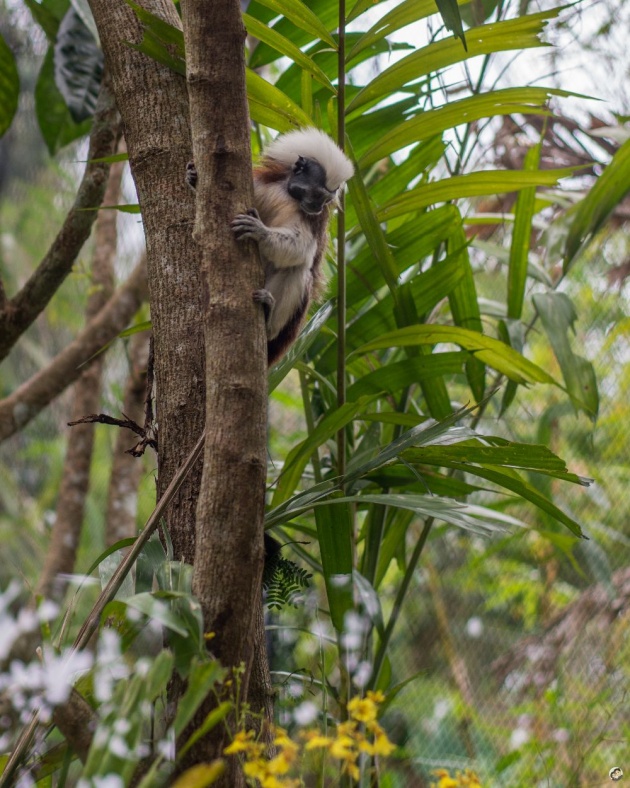 Such cutie Cotton Top. Image credits: Jean Beltran via bitLanders
Then we passed by the Animal Trail where we found Capybara, Javan Rusa, and Llama who were eating the grasses. These Safari animals were not caged and the trail was not fenced! So there are chances of these animals getting very very close to the guests, in fact, the Llamas were very close to us but they were just busy eating, they didn't mind about the people walking past them.
As we got out of the Safari Outpost area, we headed towards the Deer district. We found Peafowls, Black buck and I believe I also saw some Peacocks fighting against each other.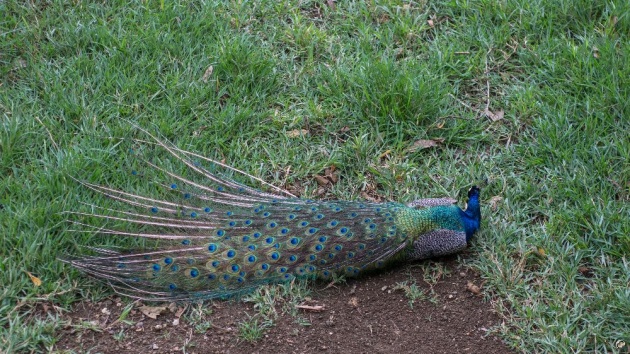 Resting after the fight. Image credits: Jean Beltran via bitLanders
Up towards the next route was the Tiger Turf. The white and the orange Tigers were just chilling and eating! At first, they were simply lying but after awhile, they stood and started walking, getting near to the glass wall. We moved to the open canopy to view them without the glass. There's a deep body of water separating the viewing deck and their home so it was all safe.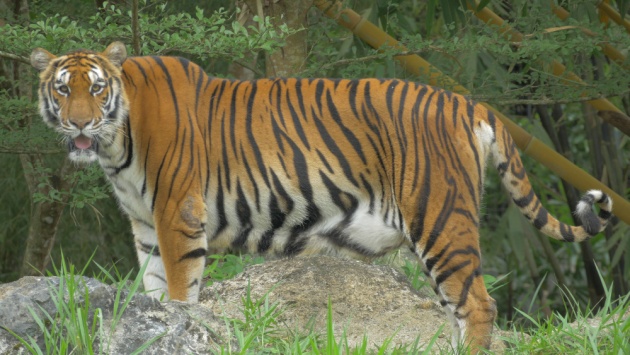 One of the tigers at the park. Image credits: Jean Beltran via bitLanders
This is one of our favorite moments in the park because while it was only James and me at the viewing deck, the two orange tigers went to the cliff facing us so we took a lot of clips and pictures, we even whistled and called their attention, one of them looked to me and stared! I was again in awe as it was staring at me, it even tried to go down the cliff!
Video credits: Jean Beltran via bitLanders
This ends the first part of my experience and review of the Cebu Safari and Adventure Park in Carmen, Cebu. Stay tuned for the next part as we get to ride a Savanna Truck and get into an African Savanna adventure!
Don't forget to also join the Querlo chat bot here for you about traveling:
---- o ----
Read also related blogs:
Why You Have to Come to Cebu Safari and Adventure Park ASAP
Calauit Safari Park Animals
Tour at Calauit Wildlife Safari Park, Busuanga
Coron Day 3: Calauit Safari Wildlife Park
Blog entry written and published by Jean Beltran-Figues, A Pinas traveler and photography hobbyist, find more travel blogs in my blog section, click here.