Hi everyone!

We recently made some changes to the BuzzScore, the Film Annex tool that measures your content's reach and influence on your fans and followers. What does the BuzzScore take into account?
The number of your films and blogs
How much you share your own content and other users' content
How much you influence people (how much others share/like your content)
The number of your subscribers
We decided to make the Buzz Score more fair and fresh with two new adjustments:
Liking your own content does not have as much effect on your BuzzScore as someone else liking and sharing your content. Your own 'likes' have less influence on your BuzzScore than they did before.
The BuzzScore only takes into consideration your recent activity. So if you used to be an active Film Annexer and no longer are, you score has probably dropped a bit. You can increase it back by staying active!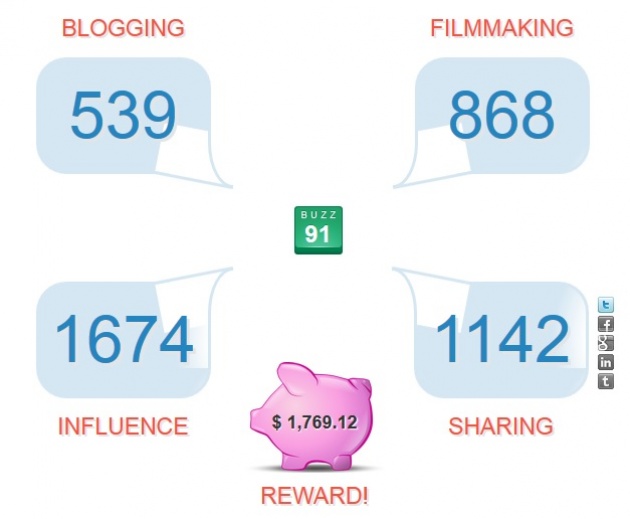 Below is the breakdown of the BuzzScore and the corresponding percentages:
What you share on:
Tumblr = 9%
Facebook = 4.5%
Twitter = 4.5%
Google+ = 4.5%
LinkedIn = 18%
How much content you have = 4.5%
The total likes your content receives (your likes on your own content are NOT included) = 45%
It's about how much other people like and share your content via using the social media buttons on Film Annex.
Your number of followers/subscribers = 10%
Please email Eren at eg@filmannex.com if you have any questions in regards to your BuzzScore.