I had been waiting for whatever Bitlanders' going to offer to its users on Valentines day and I was actually a bit disappointed that we only got the Valentine background interface but it is actually fine with me. I was about to accept that the hearts' day will be over without anything which can help with our buzz scores but then, this came: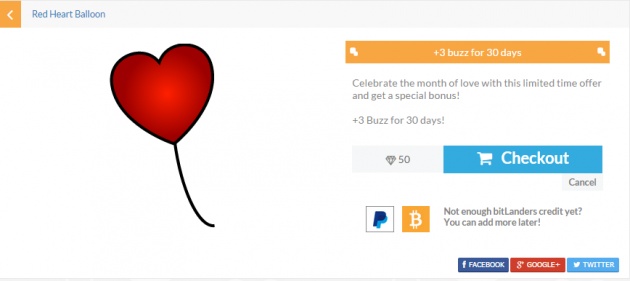 Yes it's never too late to celebrate the hearts day in bitlanders. Glad I still have a few gems in my account and since it says it is a limited time offer, I am buying it right away! Guess what it comes with it? +3 buzz scores for 30 days! I am really glad this was offered. Getting this reminds me of the crown which was good for three months but I wasn't able to buy it due to low amount of balance.
However, this Red Heart Balloon just excites me and I bought it right away:

Now here's my man with the heart eyes and plus the heart balloon and the additional buzzes had already added on my buzz score!
Get your red heart balloon now!