Vegetarian Lasagna
It is the flat, wide pasta shape dish and made in different layers. It is first made in Italy. It is baked dish. and is healthy. Today I want to share recipe of this dish. I hope you will like this.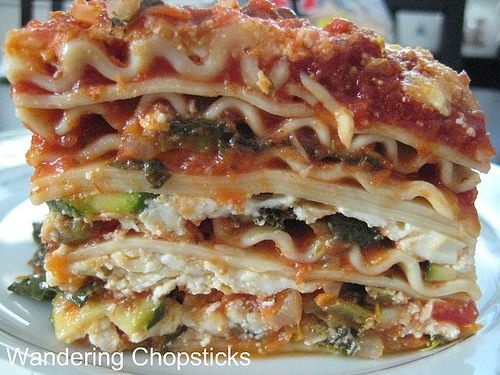 Ingredients:
1- spaghetti sauce
2- 1 cup grated carrot
3- 1 teaspoon oregano
4- 6 lasagna noodles
5- 15 ounce ricotta and parmesan cheese
6- 20 ounce chopped spinach
7- 3 eggs
8- 1 cup mushrooms
Procedure
Mix spaghetti sauce, carrot, and orengo in one bowl. And now mix ricotta cheese, spinach and eggs in another bowl. Spread some spaghetti sauce at the base of the baking pan. Now make the layers in the baking pan. First put lasagna noodles, than spaghetti sauce, than ricotta cheese. Now put the mixture of 1st bowl, now add parmesan cheese, now put the mixture of 2nd bowl, and now put chopped spinach and mushrooms. Now put the pan in the oven for 50 min at 300 degree.