Getting a verified PayPal account is sometimes stressful if there are information issues and bank concerns which is why there are also other online users who are very discouraged when using PayPal.
I too had my own share of issues when using PayPal. I believe I had shared this before but for the benefit of this blog, let me share it again. I had an issue with withdrawing my PayPal funds around seven years ago. The case was that my PayPal account name didn't match with the bank account name. It was actually my first time to use the service for an online job and it was frustrating not to be able to withdraw the amount you have worked hard for so a verified account is very important to make use of your PayPal account.
Talking about job and money, it is important to have investments for the future. Let me know what you think about investing and your favorite investment with the Querlo chat below:
Now, just recently I had to create a new PayPal account because I was testing out GCash's Instant Cash-In option, the name I registered with it was my married name and my current PayPal account bears my name when I was still single. I actually forgot to consider that so anyway, I created a new PayPal account but it is still a limited account. To make use of its full potential, such as withdrawing money to specific bank account, transferring funds and etc, I have to verify it.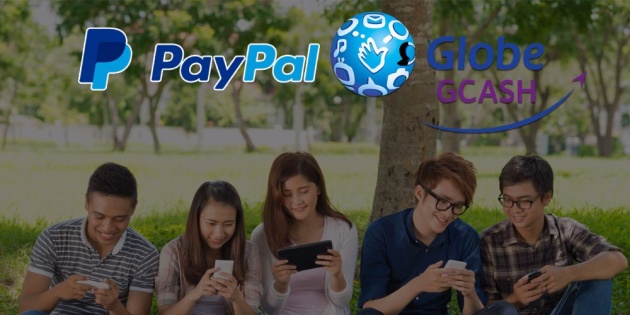 Image credits: www.gcash.com
This blog is intended to guide you on how to easily verify your PayPal account using the GCash AMEX. Note that this is only for those users who are based in the Philippines, sorry international friends!
What is GCash?
GCash is an internationally-acclaimed micro payment service which transforms a mobile phone into a virtual wallet for secure, fast, and convenient money transfers at the speed and cost of a text message.

GCash is a service for Globe & TM customers only which uses the cellular simcard as the account itself.

Information Reference: www.globe.com.ph
Image credits: www.vmoney.com
I have shared this information on the previous blog and let me again state it that this micro payment service from Globe Ph(Philippines only). The company had then developed a platform for smart phones thus a mobile application referred as GCash as well is available for download from either the Android Playstore or the iOS Appstore.
I don't want to explain this further and I might sound like a broken disk so you may read more about it from my previous blog:
You must go through the KYC or Know Your Customer process which is basically their verification procedure so you can have a verified GCash account but you can also make use of your GCash account for PayPal even without a verified GCash account. I know I have been talking about verified account here redundantly but don't get confused, hopefully that isn't confusing.
What is GCash AMEX?
Image credit: gcash.com
While it was mentioned on Globe's FAQs section that one need to have a KYCed user before you'll be able to use AMEX but I actually verified my PayPal account first using AMEX before KYCed. So again, verified or non verified GCash, each user is given an AMEX virtual card. So the question is what is AMEX?
AMEX stands for American Express Virtual Pay.
Video credits: Globe GCash via YouTube.com
GCash American Express Virtual Pay is a virtual card linked to a GCash mobile wallet. It's cool because you'll also get a My Shopping Box account associated with it which means, the address given by GCash is a live one and of where I can send my online purchases from the US, but that's a different story which I will blog about if I'll get a chance to use it in the future.
Going back, to get an AMEX account, one has to have an active email and mobile number. There are three ways to get one though which you can find out on this link. I got mine through the following steps:
Image credits: www.gcash.com
1. Logged into GCash mobile application

2. Under Account, select American Express Virtual Pay

3. Input email address to register

4. Authentication code sent to mobile number

5. Enter code and confirm on the app

5. Confirmation email and text message will be sent together with the virtual card details such as number, address, expiration date and mobile number.
Note however that even if you are able to get all these details without going through the KYC process, it is still advisable to be KYCed because it gives you a lot more options like the following:
- Maximum wallet cap increase from Php 40,000 to Php 100,000.
- Aggregate Daily Incoming funds is lifted
- American Express Virtual Pay spend limit is lifted
- Load purchase can be done depending on the wallet cap instead of just Php 500 daily
- ATM Withrawals is lifted from being a restricted option
- Card Transactions will also be based on wallet cap
- Mobile Banking (GCash to Bank)
- Mobile Banking (BPI to GCash) can be done with PHP 40,000 daily (Bank setting)
- PayPal to GCash instant cash in is possible.
Refer to my previous blog for more: How to Verify GCash for PayPal Instant Cash In
How to Get a Verified PayPal Account with GCash AMEX?
So now we are at the most important part which is getting my PayPal account verified with the use of GCash AMEX. Make sure that your PayPal account and your GCash account name are identical or else, issues might arise. Here are the steps:
1. Login to PayPal and go to Add Debit/Credit Card.
Image credits: www.globe.com.ph
This is pretty self explanatory and if you have been logging into your PayPal account, you should know where to go. For those who are not yet familiar, while in the summary page, look for Banks and cards, click the add bank account option.
2. Add funds to GCash.
One important thing to note is that GCash should have at least 150 Php because PayPal will deduct specific fees to ensure that your bank card is active. They'll refund it back afterwards so don't worry about it.
Video credits: Flor Floresta via YouTube.com
How to add funds? There are actually several ways stated in the Globe GCash page online. I added funds through my coins.ph online account which was smooth as they have an option to transfer instant cash from coins.ph to GCash.
Learn more about coins.ph here: CoinsPh Add Funds
You can either start with the first step or the second, it doesn't matter.
3. Input bank card information.
Now, this is the tricky part and of which I was also a bit concerned. The text message I received has all the information except the CVV. That is the security number mentioned at the back of each bank card and since I have a virtual card with AMEX, the CVV is also a virtual one which can be acquired from the application instead.
Image credits: www.globe.com.ph
After inputting the details, what I did was go to the GCash mobile app then from the AMEX page, pressed on the Get New Code under the Security Code section.
This process sends a text message to the registered mobile number with the newly generated security code and that's what is needed to complete the bank card information.
Image credits: www.globe.com.ph
One more challenge was the address by the way. Since we are located in the Philippines, Province is required. You can just input your own province and that should be good, don't worry about it, PayPal will accept that.
4. Get Verified.
The thrilling part and the longest as well. So after inputting all the bank details, I went back to my PayPal account overview, clicked get verified. If you missed step #2, then you'll have to go back because this step will let PayPal deduct $1.95 for the verification process but this amount will be refunded later.
Image screenshot credits: Jean Beltran via FB messenger
With this, a 4-digit verification code will be generated for my account in 2-3 days and GCash Support will be sending it automatically to the email registered for GCash.
However, in case you won't receive the code in that time range, you can email GCash support instead with the following format:
Subject: "GCash AMEX – Paypal"

Message: 4-digit PayPal verification code request: (Your registered Globe/TM mobile phone number),

(Your GCash American Virtual Pay card number)
Their customer service agent will respond with the digits which may take some time. For my case, I had emailed them thrice to followup. The entire waiting time took almost a week before I received the verification code.
5. Finalize.
Once you received the verification code from GCash support, it's time to finalize the PayPal verification process. Go to your PayPal account, click again on the get verified option and input the code.
Image credits: www.globe.com.ph
Image credits: www.globe.com.ph
Congratulations, the account is now verified and all the sending and withdrawal limits have been lifted.
That's it folks, hope you can get your own PayPal account verified with the help of GCash AMEX too! Note that GCash has instant cash in from PayPal so you can use this PayPal account for your bitLanders withdrawal with zero fees!
Awesome right?
Best regards,
Jean Beltran-Figues