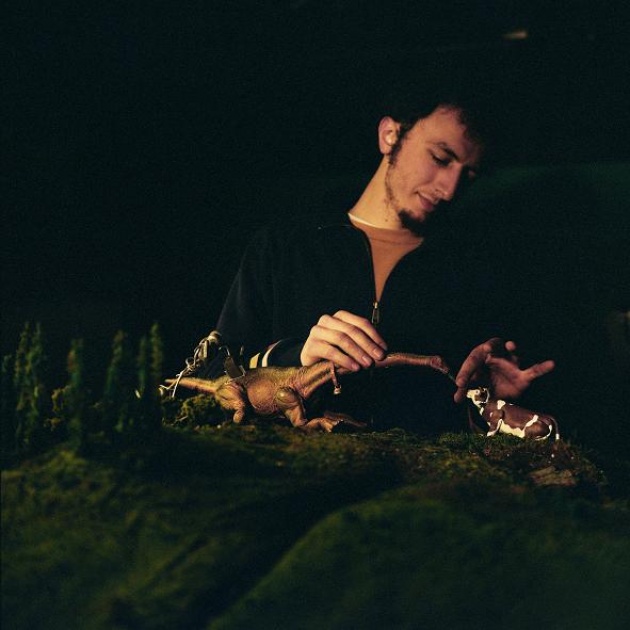 "I fight to make people like stop motion because it's cool, not because it's charming and jerky." - Victor Haegelin

If you're having a bad day, go to Victor Haegelin's Web TV and watch his videos, and you'll feel like you just downed a 5-hour energy drink. Just kidding. The joy you'll feel after seeing this very talented stop motion animator's work will last you a lifetime, which is longer, yes, much longer, than 5 hours (if you're lucky). And there's definitely no crash later. Haegelin's website is like an amusement park. His films are crazyfun rides, and his animated titles made of clay are like cotton candy you want to touch obsessively. Before I go any further with these analogies, let me give you the news that I had the opportunity to interview this talented man who resides in Paris all the way from New York. It's such a small world indeed...
So why Haegelin? A director signed to the much-admired and productive production company Partizan, Haegelin has worked with established animators like Michel Gondry, Olivier Gondry, Stéphanie Di Giusto, and Philip Andelman. But I'm not here to drop names. Haegelin's work speaks for itself. It's fun, colorful, refreshing, and innovative. There's a lot of humor to it. There's some social commentary, some experimentation, and lots of absurdity. Haegelin is also one of those people who just gives you a good vibe even if you don't meet him in person. You can tell that he is an analytical thinker, an optimist, and a hard worker who likes to take risks and try something new each time he creates something. If that's not motivational for those of you who are having a bad day, I don't know what it is... Read our fun-filled conversation below!
E.G. What's your first memory of animating something?

V.H. I think I understood the principle of animation very early. When I was 12 years old, I bought my first camcorder. It was a prehistoric VHS-C. I knew I could use it to animate if I bought an external module with a remote control. Unfortunately, the module was $100, which I didn't have. So I just made a few short films with my friends.
In high school, I saw a very short, cheap, simple claymation made by one of the students. It was like a click in my head. I bought a computer and a camera, and I started to make animations. I think stop motion animation is the perfect example for the art of cheating, because you create movement out of something still. Here's an early cousin of my film Table Bob, which is called Bathroom Bob.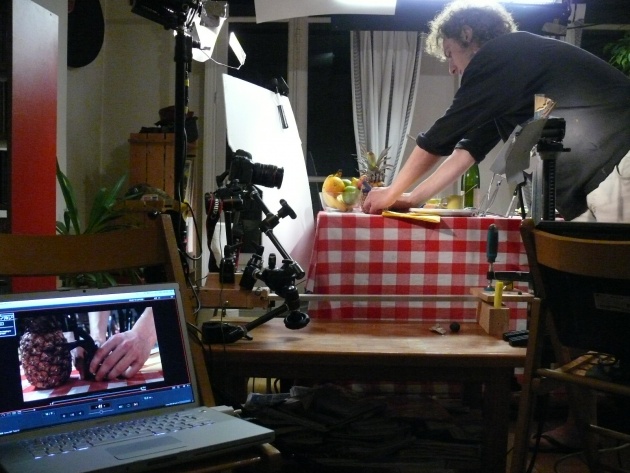 Haegelin directing Table Bob
E.G. Can you talk about getting signed to Partizan and working with Michel Gondry? I know plenty of animators who'd kill to be in your shoes!
V.H. You know, sometimes, life is a matter of being at the right place at the right time. And I was a bit lucky. While still in college, I had to find a one-month internship, and I was having a hard time finding one. Someone who knew that I was fond of animation suggested that I contact Partizan, Michel Gondry, or his DOP. And I was like, Partiwhat? Michel Who?!
I knew nothing about them, but I called Partizan Paris anyway. They were starting production on a stop motion commercial directed by Valerie Pirson. They hired me for a training period as an assistant animator. During that month, I also had the opportunity to make short animations and show them to the producers. And I guess they liked them, because they called me back a few months later to "try" me as a director on a small, free campaign for Radio Nova, a popular French radio station. I did the film and got signed!
Perhaps I shouldn't be saying that I work with Michel Gondry, because I only met him a few times in the office (he's right behind me right now actually!) and worked for him once on his last feature film L'Ecume des Jours (Mood Indigo). I don't think he would recognize me! I mainly worked with his brother Olivier Gondry who is also a great director, and all his films present big technical challenges! Everything I did with him was something I've never done before. I learned so much from him, like taking risks or making something new and different each time.
E.G. I'm impressed by your work in general, but Professor Kliq - Wire and Flashing Lights is my absolute favorite, at least as of now. What's the idea behind the wire man? Am I right in searching for a philosophical meaning, or is it simply a treat for the eyes?
Thank you! I think, for the time being, it is my most "finished" work. I've been wanting to make something new and different, move forward, and not get bogged down in what I'm used to making. I wanted to visualize every single sound particle and play with shapes that were created on the floor by the reflection of sound. I wanted to visualize the audio signal with the wire and the animation. I decided that the "wired man" was a kind of "wave man" made of sound that reacts to music. I also wanted it to be the kind of stop motion where you don't really understand if it is stop motion, hand-drawn animation, or CGI. I think I wanted to go much further with it, but I'm really happy with the result.
E.G. Who are some of your favorite artists, illustrators, and/or animators? Where do you get the inspiration to create the work you create?
When I was studying film at FAMU in Prague, I got to discover a lot of Czech animators. I learned a lot from them and I think I still get a lot of inspiration from their work. They have unpronounceable names like Jiri Trnka, Jan Svankmajer, Jiri Barta, and Bretislav Pojar... But inspiration can come from everywhere. Sometimes I wake up in the middle of the night with an idea, and I write it down. Most of the time I don't write it, thinking that I'll remember it, and of course, I don't.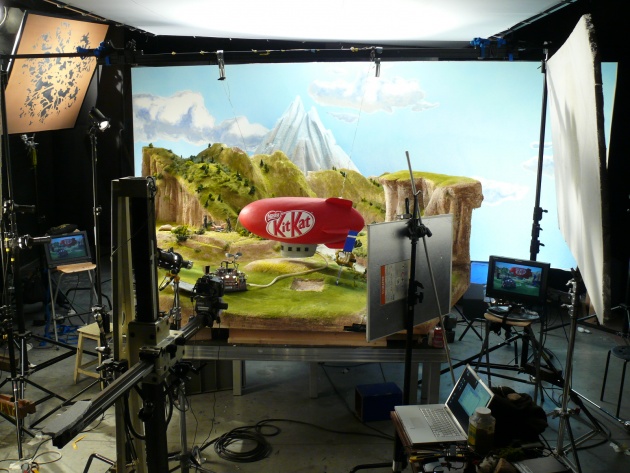 Haegelin directing a KitKat commercial
E.G. How do you see the state of the animation industry today?
V.H. I think stop motion will never die. It works like waves. Sometimes it is in fashion, and then people are bored of it, and it becomes old fashioned. Then suddenly, someone makes something new and different, and it becomes fashionable again, and so on… 30 or 40 years ago, it was the only way to make something still move in films. Then CGI came, and everybody forgot about stop motion. Then people got bored of CGI, and stop motion came back because it was charming. I fight to make people like stop motion because it's cool not because it's charming and jerky.
E.G. Do you think there are more opportunities for young animators like you?
V.H. Yes there are! Making a stop motion film is very easy even if you're alone. You take the corner of a table, a piece of clay, a camera, and you start. It's much easier to make a nice little stop motion film and feel accomplished than shoot a live action film with good actors, a cameraman, big lights, etc. Stop motion is so much easier to set up. If you have good ideas, you can get to work immediately and show what you can do. This is for someone who wants to become a director. If you want to become an animator, you have to practice a lot. Make an animation, watch it, show it (not to your family, as they are always happy), and see what doesn't work and why. And then start again without these mistakes to improve your skills. All this can be done alone with very few equipment.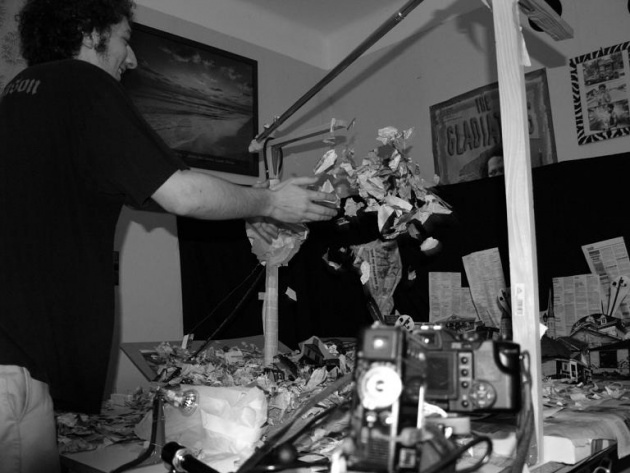 E.G. Does the existence of online platforms help you get recognized and get more work?
V.H. Yes, it has become so easy to show your work instantly. But the platforms don't make the movie. You still have to make something cool for people to like it. It's very interesting, because you can see if people like your work or not very quickly. If your film has gotten thousands or millions of views, there might be a potential client in it. But there might also be some people out there who could steal your ideas. Nevertheless, I definitely think that if you make films, it should be to show them. Otherwise, it is pointless. So, yes. Online platforms help!
E.G. What's in the future for you? More shorts? A feature?
V.H. I don't know. I will continue to make films. Try something new... It doesn't take long to make one, but we need money. The production team is looking for it at the moment. It's a quite complicated and ambitious 3-minute short film. It will be Hollywoodian! Do you have $130,000 for me?
Watch Professor Kliq - Wire and Flashing Lights below.
Also watch this on NEW YEAR'S EVE, because it'll make you enter the new year happy.
Interview by Eren Gulfidan