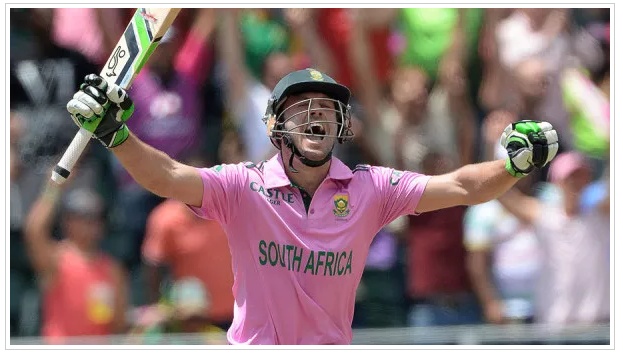 When Corey Anderson hit his historic 36 ball ton in the very first day of last year, breaking the record of fastest hundred in ODIs previously hold by Pakistani flamboyant all rounder Shahid Afridi, many people foresaw Corey's record as unbreakable. But cricket is the glorious game of uncertainty. You never know what comes next. So, all the verdicts about Corey's record proved wrong and the historic innings is only a history now as it lasted for over a year only.
And this time, it's none other than the undisputed best batsman of current time, AB de Villiers who grabbed the record to his name. He, with a glorious run rate of 335.5, reached to the magical figure of 3 digits in just 31 ball!
But he didn't stop there. He kept hitting the ball with same passion to make his 100 to almost an 150. But at the end, he was just one run short from the 150 mark when he was caught by J Carter and bowled by A Russell. Facing 44 deliveries, he managed to score 149.
Some facts to be noted :
*Villiers broke the record of fastest half century in ODIs as well. He slammed 50 for just 16 balls and surpassed the record of Sanath Jayasuria who scored an ODI fifty from 17 balls.
*AB was promoted to bat on number 3 position today and still he had not to come to the crease until the 39th over.
*In this unforgettable knock, he hit 9 boundaries and 16 over boundaries.
*While Villiers was at the crease, South Africa added 192 runs from just 67 balls.
*When Corey Anderson previously set the record of fastest hundred in ODIs in the Queenstown Oval, the opposition team was the same. West Indies!
*Although Villiers scored a massive 149, he is not the top scorer of the innings. It's Hashim Amla who made 152*.
*3 batsmen scored hundreds in the innings. Besides Amla and Villiers, Rillee Rossouw (128) was the other man and it was his maiden ODI century.
*Rossouw and Hashim Amla registered 247 in their opening partnership which is the highest opening stand South Africa have ever posted.
*South Africa smashed their own record at the Wanderers and racked up 439. Their previous best was 438 against Australia in the same venue, 11 years back.