The prog-rock supergroup introduces its forthcoming album with 'Valkyrie' video.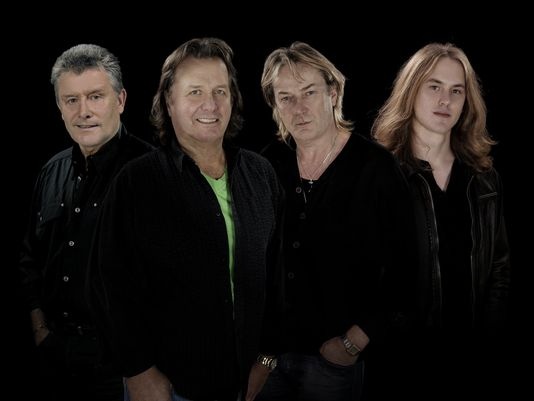 Asia — from left, Carl Palmer, John Wetton, Geoff Downes and Sam Coulson — will release its new album "Gravitas" March 25 in North America (Photo: Mike Inns)
"When I lived in Los Angeles, there used to be this wonderful light that appeared just before the sun hit the horizon in the afternoon — 'painter's light,' I guess they call it — where all the shadows seem to disappear," he says. "I wanted to do my section there."
When Asia released its self-titled debut album in 1982, the group brought together members of Yes, King Crimson and Emerson, Lake and Palmer — Wetton, guitaristSteve Howe, keyboardist Geoff Downes and drummer Carl Palmer. With Top 40 hitsHeat of the Moment and Only Time Will Tell driving sales, Asia became the top-selling album of 1982, eventually going quadruple platinum in the U.S.
After many years of changing memberships, the group's original lineup reunited in 2006. Gravitas, due March 25 in the U.S., is the band's fourth album since that reunion and its first with guitarist Sam Coulson. Coulson joined the band after Howe's departure last year.
"Sam's playing is structured within the framework of the song, but he's a free spirit as far as soloing is concerned," Wetton says. "Sam got the job partly because of the way he is — he's a fairly open book, a really good guy, and he doesn't bring a lot of baggage with him. The last thing we need is another train wreck like me."
Wetton says Asia plans to tour the U.S. in the fall.
Though the album is titled Gravitas, Wetton considers Valkyrie the soul of the new release.
"To me, Valkyrie is the song that sums up the band, the album," he says. "You get everything that's good about this band, wrapped up into one neat package."
Source: USA TODAY
Annex News - Music