Image credits: google
Starting my blog with a phrase that 'Change is the only constant in the World', makes it clear that the World is constantly changing, so our surroundings. Among those changes, our transportation has also reached a certain peak than ever before, which hasn't make only travelling easier but has saved the valuable time of passengers. Time to time, the means of transport such as an airplane, railway, and vehicles get updated by the new developments.
Let's take the railway system, if I'd talk about the bullet train, I am sure this would be nothing new for you. The surprise is that even bullet train is now turned back to the new project in Railway system. The railway had a history of more than 200 years approximately and in this tenure, the railway had witnessed different changes and revolutions. In fact, the term railway had divided into many factors. Who got the idea of the railway at first? Or who built the first railway are the question which seems quite impossible to discover. The Fact of the matter is that the train system had been established in the early 80's. And continuing my point that railway system was divided since from the day 1 into cargo trains, the passenger train and wooden rail (tram) operated by the human.
Image credits: Wikipedia
An ancient picture of tramway 'wagon' whose track are consist of plateways.
As the years passed, the railway train became a major source of transport especially for within the country purpose. Travelling from city to city or one country to another has now become as easy as never before. Moreover, the railway quickly became essential for sending and receiving the goods. Due to these factors, the railway train system expanded and spreads all over the World. Since then millions of people travel through train every day and a large number of goods can be sent every day.
A Revolution!!!

Image credits: google
The final design of Hyperloop choosen after its successfull testing.
From wooden rail to bullet train, every upcoming system of train targets to cover a large distance in short time so that they can be reliable for the passengers. The new upcoming train service is a revolution in the railway history. A train system which moves passenger at the airline speed. Known as the "Virgin Hyperloop One" is a company based in Los Angeles, California which is working on Hyperloop system which is a high-speed train developing to travel the passengers and cargo at airline speed.
Virgin Hyperloop One
Background:
The concept of Hyperloop system was given by Elon Musk, an inventor, engineer, founder, CEO, and CTO of SpaceX and CEO and product architect of Tesla Inc. (ranked 21st as on the list of Forbes World's Most Powerful People). Elon Musk and Silicon Valley investor Shervin Pishevar once flying together to Cuba on a humanitarian mission in January 2012. Where during their conversation, the idea of Hyperloop has emerged. However, Pishevar asked Musk to elaborate his idea, Pishevar suggested Musk to using it for cargo, an idea which Musk hadn't even considered. Musk did say he was considering open-sourcing this concept because he was too busy running SpaceX and Tesla Inc. After which the Pishevar requested the Musk to publish his ideas about the Hyperloop so he could study them.
Finally, Musk released the Hyperloop white paper in August 2013 which consist of 'How to' mechanism and another sort of information about Hyperloop. In the months that followed after the release of white paper, Pishevar launched Hyperloop Technologies and set up a shop "Hyperloop Technologies" in Bam brogan's garage in Los Angeles in 2014.
Making:
Video credits: youtube.com
The basics and working of a Hyperloop System is explained in the above video.
One of the biggest problems with anything moving is friction, both against the environment and surface the object is moving through. Basically, the Virgin Hyperloop One system consists of a linear electric motor that had its stator and rotor unrolled so that the motor instead of producing a torque it produces a linear force. The cargo and passengers will be loaded into a pod which uses magnetic levitation to gets accelerate and decelerate vehicle without making contact with the ground, with the help of linear electric motor through a low-pressure tube. Then the pod quickly lifts above the track and vehicle will glide silently at airline speed for the mile up to 670 miles per hour.
Image credits: google.com
This is how the pod loaded of passengers/cargo gets into a low-pressure tube with the help of a linear electric motor.
The Hyperloop will be built in columns and tunneled underground so that tunnels have had some of the air sucked out to lower the pressure. So, at high-altitude points, it can be much more efficient, which is desirable to travel at the high-speed. It also eliminates the danger of at-grade crossings and requires much smaller rights of way than a high-speed rail.
Funding:
By February 2015, the Hyperloop tech company had $9 million in capital through Pishevar's Sherpa Capital and with the collaboration of giant investors such as Formation 8 and Zhen Fund, termed as 'Series A funding'. At the same time, World's renowned FORBES magazine put Hyperloop Tech on its cover, suddenly after which this startup had become the apple of investor's eye.
Image credits: google.com
FORBES magazine put Shervin and Hyperloop System on its cover page.
In June 2015, Pishevar recruits Rob Lloyd, former President of Cisco Systems, to join the company, as an investor and eventually as a CEO via text message "Come change the World with me." Lloyd started its services as CEO in September, where funds now raised up to $11 million.
In May 2016, the company decided to changes its name underscore its status as the first company and only company to build a full-system Hyperloop, so it's renamed as "Hyperloop One". Also, the Company had also disclosed $80 million investment raised in a series B round. Later in August, DP World signs an agreement to study Hyperloop route. Moreover, in October 2016, the Hyperloop One announced that it had raised another $50 million, by an investment from DP World.
On 21st September 2017, the Company announces $85 million raised in its Series B-1 investment round, that brings the total financing raised by Hyperloop One to $245 million after its founding in 2014.
On October 2017, Hyperloop One join hands with Virgin Group to develop a strategic partnership, which also resulted in further investment to this company by Richard Branson (Virgin Group). After which the Hyperloop One again renamed as "Virgin Hyperloop One" Also, the Virgin's expertise in safety, operations, and passenger will also accelerate the commercialization phase of Hyperloop One.
I love to invest in people, not just technology. – Richard Branson

Image credits: google.com
Routes:
In July 2016, Hyperloop One, FS Links and KPMG published the first study of a Hyperloop System proposing a 28-minute link between Helsinki and Stockholm. They also published the report stating the results of a pre-feasibility route for a 500 Km Hyperloop One network connecting Finland and Sweden. Using this technology, passengers (cargo) could easily get from Helsinki to Stockholm in less than 30 minutes, which is around 3.5 hours via the airport.
Image credit: hyperloop-one.com
The route of Hyperloop from Helsinki to Stockholm with estimated time written on it.
The company later announced a deal with the World's third largest ports operator, DP World, to improve Jebel Ali's port efficiency, profitability, and sustainability and to develop a cargo offloader system at the port.
Image credits: google.com
DP World's model to establish 'hyperloop' container transport.
RTA Dubai
Dubai's Road and Transport authority signed a deal to establish a Hyperloop One link between Dubai and Abu Dhabi that would reduce 1.5 hours+ journey to 12 minutes.
Image credits: google/hyperloop-one.com
The time comparing graph of Hyperloop with other transports.
Hyperloop One Global Challenge
In 2016, the company launched its Hyperloop Global Challenge to find the locations to develop and construct the World's first Hyperloop networks. This challenge held in a series of Semi-Final and Finals. And in September 2017, the Hyperloop One announced the 10 winners of the Hyperloop One Global Challenge includes the US, UK, Canada, Mexico, and India.
Vision for India:
Indian leaders gathered together with the Railway Minister to finalize the routes from the Hyperloop One Global Challenge. Among the ten winning routes, two belongs to India which is Bangalore to Chennai and Mumbai to Chennai.
Vision for America:
America won 4 out 10 routes in Global Challenge which could dramatically impact the U.S economy by connecting 35 metro area and 83 million Americans. The following routes are:
Chicago to Columbus to Pittsburgh.
Dallas to Laredo to Houston
Cheyenne to Denver to Pueblo
Miami to Orlando
Vision for other countries:
Canada, UK, and Mexico are the other countries which were selected in Global Challenge. The following routes are:
Canada: Toronto to Ottawa to Montreal.
Mexico: Mexico City to Guadalajara
U.K.: Edinburgh to London
U.K.: Glasgow to Liverpool
When will it be operational?
Video Credits: youtube
The Hyperloop System full scale testing recap.
The testing had successfully completed at 70 mph and later at 192 mph on the Virgin Hyperloop one proved successful earlier this year, and should work continue towards completion. The Hyperloop System is expected to be completed and operational by the year 2021.
That's all from my side, I hope you've got the idea of how this technology will transform our lives. Also, the Virgin Hyperloop Website has released a ''route estimator", letting the passengers see how much time they could save.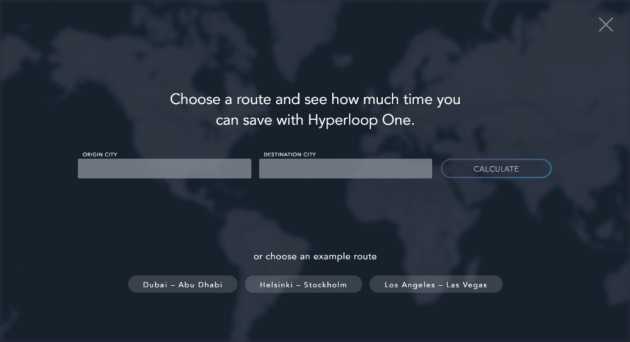 Image credits: hyperloop-one.com
The route calculator of hyperloop systems.
Thanks for reading, surely you had enjoyed my blog. Peace!