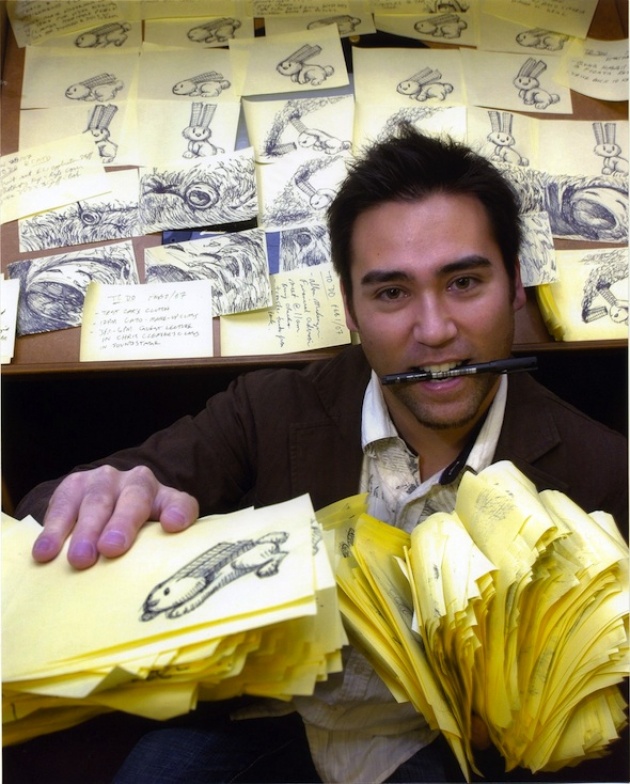 Jeff and his Post-it notes
Jeff Chiba Stearns is a super prolific, Emmy® nominated and Webby award winning documentary and animation filmmaker on Film Annex's online film distribution platform. Even though he joined us recently, Jeff has 20 videos on his Web TV. One of these films is called Yellow Stick Notes, an extremely creative, imaginative, and fun short, hand-drawn animated film. The winner of over 12 awards, Yellow Stick Notes screened at over 80 film festivals! I was initially going to say "countless" film festivals, but then I actually counted them, and yes, the number is literally over 80.
We always talk about shorts (or features) that do extremely well at festivals but fail when it comes to distribution, as part of our usual business conversations. With shorts, it's especially difficult to find distribution. The upside is that they can bring you a lot of recognition and open new doors. I feel like at Film Annex, in addition to giving short filmmakers exposure and helping them gain recognition, we're doing something else - helping them earn revenues via advertising dollars and get paid for blogs on a regular basis. And this takes us one step ahead of the game.
For my weekly Wacky Tuesdays series, I chose to highlight Yellow Sticky Notes, because even though it's not necessarily bizarre like my previous choices, the idea and the concept behind it is crazy. Jeff Chiba Stearns went ahead and made an animation based on 9 years of his life. Plus, "the entire film was animated directly onto 4x6 inch yellow sticky notes with only a black Staedtler Permanent fine tipped marker. 2300 yellow stick notes were used to complete the film and the process took 9 months to complete. Animation was captured using a digital Canon SLR camera and camera stand. The final digital cells were color corrected in Photoshop and then compiled in Final Cut Pro." This entire process, my dear readers, sounds a little wacky to me and requires extreme diligence and Buddha's patience.
Jeff and his Web TV is now part of Eren's Picks! So you'll be definitely seeing more of him. He's already very active on our platform with his films and blogs and doesn't hesitate to take his audience behind the scenes with his making-of videos. A great filmmaker to keep an eye on! Watch the video below: