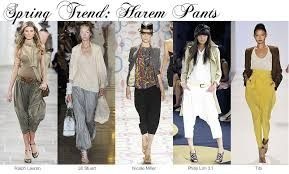 From past few years a very comfortable and elegant bottom wear has made its way to the women's wardrobe and that is Harem pants. However this is not some new creation but a discovery of the old Persian style in a very creative way and excellent marketing. In old Persia, these pants were worn by the belly dancers with a wide belt and narrowing down at the bottom. Harem pants are a new cousin of the existing trousers. The versatility of the Harem pants have contributed to its popularity. It is available in different lengths and fabric. The fabric could be cotton, chiffon or silk with lining.
Since it is available in various sizes women of all height could wear it in style. Even the Style of the Harem pants is varied.
Today, I will give you some tips to style your harem pants in such a way that you become the head turner in the crowd. As we know there are a variety of Harem pants, so choose your harem pants according to your body type. The tops with which you team your pants will make all the difference. If you are lean and are paunch-free then without any hesitation sport a ganji or a spaghetti top in bold colours like red, neon pink, blue or green and carry a Tote. If you are not comfortable showing skin then wear a fitted blouse or a tank top with shrug. If you have a wide waistline then choose the knee fitted harem pants. Team it up with a loose flared top. Since the Harem pants are quite voluminous, its better to wear heels to enhance its look. The Embellished harem pants with a sequinned top or blouse can be a perfect ensemble for the party.