For quite some time, I have been receiving various messages in my inbox asking how to earn more and fast here in bitLanders. Interestingly, many of those who sent me a message are newbies – members who are relatively new to the site.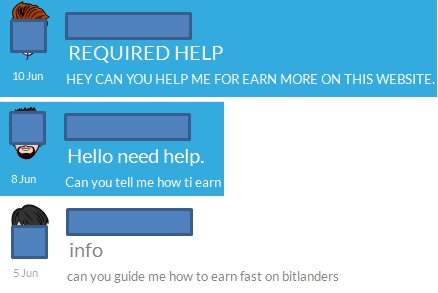 (Image Source: screenshot of my Inbox here on the site – edited by jikZ)
Although I understand their concern since they are new on bitLanders – however, I also find it quite strange. I mean many members have already posted different posts regarding tips on how to improve the buzz score. On top of this, the site's FAQ section even has a dedicated section explaining the mechanics of the buzz score and how to increase it. If you don't see where I am going with this statements, the equation below should help clear it up

(Image Source: Personal – created by jikZ)
Anyway, since I'm a nice guy, I'll give an excellent tip on how to quickly increase buzz score by utilizing an exclusive jewelry currently found on the bitLanders shop – the Tiaras!
If you are not yet familiar with the site's shop, you can click on this link: http://www.bitlanders.com/shop
bitLanders shop has three sub-pages. The bitFashionista is where you can buy the tiaras (and other cool items for your avatar) – while the bitGoodies section is where you can buy gems (which is a requirement in purchasing items on the shop)
The screenshot below shows what the bitLanders shop looks like as well as its three sub-pages:

(Image Source: bitLanders.com – screenshot and edited by jikZ)
In a nutshell, here is what one will expect on this tutorial blog:
Gain instant buzz score boost by buying the Tiara found in the shop
Exploring Buzz Score and Buzz Bonus (knowing the critical role of the latter)
Explanation on why it is a good idea buying the Tiara
How to buy the Tiara if I don't have enough gems
Now that you have a glimpse on what to read on this blog, I will now explain each item individually so please be guided accordingly.
Gain instant buzz score BOOST by buying the Tiara –
Let us start by looking at the description of the tiaras. There are currently two available tiaras found in the shop – these are the (a) Quartz and Diamond Tiara and (b) Aquamarine & Diamond Tiara. The two items are basically the same except for the naming convention and color. As can be seen on the photo below, one has pink accents while the other one has blue.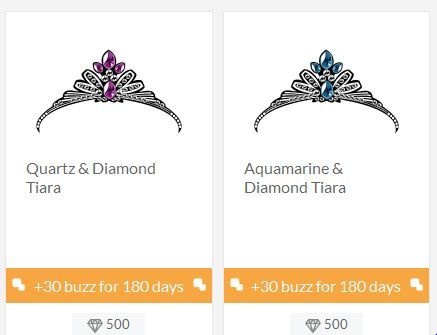 (Image Source: bitLanders.com – screenshot by jikZ)
Looking again at the photo, it can be seen that both tiaras provide a significant boost on "direct powerups" which is +30 Buzz Bonus for 180 days (roughly six months). If you haven't realized the importance of the tiaras' given bonus, then it is most likely that you are not yet familiar on how the Buzz Bonus works and how critical its role is in making up the Buzz Score.
Exploring Buzz Score and Buzz Bonus –


(Images Source: FAQ section of bitLanders.com – screenshot and editedy by jikZ)
The first above is taken from the site's FAQ section and is the official description of Buss Score. Please be sure to understand the description. In fact, it is not that hard to understand as it only contains two components. Obviously, Buzz Bonus plays an integral role in computing the Buzz Score.
To put it in simpler terms, whatever the value of your Buzz Bonus is, it will be directly added to the Base Buzz to make up the Buzz Score. Needless to say, to have a high Buzz Score, you must have a high Buzz Bonus and Base Buzz.
Also included on the photo above is the official definition of the Buzz Bonus. If you would refer back to the photo, you can see that Buzz Bonuses are temporary and can only be achieved by accomplishing certain activities and / or quests.
To further illustrate the three aspects, I will be providing a screenshot of my stats section – complete with description for easy reference (please be advised that each member can see these aspects in their respective STATS Page)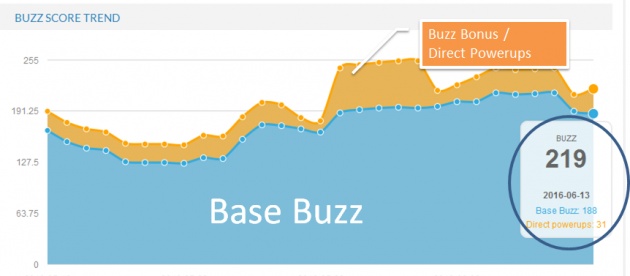 (Image Source: screenshot of my STATS page – edited by jikZ)
Explanation on why it is a good idea buying the Tiara –
Now that you have a clearer view of Buzz Score, Base Buzz, and Buzz Bonus, let us now explore on why buying the tiara is a great idea. I will list down each benefit in an itemized manner to highlight the importance of each. Discussed below are the advantages offered by the tiaras.
A. +30 Buzz Bonus for 180 Days
As discussed on the preceding section, Buzz Bonus is only temporary with some having a one-day expiry. However, the direct powerup offer by the tiaras is good for 180 days!!!
B. Additional +7 Buzz Bonus for five days
The tiaras cost 500 gems. One of the surest method to have 500 gems is buy purchasing "Big Box of Gems" which will give an additional seven buzz bonus. With the purchase of "Big Box of Gems", this somewhat changes the buzz bonus offered by the tiara to +37 direct powerups for five days and +30 for 175 days!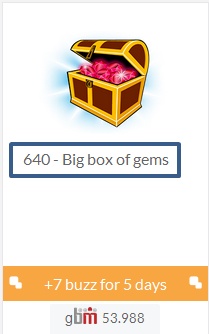 (Image Source: bitGoodies section of the site – screenshot and edited by jikZ)
C. It is like getting five stars on double rewards topic every week
We all know the benefits of the double rewards topic – and that is to utilize the 2x given bonus. The maximum direct powerup attainable in a double reward topic is 30. Unfortunately, the buzz bonus will only last for five days.
In a certain way, buying the tiara is like getting the highest rating for a double reward topic – only longer. If you think about it, it is like getting a five star rating (additional 30 buzz bonus) every week for the next six months.
D. It is a chance to own something unique
I assume that shop items available for male and female members are different from each other. This is apparent in the avatar clothes seen for each genders.
Interestingly, it seems that the tiara is available for both male and female members. I know some male readers are probably wondering it may look funny on their avatar, but the thing is, you don't have to equip (wear) the tiara when you buy it. Once you purchased the item, the benefits of the +30 buzz bonus should already take effect.
E. It is only available for a limited time
According to Micky's post, the items are only available until June 23. Unlike other "Buzz Bonus Items" that are seemingly indefinite (eg. cricket outfits), the tiaras are only up for grabs for a limited time. I don't the know the reason for this but I'm assuming it is because the two jewel accessories are very unique and special.
The screenshot below is an excerpt from Micky's blog indicating that certain items on the shop are only available up to June 23 (I have edited the screenshot and underlined the deadline)

How to buy the Tiara if I don't have enough gems?
After laying out the different benefits and advantages of acquiring the Buzz Bonus of the tiaras, some readers are probably wondering how to purchase it if they don't have sufficient gems and bitMiles points.
The good news is that gem purchase is available even without sufficient bitMiles points. So if you're worried that you don't have enough bitMiles points or credits, you can use your PayPal account to buy items on the shop.
For instance, I currently have insufficient bitMiles points to buy the required amount of gems. But the system informed me that I can choose PayPal as a payment method to buy the gems.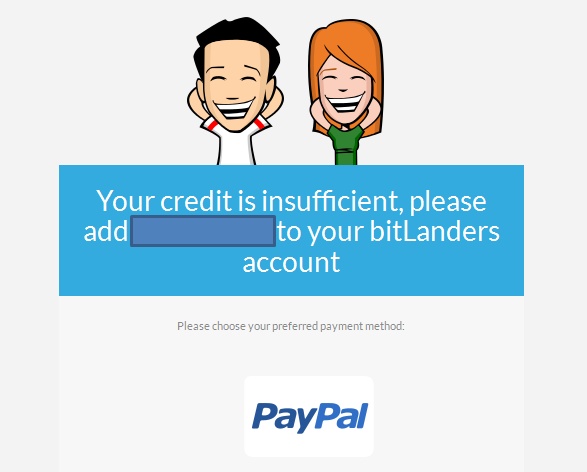 (Image Source: bitLanders.com and edited by jikZ – message received when purchasing gems with insufficient credits)
You have the final decision!
That's just about it. Remember, no one is forcing you to buy the tiaras. However, if you do buy those pieces of jewelry, you will certainly receive a significant Buzz Bonus for a very long time!
Please note: The tiara is only available during the celebration of Philippines' Independence Day on 12th June!