Who are you: School 2015 is one of the great school drama series in Korea. It broadcasted on KBS2 from April to June, 2015 and it has 16 episodes. Executive producers of this drama are Jung Sung-hyo and Han Sung-ho and it was written by Kim Hyun-jung and Kim Min-jung.
This drama series shows the real problems and struggles that teenage and young generation face in Korea. The drama story is about twins who separated when they were kids.
Kim So Hyun plays as Go Eun-bi and she is an orphaned girl who lives in love house. Kim so Hyun plays as Lee Eun-byul who adopted and separated from her twin sister at age of 3. She is studying at one of the greatest high schools in Seoul.
The twins exactly look like each other and only Eun-byul know the fact that she has another sister. The drama shows that Eun-byul disappeared in a field trip, while her sister Eun-bi jumped off a bridge in a suicide attempt. After 10 days, they mistakenly take Eun-bi instead of her sister Eun-byul and her family takes her to their home in Seoul. She lost her memory and after awhile her memories come back to her. She faced difficulties in her school and one of the girls knows her real identity. One of the school's trouble makers Tae Kwang helps her always at school and doesn't allow anyone to hurt her. Tae Kwang is a trouble maker child and his father is the principle of Sekang High school. His mother is an actress. His classmates know him as liar and trouble maker and they don't know his real identity.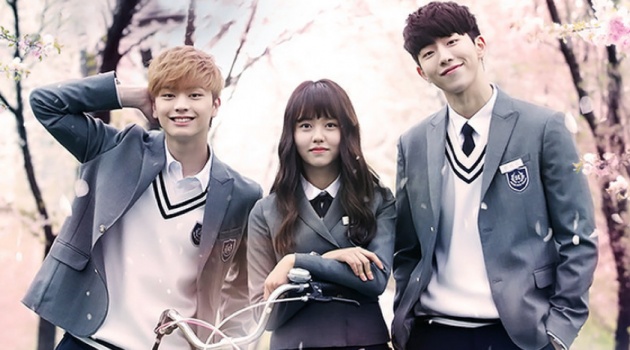 Blog about Who are you: School 2015!
Are you an expert about the show? You follow all the news related to Who are you: School 2015! and its participants? Share with us news, gossip and events associated to the show, participants, and producers!
Write a blog about it here on bitLanders. You will earn rewards for your blogs, other content like videos and pics, and social activity. Your content will be read and watched by bitLanders 500,000 users!
Watch Who are you: School 2015's trailer below:
Read about other Korean's shows:
Learn more and watch other popular shows from Korea, "Pinocchio" and "Kill Me, Heal Me" shows.
bitLanders' audience is global and located all around the world. That's why we want to offer our audience a large variety of TV and entertainment news! Join our bloggers and share your passion with us!