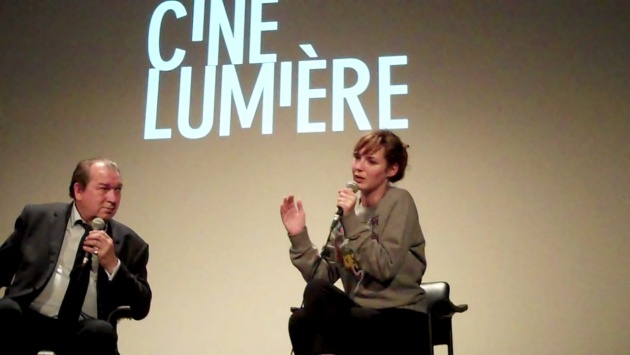 As twice winner of the Cineworld Haymarket Movie Quiz in 2013 (shame it wasn't red wine rather than white) and on the runner up team at Sundance London's inaugural movie quiz (pity about the ladies jacket that I won – too small for Mrs O), I am by nature ultra-competitive. I even try to overtake passers-by when out pushing my lad's wheelchair, especially if they are smoking – the passers-by, not my lad. I regularly enter prize draws on websites, though with the 'two week warning' currently given to users of computers in Britain, I'm not sure I recommend this. One such draw led me to win two tickets at the Cine Lumiere for a screening of MISS AND THE DOCTORS (better known by its French title, TIREZ LA LANGUE, MADEMOISELLE – I think the British distributor was having a bad day with Google Translate). The bonus was a Question and Answer session with its star, Louise Bourgoin, best known as the titular heroine of Luc Besson's THE EXTRAORDINARY ADVENTURES OF ADELE BLANC SEC.
The disappointment was the low turn-out. Had the film been at a film festival, I am convinced the screening would have been full to choking. It was a Monday night in South Kensington; there wasn't even football on TV (the cinema is a stone's throw from Chelsea FC's football ground, if you happen to have a Roman-style catapult). Maybe it was because it was under-promoted.
The young people of the UK are happy to follow the objects of reality TV series like Joey Essex, the British equivalent of Honey Boo Boo (in terms of a cultural phenomenon, at least) rather than genuine stars like Ms. Bourgoin. Why is this?
In general, the British are only interested in French actresses if they are: (a) Kristin Scott Thomas – not French, but French-speaking; (b) icons from a great period of French cinema like Catherine Deneuve or Isabelle Huppert; (c) an Oscar winner like Marion Cotillard and/or have made movies in America; (d) sleeping or have slept with someone famous; (e) a former pop star or famous for some other discipline; (f) a member of the Symbiotic People's Front or modern equivalent; (g) Gérard Depardieu in TENUE LE SOIREE; (h) all of the above.
Ms Bourgoin is, of course, none of these. She has however had leading roles in movies since 2008, in Anne Fontaine's THE GIRL FROM MONACO. Her biggest domestic hit is LE PETIT NICOLAS (2010) and she has made an English language film with Pierce Brosnan and Emma Thompson, THE LOVE PUNCH.
Crucially, few people in the UK know who she is. The reason is very simple: 'The Only Way is Essex' is on TV all the time. You generally don't see Louise Bourgoin films there; there isn't a dedicated film channel to foreign language movies that aren't Bollywood. (They can't get the subscribers.)
Why am I making such a fuss? Because we ought to be interested, especially if the stars are as approachable and open as Ms Bourgoin by which I mean, she will talk about the tensions in making the film and does not appear to be following a public-relations brief. There was no ceremony in Ms. Bourgoin presenting herself to the audience. She placed her derriere on the stage and swung her legs up, before getting to her feet and taking her seat, all as her interviewer, the estimable Paul Ryan, came puffing behind her. She displayed an energy that was disarming.
MISS AND THE DOCTORS is a film about two brothers, Boris (Cédric Kahn) and Dimitri (Laurent Stocker) who run a joint practice in the 13th arrondissement of Paris (what we might call Chinatown) and fall, in separate ways, for Judith (Bourgoin) the single mother of one of their patients, bespectacled and precocious diabetic Alice (Paula Denis). The brothers are great with young children in spite – or perhaps because - of not being parents themselves. When the patients become teenagers, they struggle. As for dealing with parents, they can be overly direct, as in Boris' case. There is the hint of a back story. Dimitri is a recovering alcoholic who attends AA meetings. Boris' best friend (and ping pong partner) Charles (Serge Bozon) has an unspecified illness and is uninterested in the attentions of his receptionist, Annabelle (Camille Cayol). Two brothers living opposite each other – they can see the other's apartment through their windows – with one picking up the other's mail if he forgets it - are a novelty act. However, cracks begin to show.
The writer-director, Axelle Ropert, cast a leading French director, Kahn (best known for RED LIGHTS) in one of the leads which, as Bourgoin reported, led to tension on set. Kahn would give her unsolicited advice on line deliveries and where to place the camera which, fortunately, Ropert filtered out. If anything, she went quite far in the opposite direction. There are extended sequences of characters walking, for example Judith leaving her apartment to go to work in a bar, that are so drawn out, they create suspense. You see Judith walk through an underpass and you immediately think of IRREVERSIBLE. I for one was grateful when Ropert cut. 'We didn't understand it – all these walking shots,' said Bourgoin. They are supposed to represent paths across the city. In a strange way, they justify moments when one character suddenly meets another; they are on their feet all the time that they are bound to bump into someone they know and invite them to a Chinese restaurant at six am for some soup. (In Paris, you are lucky if you can get coffee at that time; even in the big hotels.)
In the film, Boris is quite sharp with Judith for leaving her daughter at home alone (she must be eight or nine years old) for long periods when she is in danger of slipping into a diabetic coma. Indeed, Alice calls the doctors when her mother is away. Judith is rude to Boris for his concern. They bond over their soup breakfast but the relationship continues in an on-off manner until Charles sees them together. Then hell breaks loose, relatively speaking.
Bourgoin's character is not written as a traditional lead; she is not goal driven in the Hollywood mode, rather a working mother. She is neither put on a pedestal nor a crackpot, as Bourgoin put it; she confesses to like being in films written by women. A lot of the questions directed at her from the audience picked up on the feminist aspects of the movie. 'Your character has all the power, she makes all the decisions.' 'Yes.' Another audience member talked about the film evoking the rituals of courtly love as opposed to the rituals of Courtney Love, which I suppose at one point were chemically based. Attention was paid to Judith's removal of her glove, as if it was a gesture of affection, a signal to her knight. She even lives in a tower – block, that is – and is seen leaning out of a window. This doesn't account for the Russian character names.
The Q and A did not reflect on Bourgoin's career to date but it is clear that this is on an upward trajectory. She was even thinking of basing herself in London, perhaps because of the lack of attention paid to her. The film, pitched midway between a romantic comedy and a drama, with odd diversions – two of the patients meeting up to compare notes – shows concern and compassion for its characters rather than tells a great or complete story. We should acknowledge the pleasures of this.
With thanks to Cine Lumiere, South Kensington; screening and Q and A took place on Monday 2 June 2014, 20:30