I've decided that every week, I will try to post some of my Post-it Note sketches that I draw of cute creatures and animals that I like drawing for fun. Although, last week and this week, I want to post Post-it Note sketches that I've had drawn by other artists.
Through my travels around the world to various film festivals and comic book conventions I get to meet a lot of other animators and artists. As a little souvenir of our meeting, I ask them to draw me a little something on a Post-it Note. I really enjoy seeing how other artists tackle the medium of the Post-it Note sketch when I hand them a pad of blank 4x6 Post-it Notes and a black pen.
Here's some of the drawings created by a few of the artists and animation filmmakers and friends that I've met over the years.
Enjoy this cornucopia of styles and little antidotes on how I acquired the drawings!
Please subscribe for updates on new blog posts and video uploads! Thanks!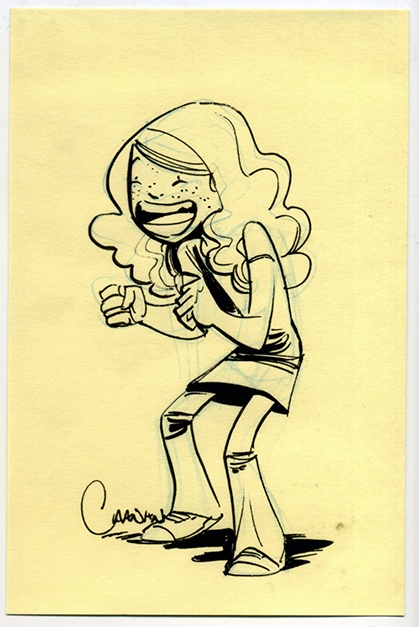 (Caanan Grall - 2013 - Comic Book Artist and Creator of Max Overacts. Caanan and I have met at various comic book conventions in Vancouver. One day his table was across from mine so we traded sketches. I love this guy's work! So expressive with a hint of cartoony charm!)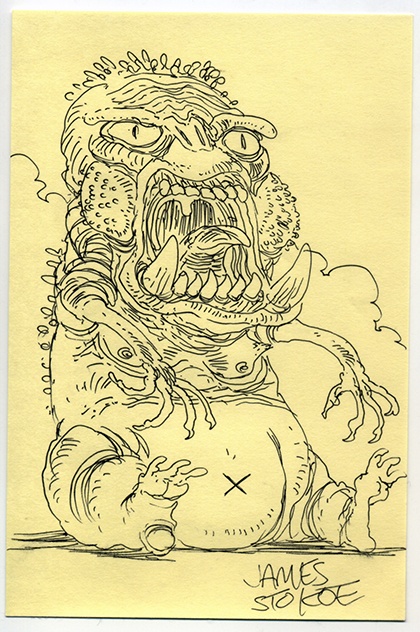 (James Stokoe - 2013 - Comic Book Artist - Creator of Orc Stain. When I was first introduced to Jame's work through Godzilla: Half Century War, I fell in love with his crazy detailed style. He also holds his pen unlike anyone I've ever seen...it has to be seen to be believed. He's also from Vancouver and at the Vancouver Comic Arts Festival, he drew me up this sketch of some weird creature in his signature style!)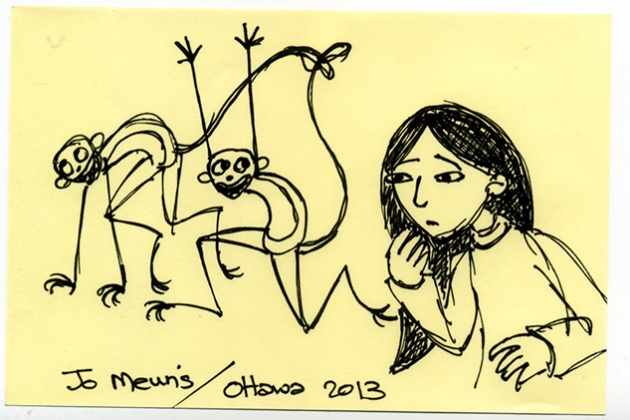 (Jo Meuris - 2013 - NFB Animator. Jo and I met at the Ottawa International Animation Festival. We shared a common bond as we're both half-Asian descent. She created the wonderful film, The Girl Who Hated Books, for the NFB a few years ago. She drew this for me over dinner at a local Ottawa smoked meat restaurant called Dunn's)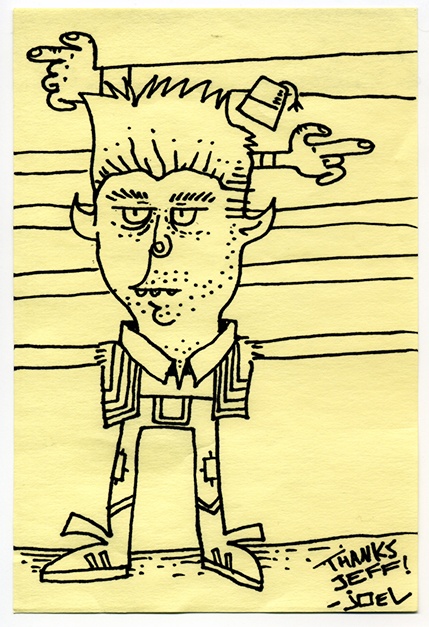 (Joel Mackenzie - 2013 - Animator and Filmmaker. Joel was one of the anijam animators who worked on my film Yellow Sticky Notes | Canadian Anijam. When he sent me back his sequence of drawings from Halifax, Nova Scotia, this was included in the package...a little thanks for being part of what I hope was a fun and creative experience)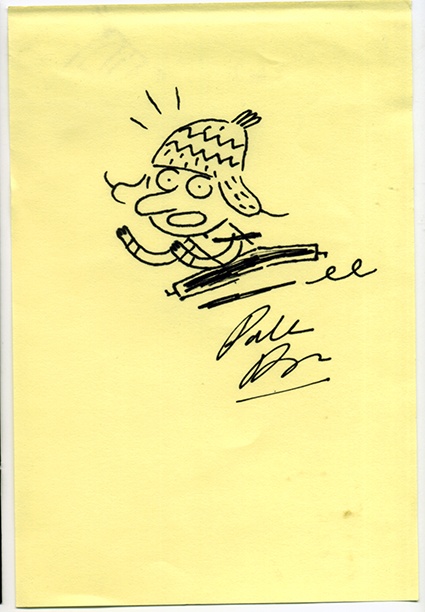 (Patrick Doyon - 2013 - Oscar Nominated Animation Filmmaker for his film Dimanche. Patrick and I met at the 2013 Ottawa Int'l Animation Festival when we were introduced by mutual animation friend, Jonathan Ng. Patrick quickly drew up a sketch of the main character in his amazing animated film Dimanche)