This week our all exercise sessions (Saturday, Monday, Thursday) compass in another gymnasium which was new to us and it's located inside of Kabul University.
Mr. Eng. Ibrahim has chosen this gymnasium with consult of Mr.Obaid also with Mr. Abdul Razaq whom is our trainer.
The new gymnasium is sufficient for our exercises and all of my teammates are agree with this place.
Our first exercise session held on Saturday but a little more different than others in time.
That day I came to cubicle at twelve o'clock then we went to gymnasium twelve half o'clock PM.
We arrived there after fifteen minutes, and then at one o'clock we became ready and started to exercise.
We exercised for two hours and we all enjoyed from that session because we performed those actions and technics that we never do like this.
Mr. Abdul Razaq attempts to we work or perform the technics which is up to date, it is really valuable to us and we are very glad from Mr. Abdul Razaq.
Our exercise finished at three o'clock PM and we all after eating snack came to our homes.
It was really nice day.
On Monday we did our next exercise session from one up to three o'clock PM.
It was really fantastic and joyful day to all of us, because when we arrived in gymnasium there came lots of people who are the eagers of Esteqlal football club team.When we looked this we felt so happy and we all got lots of moral and energy by looking this.They very encouraged all of us until and of exercise session.
That day we all wore our blue clothes which prepared by Film Annex company.Our practice was the same as Saturday because our practice on Saturday was very new to us therefore our trainer Mr. Abdul Razaq dictate to perform that practice again.
After two hours exercise session we ate snack which brought by Mr.Obaid Then we came back home.
On Thursday our next session held.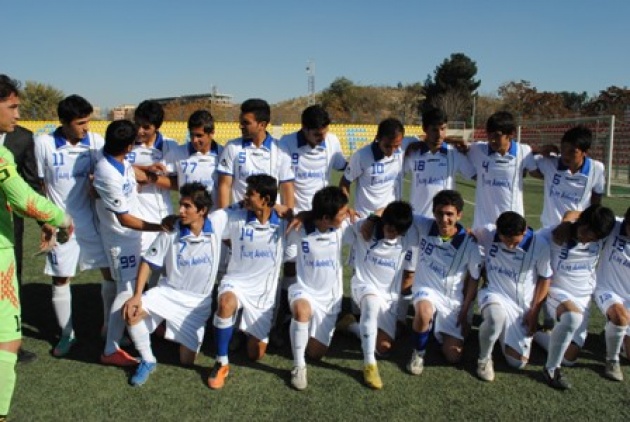 First of all a question will become to your mind which how we exercised on Thursday wherea our exercise would compass on Wednesday?
Because Mr. ENG Ibrahim said to all of us to we must hold our exercise session on Thursday for this case to the sponsor of our team (Film Annex) company said to Mr. Ibrahim for capturing and snapshotting on Thursday.
That day all we wore our blue clothes which made by Film Annex Company but unfortunately nobody came there for capturing and snapshotting through some problems.
So we did our practice first with running for ten minutes within thirty up to seventy percent speed.
Then we did simultaneous motions for ten minutes.
Because it was the last day of our exercise session in this week for this case we played football with together until end of session.
At end as like other exercise days we ate the snack which brought by Mr. Obaid and by Mr. Abdul Razaq's car we all came back to home.
That was all about events which fell in this week.
By Amair