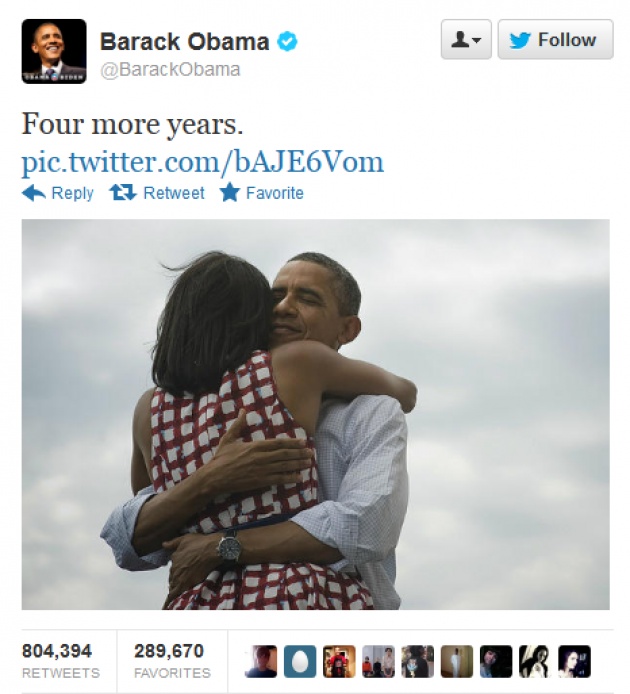 While last week started with Sandy, this week started with Obama. This Tuesday, the American people chose their President for the next 4 years and re-elected Barack Obama. It gave me the occasion to study some social media numbers and the theory that it can predict the results. And it turned out it did! You can read all about it in my blog.
On the left: Photo posted on Obama's official Twitter and Facebook page after the results were announced. More than 800K retweets as of today!
This week we welcomed a new member in the Film Annex team, Feresteh. She just arrived from Afghanistan. She will work on the Afghan Development Project and take over its social media part that I have been working on so far. As part of my current focus on LinkedIn, I'm also working with her so she can contact people about our Afghanistan initiatives and about hiring Afghan writers for the Annex Press. The efforts on LinkedIn seem to already show some results as we gained in one week more followers than in a regular month. It's more new people interested in what we do and who want to follow our projects! For the LinkedIn addicts, I recently discovered their new Influencers page with a list of thought leaders to follow and get updates from. Does this 'thought leader' concept ring a bell? We have been using it for quite a while on Film Annex and now with Target Marketing Annex. Let's see how long does it take for the LinkedIn team to answer Francesco Rulli's application to be on the list!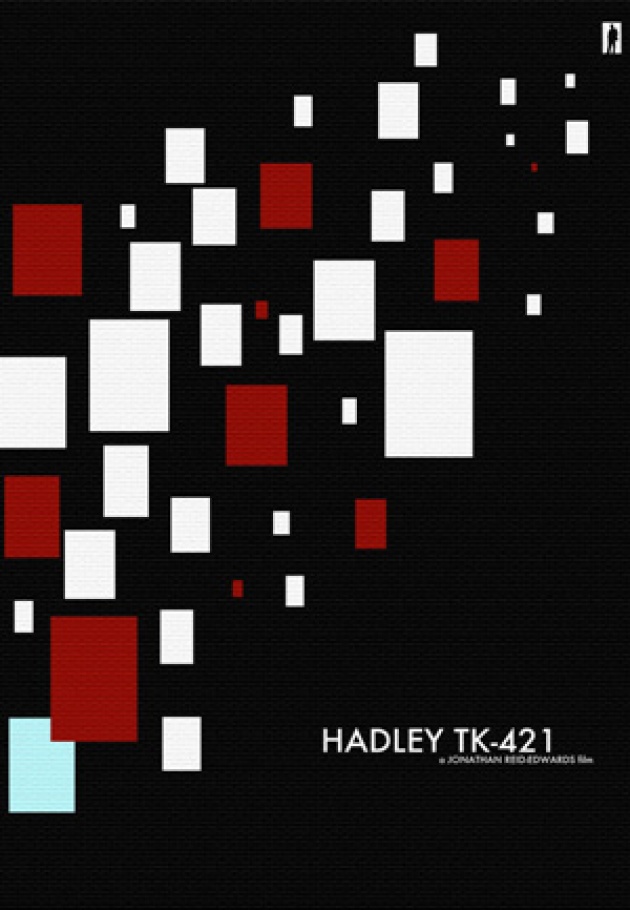 In my search for new filmmaking talents, I got in contact this week with Jonathan Reid-Edwards. I watched one of his short film online and realized that we were already hosting the trailer on the ECU profile. Hopefully next week I will be able to present his film Hadley TK-421 on my weekly recap and on Film Annex.
Now for our new content, this week we received Port Nant and Meet the Ducks by Mark Kuczewski. The 2d one was created for Fuzzy Duck Creative with who Mark works and who are also part of Film Annex (more about all those Film Annexers' connections to come soon....). Andy Parker sent us a great timelapse behind the scenes video for his short film At First Sight. We also got another behind the scenes video, this time from Andy Salamonczyk. His short film Dawid and Dominik is being shown at the Cornwall Film Festival in the UK today. We wish him good luck and can't wait to host the full film on his Web TV. MadLabProductions who joined us last week continued uploaded more videos and blogs. Chris and Geri, the creator of MadLab, were really thankful for the warm welcome and told me that they have a lot of content waiting and can't wait to upload more. They were referred to us by Kevin Parry, one of Chris's student (will also come back to that in a future blog...). Speaking of new member, this week we welcome Jeremy Guerrieri who just registered today after I contacted him and his team of animators. He directed Redscare with some fellow students from Supinfocom, a film school in France. As a welcome gift, they get their video below. Enjoy!
The highlight of today was the visit of Film Annex's all-time member Charles Pieper. He is currently in New York for an art exhibit at the Luxembourg & Dayan Gallery where a stop motion he was the lead animator on is being projected. He came to our studio and sat with Eren, our creative director, for a talk and an interview on camera. More about that in her weekly post, and in the video that will come soon.
Lastly, I just wanted to share some social media facts that I came across this week, if you are a social media buff or want interesting facts to drop in conversations!