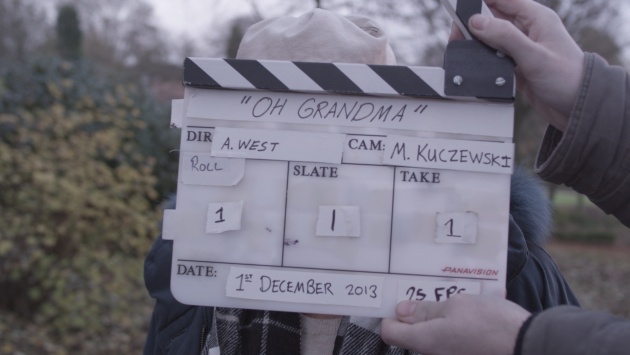 Well the shoot has come and gone, Oh Grandma, my latest short film, has been shot and I am currently in the middle of post production.

It my first personal narrative drama since university, and man I'm rusty. I guess when you don't do something that often that is bound to happen.

Shoot days never go to plan 100 percent to plan. Someone is bound to be late, the weather (when shooting outside) fluctuates between your best friend and your worst enemy. The original shoot schedule is always a tad too optimistic.

But in the end it all comes together and works out even better than you imagined. That's the thing about shooting, there is always some un-quantifiable essence that only happens on the shoot day, that makes it those ideas in your mind come together.

Of course there are things I wish I made time for in Pre Production that would have made things a little smoother, but I guess you can say that about almost every production.

The main emotion before a shoot is always: am I ready, I hope it doesn't rain, is the audience going to get it, do I remember how to direct, are the batteries fully charged, is the crew going to be well fed, is it too early, what happens if we fall behind? I hope the talent is as good as they were in rehearsals. Every anxiety you have about the film, your ability, and why you are actually doing this goes through your mind.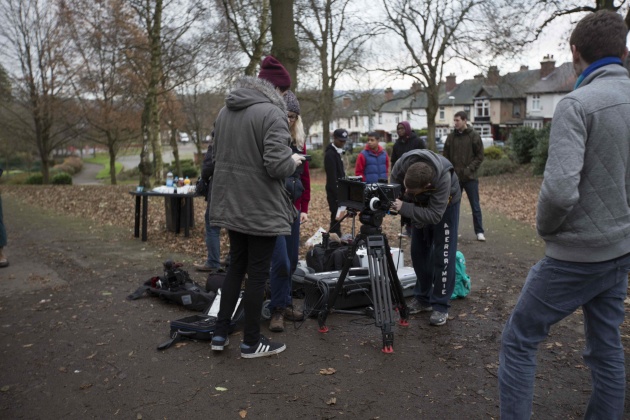 Early start

The moment you get home after a shoot, it's always, "Oh I really hope this film actually works and the audience actually thinks it's funny". Because After all none of that stuff around the production of the film actually matters to the audience, it's always back to that old cliche, "It's all about the story".

Even though to the audience everything to do with video/film it couldn't be more night a day. Shooting Documentaries and even music videos is such a completely different beast to shooting a drama.

With Music videos, you can be a bit random (I feel) with your shots, as your song is telling the story. This more or less frees you up visually do to kind of whatever you want. Documentaries as well, you are kind of bound to what your interviewee is talking about, sometimes you don't have many visual ideas for the story until after an interview and then you know exactly what to shoot because your interview tells the story of what the audience should be seeing (depending on your style of documentary film making)

That linear narrative really means you have to plan everything down to the last detail. Things like continuity spring up, and all of a sudden, a character wearing a baseball cap one one side and then a few shots later another side pop out (this didn't happen but is an example). As well as the talent remembering their lines, you have to constantly talior their performance to the tone of the script, making sure they aren't going over the top or not being big enough. And don't get me started on not shooting in order. This is why a director needs to be constantly behind a monitor to make sure everything is what they vision, and is consistent with the rest of the film. Because if something is wrong, it's down to your direction, no one else.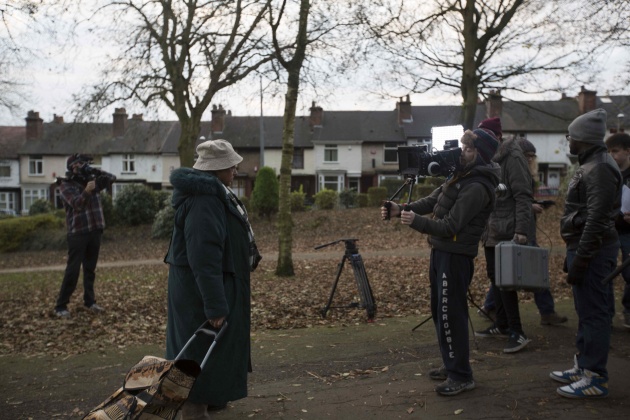 Mark making "movie magic"
In the end the shoot went smoothly, maybe one or two shots I wish I had gotten, but you can literally say that about every film. Just remember you can't leave too much to the moment. It's alright some of the film being in your head, but remember to at least do a rough storyboard, just so you can get a clear idea to your crew what expect from the style. Because on the day, a million and one things will come up.

I guess that's the thing about both Producing & Directing your own film. You know as the director you're supposed to only worry about the the performance and storyline, but it's impossible, because after all, you're still the producer. Every logistically detail of the shoot is kinda in your head. You know what time each person has to leave at, You know how much time you have till the next location, you know that you've had to cut a corner and the problem is going to rear it's ugly head at some point. Heck you are even thinking about what time you have the take kit back by tomorrow.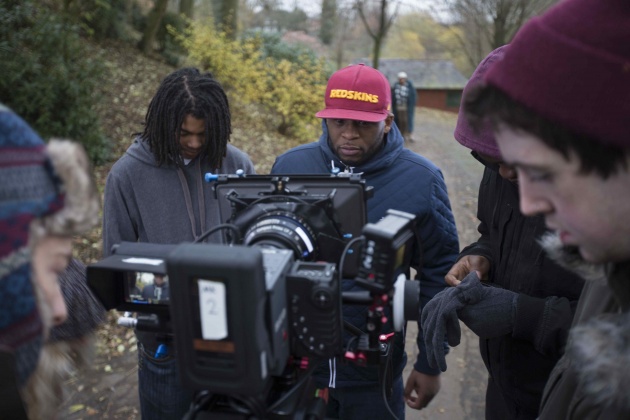 Justin getting ready for his close up

And all of that stuff just clouds your mind. Of course you do forget about that stuff after about the first 5 set ups, but then you are abruptly reminded when your Assistant director reminds you that the talent has to leave early, or that Lunch has to be warmed up and taken to the next location.

All that being said what matters is the performances, and they were spot on, working with an experience (and brilliant actress) is always a safe bet. But the other two stars of the film weren't experienced as actors. I always feel if you have the personality and you just be yourself, it shows on screen, and that's something you can't learn at drama school. Thankfully our two co stars had ton's of charisma and personality and it showed in their performances. So a big thank you to Sandra Scott, Justin "Sweeze Baker, and Jonathan "Supa Kid" Benjamin. Not to mention I had an amazing crowd who put up with some serious COLD COLD weather, thank you again Seren, Stephen, NK, Ryen, Ellie, Carolyne, Pryesh, Dan, and of course My wife Suzan.
The crew where fantastic. Luckily I had my long term partner in crime, Mark Kuczewski, shooting the film for me, and Andy Salamoncyzk reminding me that I was taking too long on getting a close up of a hat and keeping things running smoothly until he had to rush off to set up for his film. My sound was crisp clear and consistent thanks to Kyle Martyn Clark, and everything was in focus because of Eira Wyn Jones' sharp eyes. Natalie Cooke kept everything ticking in the background over whilst I was pontificating over my next shot. And Dominic Mathewson was the silent no fuss camera assistant that made sure Mark had as much as he needed. And Matt Geeling, Seb Chadwick and Ewan Dyer made sure that all the pictures you see and the BTS (you will see) were possible. Having crew with specified job roles on the day makes everything so much smoother, and you know at least technically everything will be great.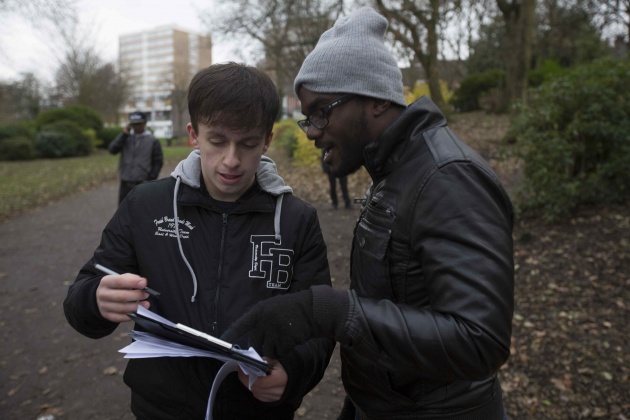 Now this may seem a bit listy, but without these people thing the film would literally not have been possible. I feel that too much attention in films goes to the director and cast, when without every person that I mentioned, the production would have been impossible. To often I feel you see people who are convinced they can do every job roles themselves, and whilst very good, it always, and I mean always translates to the end product. You need a team.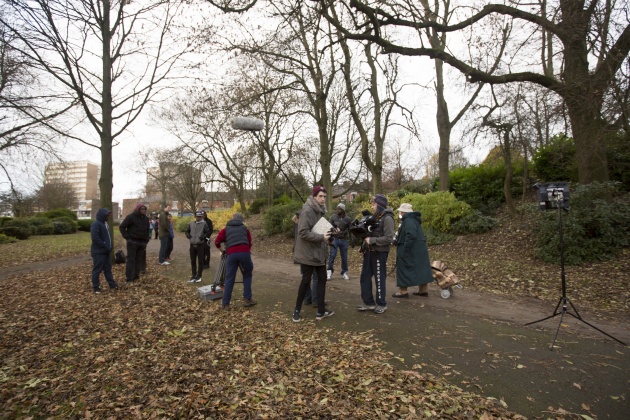 Again making a drama is like nothing else. For me there is nothing more satisfying than All this to make a little idea I had one sunday morning come to life on screen. In my opinion making a drama is the only way to do that. Now if only I could do this more often.

Until then, back to the dark room.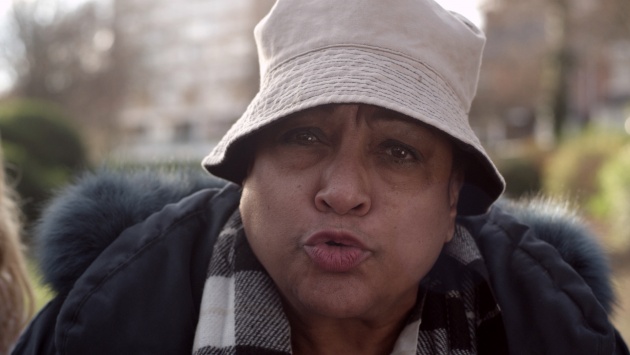 Premiere coming soon.