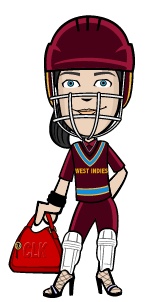 I find it fun to change costumes in a daily basis. See what I did today? I had changed to West Indies cricket uniform and then I accessorized it with a red CLK bag which I had also purchased from the store. I even added a bangle too! And look at those stilettos. I thought the flat red shoes would fit to it but then I realized, it is pretty to chic and fab to wear stilettos instead.

So here's my new outfit for today! Red and classy!

How about you? Have you changed your outfit today? There were some blogs that I have read stating that changing outfits daily would help with our stats but I have not proven that yet. I on the other hand had been changing clothes because of the abundant number of cricket costumes available. This is actually the first week that I have been doing this and we will not close our doors of the possibility that it can definitely help with our stats, let's further observe it.

But for now, I am enjoying the change outfits and accessorizing my avatar!

I wonder though if there's something new coming in the next weeks!