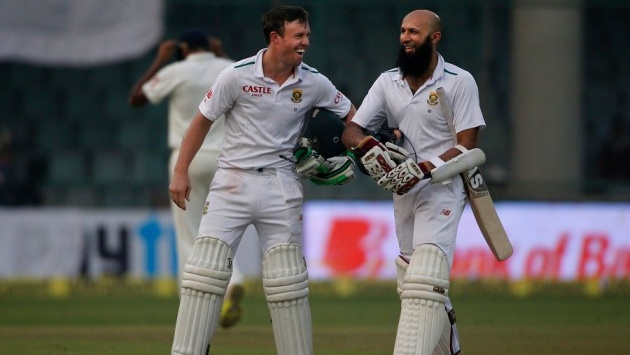 When its impossible to win a test match and must be avoid defeat so how to play a batsman to save the match. Yesterday, its the responsible batting by South African Captain Hashim Amla & Ab de Villiers told the whole world who have scored 27 runs in 40 overs.
When the fourth day was end so South Africa requires 409 more runs to win this test match while his eight wickets remaining, It should be clear that this is the first match of a test series has been continued for the fifth day.
When Ajinkya Rahane scored centuries in 1st inning & also in 2nd inning so Indian captain Virat Kohli announced the inning's declaration, thus South Africa requires a target of 481 runs to win this test match.
Of course, its seems impossible to getting this target but this time it was more difficult when Ravi Chandra Ashwin sent Dean Algaar to Pavilion only in fourth over, at this time the team score was only five.
South African captain Hashim Amla came himself with Temba Bavuma which was already at crease, both of them tried to save the match and no wicket fall in next 38 overs but in these 38 overs both batsman jointly scored only 44 runs.
This partnership standing dangers for Indian team, once again Ashwin came out and got the wicket of Temba Bavuma who scored 34 runs, at this time South African team score was 42 runs in 49 overs.
Surely, this was the time when disturbing South African team getting in more difficulties so Ab De Villiers came at the crease with captain Hashim Amla, this time it was being said that if South Africa is to save the match, it is very important wicket.
The South African team was hopeful by both players and both of them exactly done which was expected by their team, both batsmen did good batting and scored 27 runs in next 40 overs and thus the end of the game of fourth day.
Although on the fourth day, South African batsmen getting save his team from defeat but spectators were very disappointed which social media highlighting all the day.