Video credits: TechSmartt via YouTube
I had mentioned this before and I will do again in this blog, today's generation given the fast-paced technology and digital age, traveling is already easier compared to around a decade or two ago.
Aside from that, it is much easier to travel with just a backpack, the main reason why there are several travelers today who go with just one backpack, they are referred to as "backpackers" and you'll easily spot one when you go in a certain tourist province in the country.
Video credits: Flurt via YouTube
While being on the go, it is indeed faster and easier to move here and there with just a backpack which one can just be put on their backs and then relocate. One possible reason why this is so possible these days is that of the use of technology. All of the things we have before which were manual can now fit in just a small tiny mobile device. There are so many things that can be done with just a smartphone in hand.
What Apps Are We Using When Traveling Within the Country?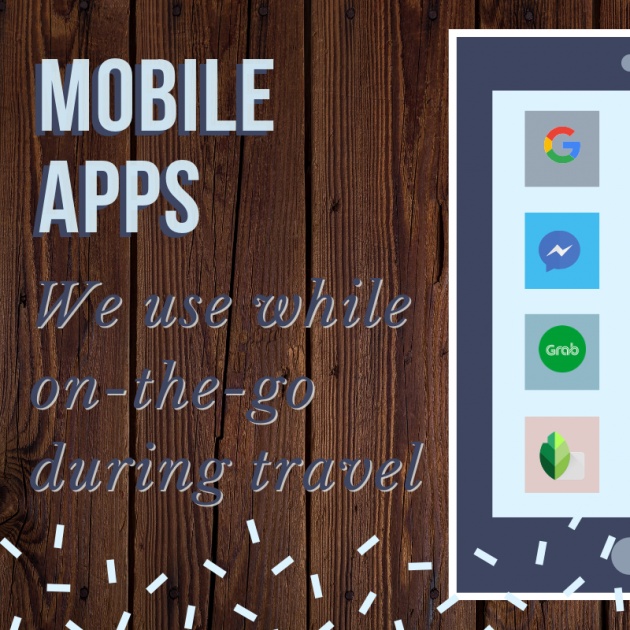 Video edited in Canva credits: Jean Beltran uploaded via bitLanders
Today, my blog topic is all about the travel mobile applications which my husband and I use while on the road. It is timely that in just three days from the day of this writing, we will be traveling back to Davao City on two backpacks and these are the essential applications that we have to update and ensure it is working fine during our trip. Note that both Android and iOS devices have them just in case one phone dies out while we are traveling.
These applications have been listed via categories because there are so many of them as well but note that we always use these applications most especially that we have limited time to use a laptop computer on the road. So, mobile phones are the easiest to reach out and use.
Directions and Bookings
Image credits: theverge
Our top essential applications for directions and bookings would be Google Maps, Grab, Airbnb and airline apps such as AirAsia, Cebu Pacific, and Philippine Airlines. All of these must be up to date before traveling because it is hard to use it if on the road they'll ask you to update them and we are not certain if the data connection could push the update successfully.
Grab is definitely useful because this doesn't only allow us to get a ride easy, it is also for security purposes as we do have trust issues with taxis. It is important that we have a record of who we are riding with plus, it is also an opportunity to ride different types of cars!
Image credits: trioangle
Google Maps, of course, is a very important app as it will direct us to where we would need to go. We received a recommendation to use Waze and we will do that in our Davao trip and I will create a blog topic about that too. Google Maps also has the Local Guides with it where we can add tips and upload photos to add to our points.
I won't be dealing with the airline apps because that's pretty straight forward. But there's one more app which we always use when traveling and that's Google Drive, it is the top one because we keep all things in there such as tickets, itineraries, and digital files that we felt necessary when traveling such as scanned ID photos.
Communication
Image credits: itpro
I can't stress enough how important it is to stay connected while traveling so there are apps that we have to use to communicate easily either with each other or with work, family and friends.
Facebook Messenger is the number one for friends and families. Slack is for each other but we can always call each other too and for work, it would be Slack as well. We have to keep that up to date however, there's a greater chance that we would keep the work line offline as much as possible.
Multimedia
Image credits: Panasonic Australia
We can't go out traveling without any multimedia application on our mobile devices, why? Because we have to also be updated on our social media while on the go, it is just for the network to know that we are in such a place. We share video clips, Instagram stories, and photos just to update our friends and families too.
There's Panasonic Image app for connecting our Panasonic camera with the phone so we can control it and take selfies together while away from the gear. There's also Canon's Camera Connect and DJI Go 4 for the DJI Spark.
Image credits: theverge
Now for multimedia, we use several apps. Adobe Lightroom CC, Snapseed, and Lens Distortion are mostly for editing photos. For videos, we have Quik which we usually use for making Instagram stories, KineMaster for editing mobile videos longer than a minute and I would have to state Canva too for laying out our photos which we post on social media.
Blogging and Taking Notes
Image credits: androidcentral
It is important for me to use note-taking applications on the mobile. While it is easier to write on a pen and paper, it is hard to maintain a notebook and a pen while traveling so I have realized that this time around and moving forward, if we are just going for a backpacking trip, I must limit myself to writing important information on my phone instead. I can move them to the journal later as well.
I have my very reliable Google Keep application steady on my phone which is very convenient as it syncs the data immediately to the cloud as soon as an internet connection becomes available.
Image credits: imore
I also keep my Google Sheets ready as I have to update our itinerary with the actual pricing together with our spendings to make sure we are within our budget.
Aside from writing drafts and taking notes of important information during the trip, I also blog either on my mobile or in my tablet using the Google Chrome browser.
Entertainment
Image credits: digitaltrends
During our down times such as waiting for our flight boarding, or en route on our Grab car, we take that time either writing my blog draft or being entertained.
The apps we usually use are YouTube for watching videos, Spotify for music as we have a premium account with them, we also have Instagram and Facebook of course.
Overall
Image credits: digitaltrends
The mobile phone, smartphone, handheld, tablet or whatever or however you refer it to, is such a great tool for traveling, it has almost all that you need when en route or even when you arrive at the destination.
Ensuring that all the applications needed are up to date is important to avoid disappointments and regrets while on the road.
What about you? What apps do you use on your mobile phone to ensure that your travel would be a success and at the same time entertaining? Do you use the same set of applications as we do?
Thank you for reading!
---------------------------
About the author:
Jean Beltran-Figues is a photography enthusiast.
A traveler who wants to promote her beloved country, the Philippines.