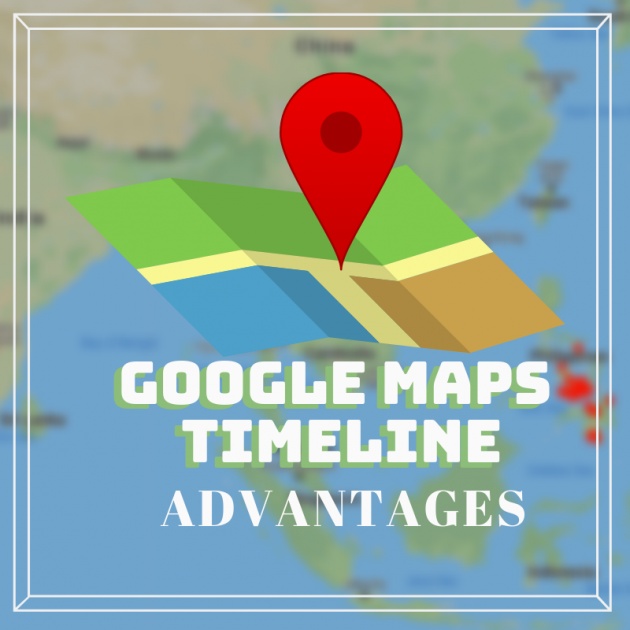 Image edited in Canva credits: Jean Beltran uploaded via bitLanders
As a self-proclaimed traveler, it is my delight to reminisce past travels, see photos during that specific travel or even watch trip highlight videos. It proffers me grand fulfillment to realize that I have been to several places in my country, the Philippines.
Recently, I inspected my Google Maps Timeline, you already know that I have been a fan of Google Maps and that I posted several blogs before regarding some of Google's services including the Google Local Guides. See some of the related blogs below:
Image credits: theverge
So getting a visual view of my timeline made me feel accomplished and even encouraged me to seek more and go further to different parts of the country. However, Google Maps Timeline is not all about the satisfaction of seeing the history of travels and places, some users are concerned about their security too.
Each user has different goals in using certain applications and others would even despise using such because of security concerns. So, today, let's deal with these things in this blog.
What is Google Maps Timeline?
Image credits: bjornoberg
You can view and manage your Location History information through Google Maps Timeline, which is available to both mobile and desktop users. In Timeline, you can edit specific entries from your Location History, delete information from ranges in time or delete all of your Location History data. Your Timeline is private, so only you can see it.
Have you thought of documenting all the places you have visited before? I do and will want to do so even in the future. Perhaps some may think about the danger that someone out there may be a team from Google knows your location every single minute and might be exposing those data to the world. I understand where you are coming from and that sharing your location might be a threat to your safety, but for me, I am cool with that. Anyways, Google Maps Timeline is not visible to anyone else but the account holder.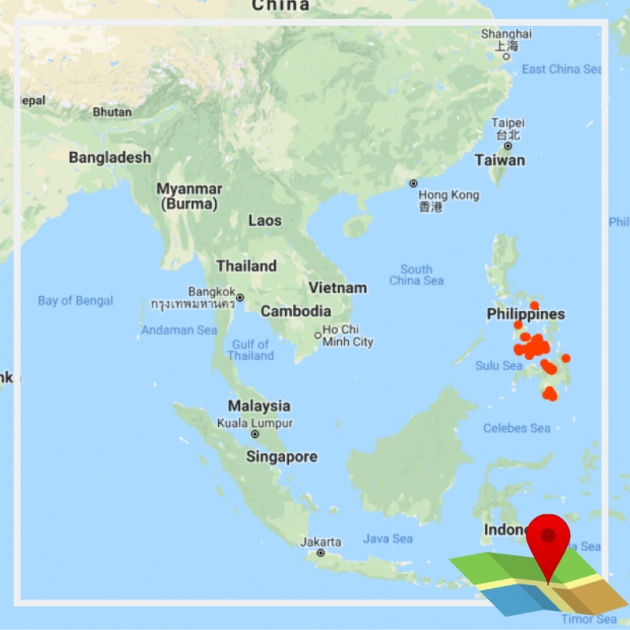 edited in Canva credits: Jean Beltran uploaded via bitLanders
But what this Google feature offers is something that I want. I could trace when I have been to this place, the exact date and what were the routes I had gone through to get here. Let me share all the great things that one can acquire if you allow Google to capture your location.
The Advantages of Google Maps Timeline
Acquire Your Places Visited Data
Have you ever wondered how many places you have visited the past few days, weeks, months or even year? Well, Google Maps Timeline can provide you this information in just a few clicks.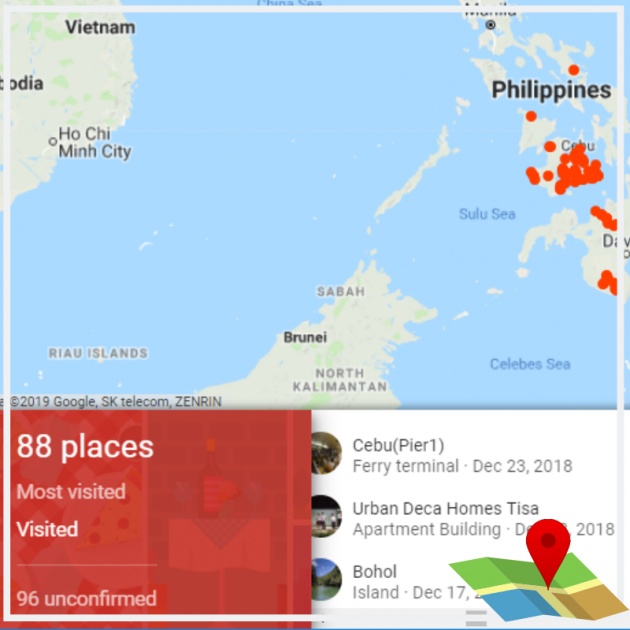 Image edited in Canva credits: Jean Beltran uploaded via bitLanders
Based on your location history, the timeline page reflects immediately the number of places you have been visited. This can either be true or semi-true based on how you have enabled or disabled your location history, also, this can depend on the start time that you had enabled the location history.
As for me, from the time I have enabled this, I have been to 88 different places, these are all unique and confirmed ones. Clicking on this will display your most visited together with all the visited places. It's quite cool that they had also enumerated the most visited places, these are the ones which you had been frequently.
Here's a preview of my own: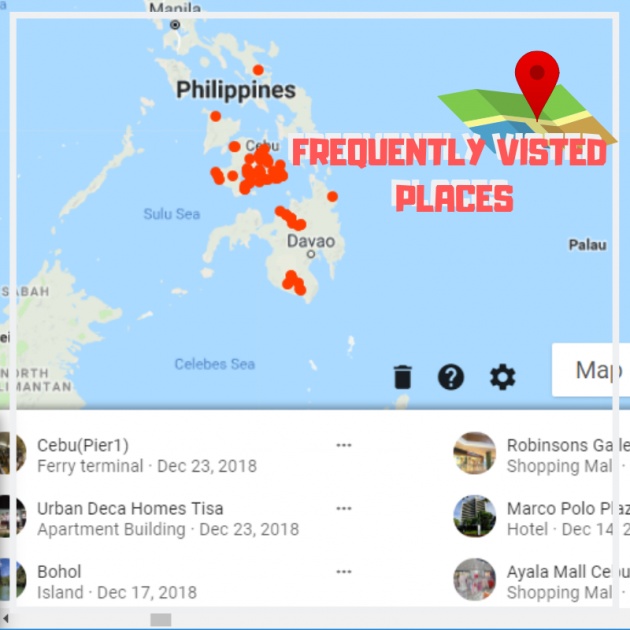 Image edited in Canva credits: Jean Beltran uploaded via bitLanders
As seen above, there's a slider of all places visited. This includes malls, islands, stores, shopping centers, home base, piers and ports and so on. What's even cooler is that they got dates on them which is helpful because my memory isn't very well these days, perhaps due to age! Oops!
Generate a Visual Representation of Your Location History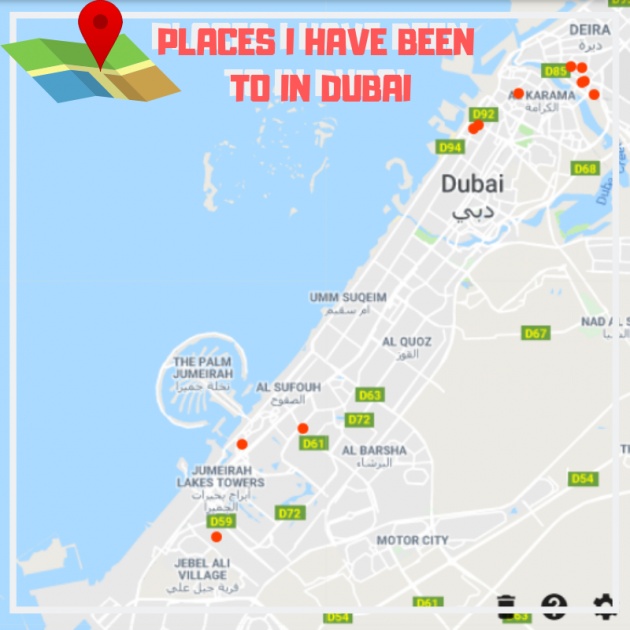 Image edited in Canva credits: Jean Beltran uploaded via bitLanders
I had always wanted to buy a scratch map, for now, the Philippines which allows me to scratch a certain part of the country if I had been there. But I guess I don't need that anymore as I can generate one digitally via the Google Maps Timeline.
Upon launching of the page, the world map instantly appears too with red marks on the places which you had visited.
Video credits: iFixScreens Lake Grove via YouTube
Scanning through the page made me miss Dubai. The map stamps all the spots I had been to in that deserted country. The farthest to be Jebel Ali where my previous office was located, yes, it was in a desert, there was nothing but sand in that spot and we were working inside a green building, one which is powered by the sun and its solar energy. I recall we'd prefer walking the stairs than using the elevator because it is faster to do so.
Back in my country, I could see the farthest I had been to was in General Santos and unfortunately, my trip to Baguio, Batad and Sagada were not added, also those times that we were in Palawan. However, I don't have to worry as I can edit my Map!
Edit and Add Locations As Needed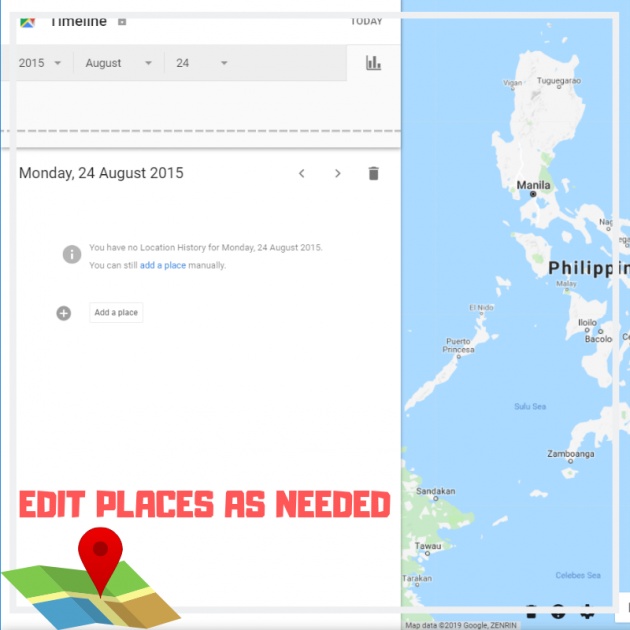 Image edited in Canva credits: Jean Beltran uploaded via bitLanders
For documentation purposes, it is awesome to know that a user has the ability to edit or add places on certain dates. Clicking on More Trips jumps right into a page with statistics with a Map highlighting the islands visited on certain dates.
On the left-hand side is a graph with the number of places visited and to be corrected. If you click on one, it will show up a new page, the route taken, the correction needed and more details about it, see example below: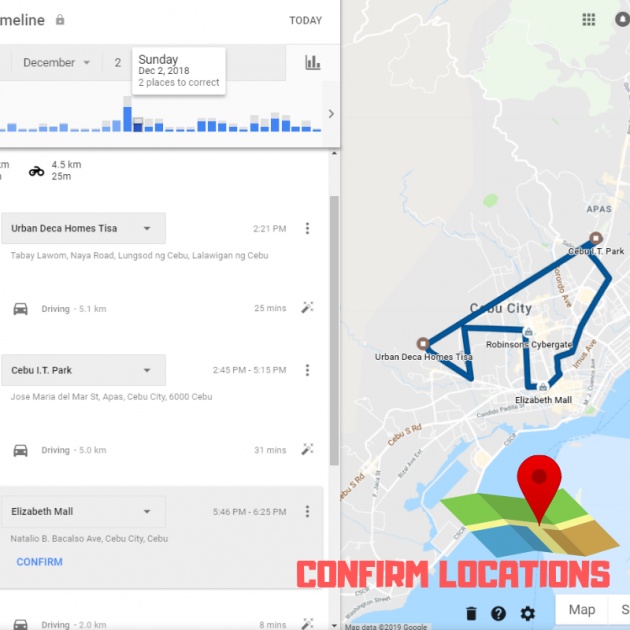 Image edited in Canva credits: Jean Beltran uploaded via bitLanders
Notice the Confirm button that is highlighted in blue on the route. The map couldn't confirm if I really had visited this spot so it needed my personal interaction to do so.
There are so many things to update and I have no plan of editing all however, what I was more interested in was the part where I can add more places that I had visited in the past such as that trip to Baguio, Batad and Sagada as well as that in Palawan, El Nido, and Coron!
To do so, I had to go back to my Google Maps Timeline's main page, tap in the year, month and day of that travel and this will pop open the ability to add the place.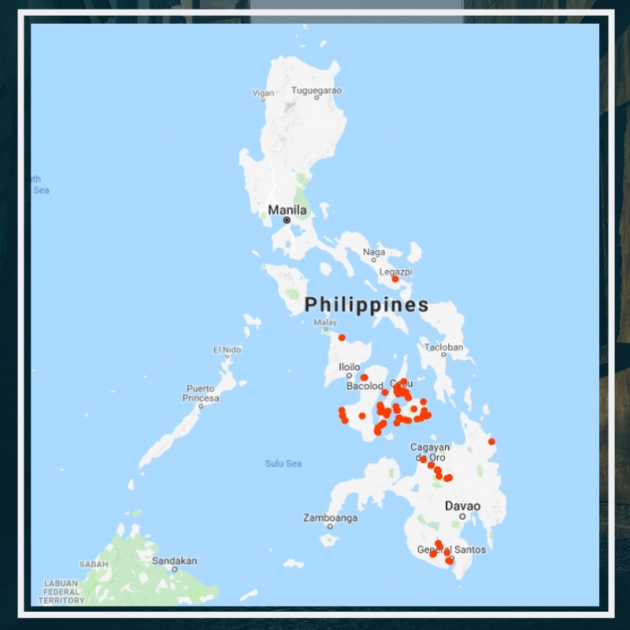 Image edited in Canva credits: Jean Beltran uploaded via bitLanders
It would be nice to see all the places that I had been to and to also figure where must I go the next months and years to come. Surely having a visual aid to that decision making will help me scatter the red dots more and explore the country and even the neighboring countries in the future.
There are many advantages in using Google Maps Timeline, the fear of getting our data exposed is, of course, a concern but then, why not make use of it in a good way rather than letting fear rule?
Video credits: LearnHowTo via YouTube
Note though that a user can always turn on and off their location history in case he or she doesn't want to trace that routes and places that he or she had been to in that certain date.
What do you think of Google Maps Timeline? Would you check if you also have your own timeline?
Thank you for reading!
Participate in this Querlo chat about Travel:
---------------------------
About the author:
Jean Beltran-Figues is a photography enthusiast.
A traveler who wants to promote her beloved country, the Philippines.