As of this writing, it is rainy season in the Philippines and when it is rainy season, the entire country dreams of summer. I too dream on getting or shall I say being at the beach on a summer day. You know, that common summer day where one will feel the heat of the sun slowly getting into your skin, the sweet scent of the summer sweat and the pure bliss of just feeling the summer wind brushing into your hair and perhaps you got your fresh buko juice right in your one hand while the other is holding your phone for some selfie shots.
While the rainy season is not very welcome by most people, summer on the other hand is the best time of the year for most because it is the best time to go to the beach and just plain joy when one is soaking in the salty waters. Well, summer can't please everyone and so there are other people who would think it is not a good time because of the hot weather. I understand that and I know that summer is not really expecting everyone to enjoy it's beautiful time but hey that's the only other season that we have here in the country aside from the rainy season so we better make the most out of it.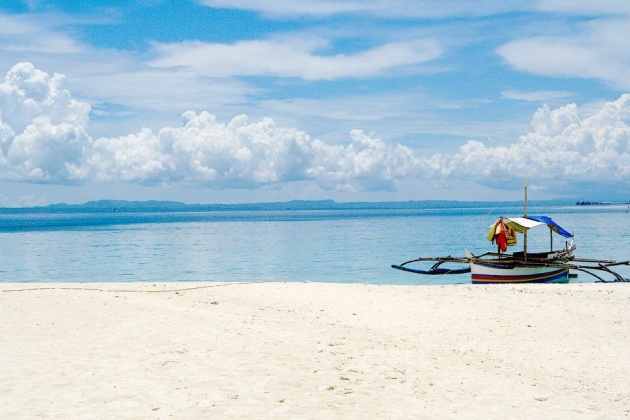 Summer view at Virgin Island, Bantayan Cebu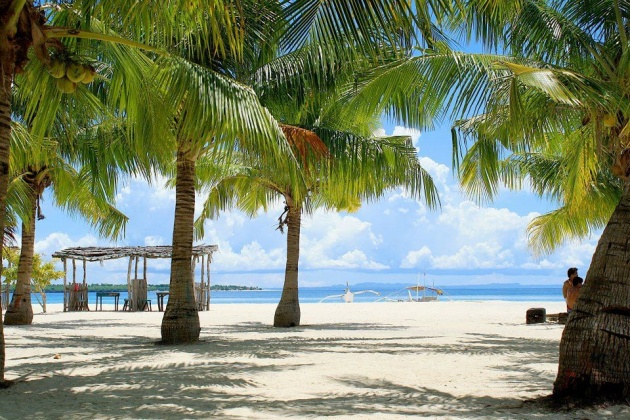 Tropical island of Bantayan, Cebu
But why am I defending summer? I know no one is arguing though, well perhaps it is my other consciousness giving me this kind of feeling that someone doesn't like to read about summer but hey, it is summer somewhere, while it is true that it is rainy in the country that I am in right now, that doesn't mean it is rainy in the entire world. There got to be some place somewhere which is scorching hot right now.
But let's proceed to the main point. I am posting these things that I personally listed as top things to prepare when at the beach during summer. This isn't just a help for others who get to forget on their to do list when they're already at the beach and instead get extra overwhelmed and eventually becomes amnesiac.
Aside from that, I am personally listing these because I want that some list for myself too! Here we go...

Don't forget your SUNGLASSES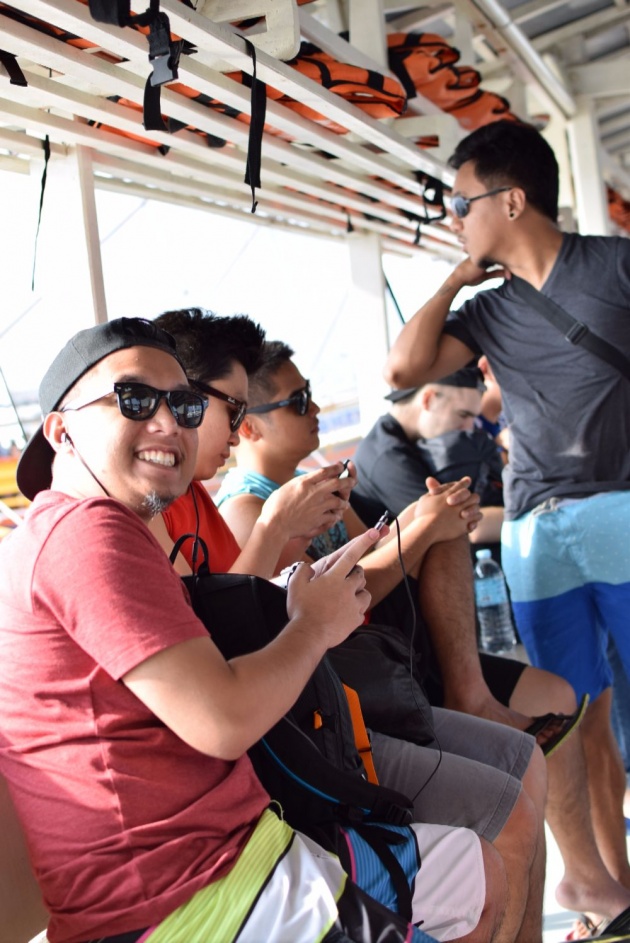 James' colleagues during our Davao trip last March, 2016. From left to right: Nico, Munchkins, Hans, Jeyboy.
Oftentimes, I tend to forget this and it is just frustrating that I would only get to remember it when I am already away from our house like when I am already riding a cab to the meetup place or perhaps when I am already at the venue.
When it is summer, the sun emits light which can hurt our eyes and that is one of the good reasons why we have to protect it however, that is just one of the many other reasons and I am sharing down below what these other hitting stones of why we should bring or shall I say wear sunglasses. Read on.

1. Protect eyes from UV rays
UV rays seems odd to me, we can't see it yet we get to be protective against it. But I am not stating that this is not real. In fact this is definitely true and important.
The American Optometric Association says you should always don sunglasses during the daylight hours because: They protect your eyes against the sun's UV rays, which could otherwise lead to cataracts. They protect against "blue light" from the solar spectrum, which could increase your risk of macular degeneration.
That explains it all, no questions asked.
2. Protection From Other Elements
Aside from getting oir eyes protected from UV rays, another thing which we need to get our eyes away are:



- dust
- sand
- tiny particles brought by air or wind
- snow
- insects



That list is acceptable right? I normally need sunglasses because of these list specially when in an ordinary public bus or vehicle where the wind is just splashing through my face! You won't know it but there are different kinds of things getting into our eyes which might be irritating our eyes.
Also, when touring around an island like what James and I did when we were in Siquijor, insects and other kinds of stuffs are getting into our eyes so we had to stop driving and bought sunglasses before we could proceed to our next destination.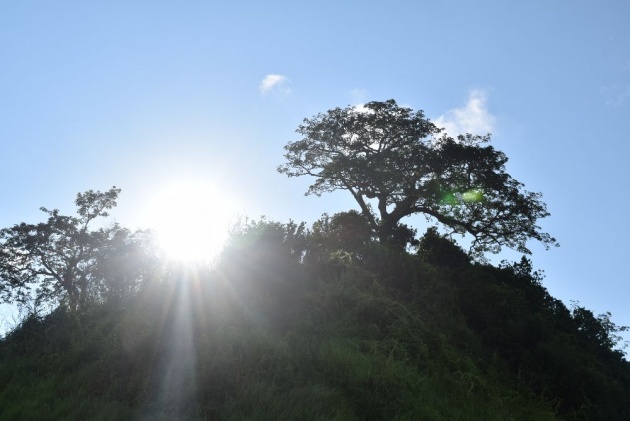 Sun's shining at Nacpan-Calitang Twin Beach. Needs sunscreen badly!
3. More Health related reasons
Have you noticed that when you are outside and you are in direct contact with bright light, you tend to squint your eyes and your forehead gets this wrinkles for doing so?
Actually, bright sunlight can be a trigger for migraines and bad headaches. You will eventually notice in the long run that after being in the sun you also get headaches. Wearing sunglasses can help reduce both the frequency and intensity of these painful occurrences.

4. Fashionable
But above all, even after all these other reasons, everyone loves wearing sunglasses because of its stylish benefits.
It is a fun reason to grab a pair of sunglasses as they come in many colors, shapes, and styles! Something out there will give you your own fashion sense.
Different sunglasses styles and forms will give your own fashion statement and even would allow you to keep a secret stare at one of those cute gals at the corner!

Don't forget your SWIMWEARS
Of course you will never forget your swim wears! No one would like to stay in the beach without getting a taste of the salty waters specially if the waters are tempting and inviting.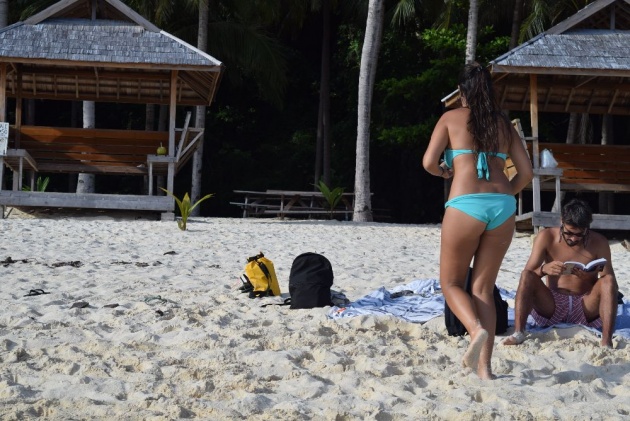 Foreigners at El Commandos Island, El Nido, Palawan, Philippines!
And I know pretty sure that this is at the top of your must haves, what to bring list and perhaps you had already placed it in your travel bag weeks or even months before the getaway, that is indeed cool however, I am referring to reminding myself of having enough swim wears. Let us know the get away is a two day trip. Have you prepared enough number of swim wears? Do you have extra ones in case something happens to the first one that you had opted to wear on the first island hopping tour?
There have been lots and lots of instances wherein beach bummers got their board shorts torn apart because of too much stretching. Other cases where they actually have it in their checked in baggage and unfortunately, it was not loaded in the plane, all your stuffs are there! What to do? Shopping spree?
Now that should give you hint now to become prepared and be mindful worth the schedule, the number of days at the beach and of course be extra vigilant with comfortable outfits.
You are free to select the type of swim wears you would like to dress up. You can be simple with just board shorts and rash-guards or show some skin with bikinis and two piece wears but always prepare something you can use to cover up just in case. You don't really have an idea on what's gonna happen in the area. Its better prepared than sorry.

Don't forget your SUNSCREENS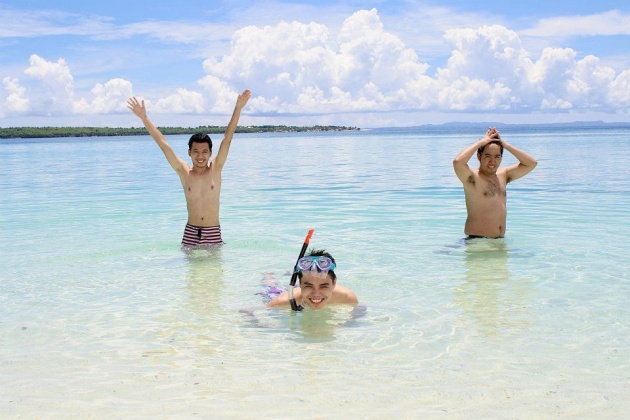 Bacon back? Red face? Too Tanned skin?



If you don't want the above to happen, you better get yourself a whole bottle of good sunscreen. My husband, James had a bacon back after a day of snorkeling in Bantayan island without putting any sunscreen. He was snorkeling without any shirt or rashguard on because even if it was sunny, the water in Bantayan's Virgin Island was just so-so. Not too hot and not that cold, it was just enough for him not to really feel burnt while soaking in the waters.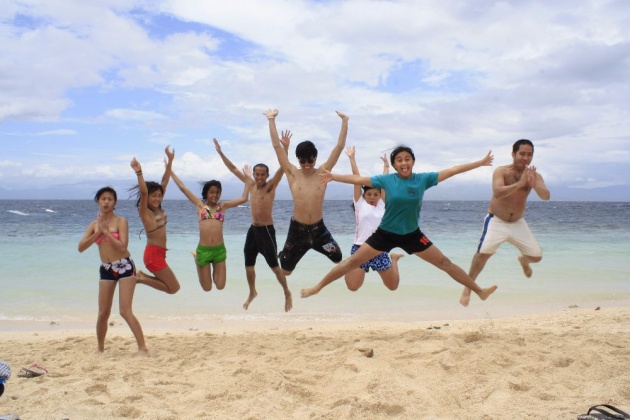 The gang at Moalboal beach.
He just had noticed the itchiness and tingling feeling the night after the snorkeling spree. The next day, he regretted not being careful of his skin specially his back. Literally, his back skin looked like bacon!
But the big question is, how to basically know the right sunscreen or sunblock for your skin? There are actually different resources which will give you an idea on how to get the right one for your skin.
It is truly important that one knows which one would it be because if you'll just be getting whatever is available at any Pharmacy or grocery store, you might be ending up with wasting money as that specific sunblock is not effective for your skin type.
Normally, for incidental sun exposure — when you are outside only for minutes at a time — a sun protection factor (SPF) of 15, which filters out about 93 percent of UV radiation.
So again, ensure you are getting the right one for you!

Don't forget your UMBRELLAS
You know what I had realized for the past years that I had not been bringing umbrellas at the beach? I actually realized that they should be women's best friend and every woman or even man should have an umbrella ready inside your bag whenever and wherever you may go.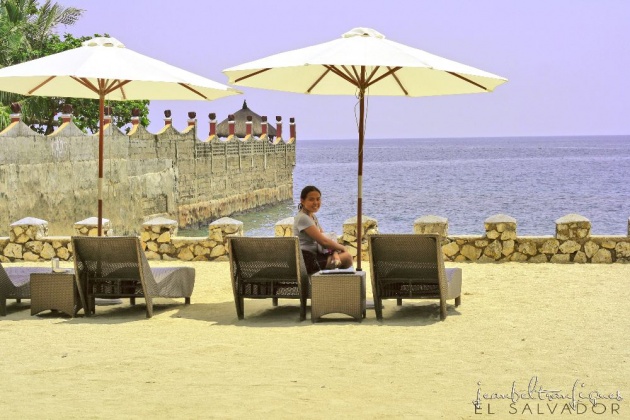 Had brought an umbrella but the resort has much bigger umbrellas prepared for their guests.
Umbrellas are of multipurpose! In fact you can use it when it is raining and even can be used when summer comes to either protect you from rain and also from the heat of the sun. Now I understand why my mama would always remind me to bring the mini umbrella she had bought for me way back in secondary years.
I was a bit lazy before and I thought I don't really need one but then when I started working I had waken up with the realization that umbrellas are in fact necessary. When coming from work and it is raining, I can't go home because I have to wait for the rain to stop. But with an umbrella at hand, I can get through the rain and go home without worrying of getting soaked with the rain. When it is too hot, I don't really have to worry much about getting burnt by the sun since I can cover myself with the umbrella. So, it is definitely something that I also needed when at the beach.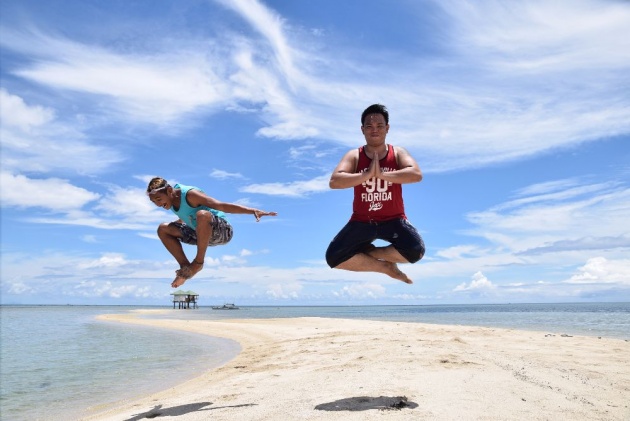 In the photo is my brother and his brother in law, we were in Lumayag Sand Bar without any cottages available
I recall when my family went to Lumayag Sand Bar in Mabini, Bohol, we were advised that there isn't any cottage available so we have to bring umbrellas. Gladly my mother has a lot of umbrellas and that saved us from the heat of the sun. It was a great time at the beach, thanks to the umbrellas!
And oh did I mention that there are lots of umbrella designs and colors which can be bought and that won't really hurt your pocket yet you can also use it in your advantage, talking about photo shoot accessories and whatsoever!
Don't forget your WATER & FOOD
And this would be the last but definitely not the least of all the things that needed, water and food shouldn't be forgotten at all! When I say water and food, I am not saying you'll be bringing just one or two 50ml bottles of water but you'll have to bring a gallon! I am not kidding in fact whenever we go to the beach, my parents will be bringing that huge gallon to ensure that we won't get thirsty at all.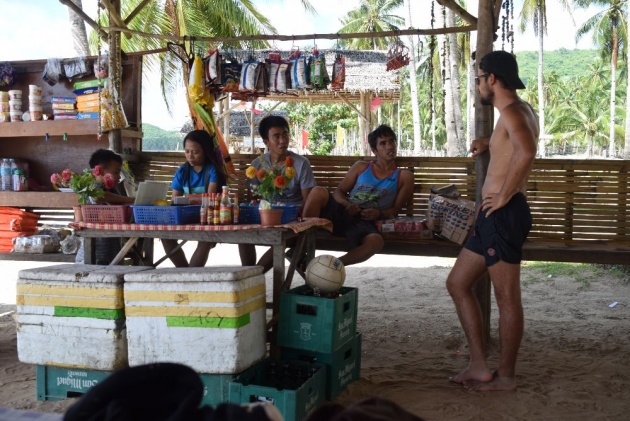 A little hut store at Nacpan-Calitang Twin Beach which sells food and drinks at a very high price. They were the only one selling so monopoly at its finest!
And food of course. This is very important because there are beach resorts which has food available but then their prices will break a leg then there are also resorts which don't have any available food for sale. So ensure you bring something that is enough for you and for everyone included in the pack.
One of the issues with bringing food and water is who will be carrying these things? We are a family of six, four guys and two ladies so there isn't an issue with who will be bringing or carrying these stuffs as my brothers can afford to carry them but then if in case you are all ladies, it is best to bring strollers and carry those which are light. You don't want to be looking very stressed while bringing those stuffs in.
So that should be it. I believe I will be ready for our next adventure together with my husband. We are planning to go to Bantayan Island next week at the Montemar's Place where the Camp Sawi movie was filmed so hopefully his leave request will be granted!
That's it for today. I hope these list has helped you with what to bring and what to prepare during summer!
Enjoy your day, until next blog!
Regards,
Jean Beltran-Figues