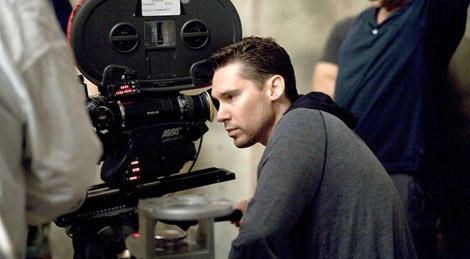 It could get a lot worse for director Bryan Singer! And to top it off, his "X-Men: Days of Future Past" is opening in just a few weeks! According to IndieWire, his sex abuse accuser, Michael Egan III, just teamed up with documentarian Amy Berg!
Uh-oh!
Berg is working on a documentary about child abuse in Hollywood and she has been working on the untitled documentary for two years. She has been putting her focus on child sex abuse cases in her work. In 2006, she received an Oscar nomination for "Deliver Us From Evil," a documentary about sex abuse cases in the Roman Catholic Church. Her most recent documentary was "West of Memphis" about the West Memphis Three. Peter Jackson produced the doc.
A quick background on this scandal that's rocking Hollywood right now. Egan filed a lawsuit on Wednesday claiming he suffered abuse at the hands of Singer.
Egan, a former child model and aspiring actor, held a press conference where he claimed that most of the abuse he suffered took place at the Encino home of Singer's friend and associate. He also said the director took him on a trip to Hawaii on two occasions in 1999 where the sexual abuse continued.
He was just 15 at the time.
"You were a piece of meat," Egan said. "There was no relationship."
Singer's friend from Encino was Internet mogul Mark Collins-Rector who, Egan claimed, lured underage boys to his home with promises of Hollywood roles.
The lawsuit claimed "The parties were typically sordid and featured sexual contact between adult males and the many teenage boys who were present for the parties," and the parties "included the distribution of drugs and alcoholic beverages to the teenage boys at the party." Egan further claimed that Singer forced him to perform oral sex and sodomized him.
Singer's rebuttal for now is to keep quiet and his defense attorney, Michael Singer (no relation), is saying that the defendant was not even in Hawaii when the supposed sexual abuses took place. He said he could prove it with credit card receipts, telephone records, and production schedules.
The controversy has been affecting Singer's ability to promote the upcoming "X-Men" movie. He didn't appear at WonderCon in Anaheim this past weekend where he was previously scheduled.
But here's the kicker -- Egan's attorney, Jeff Herman, is saying this is just the beginning. He will be filing more sexual abuse cases against Hollywood in the near future.
If all the allegations are true, I say, more power to Egan and Herman -- it's about time we give the powerless kids the voice they need. Empower the weak -- isn't that one of the reasons we love the "X-Men" movies in the first place?