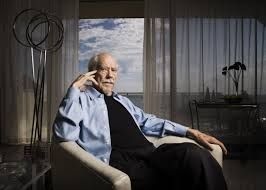 Great directors redefine cinema. Cecil B. De Mille, Steven Spielberg, George Lucas, Francis Coppola, Sam Peckinpah, Billy Wilder, James Cameron, Peter Jackson, the Wachowski siblings, Steven Soderbergh, Quentin Tarantino, Spike Lee and Ang Lee (not related). These gentlemen – and I am conscious of the gender bias – have all played a part in a way in the evolution of cinema as a mass entertainment form. These directors have taken aspects of movie storytelling to new extremes. Latterly, for Spielberg and his contemporaries, technology has played a part, using the latest advances in visual effects to tell stories previously thought unfilmable. One man who made the best use of existing technologies and whose work is celebrated in the new documentary, Altman, directed by Ron Mann of Comic Book Confidential fame, is the late Robert Altman (1925-2006), who saw the possibilities inherent in casting and in genres.
Altman first started making films in the late 1950s. His first credit was co-directing (with George W George) The James Dean Story (1957), a documentary that relied on archive footage and told the story of an actor whose early death and handful of movies (notably Rebel Without A Cause and East of Eden) cemented his iconic status. Altman worked in television but gained a reputation as a safe pair of hands. In the late 1960s, Altman was entrusted to direct Countdown (released in 1967), starring James Caan and Robert Duvall as a pair of astronauts only one of whom (according to my source, the Radio Times Guide to Films 2015) made it to take off. This tale of a rocket mission didn't exactly set the box office alight, but it established Altman as good with emerging talent – Caan and Duvall would co-star again in The Godfather – and showed what he learned from documentaries, letting scenes play out with, as it were, the bed sheets not tucked in. Altman was the master of 'almost out of earshot' cinema.
Altman, a polite Southern gentleman, probably didn't like lists – he was just as interested in the thought processes of those making them. None the less I will subject him to one. This is what I believe Robert Altman contributed to modern multiplex cinema – and beyond.
The American anti-establishment comedy: Altman took anti-establishment comedies away from vaudeville and musical acts to the field of war. I define anti-establishment cinema as focussing on the disruptive element, those who challenge the status quo. The most perfectly-realized anti-establishment comedies leave you with a sense of the disruptive energy not being contained, yet at the same time giving you (in your comfortable establishment seat) a good time. Altman's achievement was M.A.S.H. (1969). Set during the Korean War and based on Robert Hooker's novel, it celebrated the boisterous antics of a group of field doctors, who away from America and family ties, behaved with boyish abandon. Credit should be equally divided between Altman and Ring Lardner Jr, the screenwriter, for the film's tone, diluted by the phenomenally successful TV series that it spawned starring Alan Alda. Altman's use of sound – overlapping dialogue, announcements that seem bizarrely out of context – seemed revolutionary at the time. More revolutionary was that this was a uniquely American film. Its antecedents could be traced to Dr. Strangelove (somewhat more nihilistic in tone) and the early work of Richard Lester, notably with the Beatles (A Hard Day's Night, How I Won the War). Before then, one might cite the work of nouvelle vague directors such as Jean-Luc Godard and François Truffaut. Altman had produced an anti-authoritarian comedy at a time when America was at war in Vietnam, but he did not go for madcap nonsense, rather something more rooted in reality - people trying to keep their spirits up in an appalling circumstances. Without the success of M.A.S.H., we probably would not have had Catch 22, National Lampoon's Animal House and Good Morning Vietnam, to name but three box office hits. I suspect the laddish humour of guys behaving badly out-of-town can be traced to The Hangover and (less successfully) Unfinished Business.
The revisionist (realist) western: Warren Beatty, the producer-star of Bonnie and Clyde, another celebration of anti-establishment behaviour, worked with Altman on McCabe and Mrs Miller (1971), a drama that broke the rules on what a western should be. Those expecting the visceral kick of Bonnie and Clyde were rudely disappointed by a film that caked Beatty's face in a beard as a gambler who goes into business with a woman (Julie Christie) who runs a brothel. What you remember of the film are the chilly (snow filled) exteriors and the moral that there is no such thing as a safe investment. Yet the look of it can be traced to Walter Hill's The Long Riders (1980), which also featured Keith Carradine and to Clint Eastwood's Pale Rider (1986).
The revisionist detective thriller: No one has interpreted Raymond Chandler quite like Altman, in his version of The Long Goodbye (1973), which featured Elliott Gould as private detective Philip Marlowe in a modern version of the 1940s hard-boiled thriller. The Long Goodbye features such 'innovations' as different versions of the theme song (by John Williams) being played throughout the film, Marlowe caring more about a missing cat than the woman he is hired to trace and the gunshot 'Hooray for Hollywood' ending that is as anti-cathartic as they come.(There isn't justice or resolution, just a reaction from Marlowe.) A film guaranteed to make you sit up and cry, 'what the heck was that'. But the journey is smoothed by Gould's charm in what is, for me, his defining screen performance. You can trace its influence to Rian Johnson's Brick (2005).
The mock documentary: Altman's interest in the documentary, of working with huge casts and following multiple stories, informed his critical hit, Nashville (1975), acclaimed by critic Pauline Kael even before release (which back in the 1970s wasn't done). Christopher Guest owes a particular debt to Altman, not just for This is Spinal Tap but in his other mock documentaries, Best in Show and A Mighty Wind. The influence can be traced forward to the observational comedy of Ricky Gervais. Nashville was about a concert. Its first innovation was to announce the cast orally, through a Tannoy rather than through printed credits (I'm sure he broke a Screen Actors Guild rule or two). Musical performances were interwoven with dramatic screens as the film built up to a shooting – shades of Altamont. Ronee Blakley, Karen Black, Henry Gibson and Geraldine Chaplin were amongst the principal cast.
Nurturing female acting and directing talent: As a direct result of Nashville, its screenwriter Joan Tewkesbury, was given the chance to direct Old Boyfriends (1979) from a script co-written by Paul Schrader and notable for a small role for John Belushi. Altman also gave starring roles to Karen Black, Shelley Duvall (repeatedly), Geraldine Chaplin and Cher – and that was just up to the 1980s.
The ceremonial comedy: I don't think Four Weddings and a Funeral (1994) would exist without one wedding, in particular A Wedding (1978), Altman's ensemble comedy featuring Amy Stryker and Desi Arnaz Jr. as the bride and groom. Before you say, 'who?' I should add that the film co-stars Mia Farrow, Lillian Gish, Carol Burnett and Vittorio Gassman (if you're still asking, 'who?' then my apologies). A Wedding was not a huge hit, but it did create a template for a British one.
The filmed play: Forced into the independent sector after the failure of Popeye (1980), an odd choice for a film for all concerned, though Shelley Duvall made a great Olive Oyl, Altman filmed a series of plays on confined sets that began with Come Back to the Five and Dime, Jimmy Dean Jimmy Dean (1982), Streamers (1983) with Matthew Modine and Secret Honor (1984) with Philip Baker Hall as Richard Nixon. He also filmed a TV version of Harold Pinter's The Dumb Waiter with John Travolta in this period (whoa). This directly led to Altman's TV series, Tanner 88, subsequently an inspiration for Tim Robbins' political satire Bob Roberts and the US remake of House of Cards.
Home Box Office: Now, I'm going to go out on a limb and say Robert Altman defined the product that would make the cable television channel, Home Box Office, a success. OK, that isn't cinema, but as we know, Home Box Office and cinema have a symbiotic relationship, one providing an afterlife for another, but cable television allowed for risks, especially in long-form projects, that neither cinema nor syndicated TV can handle. Tanner 88 followed a political campaign – its triumphs and setbacks – and defined a whole subgenre. The subject was perfect for Altman but Tanner 88 was neither an acceptable length for a movie nor a typical 13 to 26 part TV series. It nevertheless showcased a type of programming that did not have a home amongst the non-subscription networks and of course made us laugh. The British series The Thick of It owes a big debt to it.
The All-Star Hollywood Satire: Robert Altman's cinematic comeback was cemented by The Player (1992), scripted by Michael Tolkin from his novel about a studio executive, Griffin Mill (Tim Robbins) being blackmailed. This was, in its day, a surprise hit that catapulted Altman back to the mainstream. It was particularly notable for its closeness to life. Whilst Robbins, Lily Tomlin, Richard E. Grant and Peter Gallagher played characters (sometimes against type), Julia Roberts and Bruce Willis played themselves, notably in the parody film-within-a-film shown near the climax. Like The Long Goodbye it is both a mystery story and a cynical satire. The component elements worked.
The revival of the portmanteau film: Altman followed The Player with Short Cuts (1993), an adaptation of a selection of Raymond Carver short stories that interwove them rather than played them one after the other. The technique was recently evident in the Wachowski siblings' adaptation of Cloud Atlas (2012). The individual stories gripped in their own right, but the image of Peter Gallagher cutting up a sofa with a chainsaw is indelibly stamped on my mind.
Downton Abbey: Without Altman there would be no Downton Abbey. Why? Because the template for this popular British country house television series was found in Altman's Oscar winning Brit-hit, Gosford Park (2001), scripted by Downton creator Julian Fellowes, who won Best Original Screenplay for his pains. This was a country house drama interrupted by a murder. Enter Stephen Fry as an unlikely detective. The story is told from the servants' point of view, but of course, Dame Maggie Smith triumphs. I'm not sure whether Altman did British culture a favour but I know millions appreciate the show.
British television: Arguably, Altman's lasting legacy is not felt in Hollywood but in British television. Improvisational dramas, studies of institutions, multiple narrative series, political satire – these are all strains of British television, especially Channel Four products. Arguably Altman should have worked in Britain sooner than he did. He could have given James Ivory a run for his money as the most influential American director making British films. British talent has always been a component of Altman's work – though the less said of Beyond Therapy (1987), his collaboration with Glenda Jackson and Tom Conti, the better. Indeed, not everything Altman touched turned to gold, though some of his work, notably his penultimate film, The Company (2003) about a ballet company and featuring Neve Campbell, is under-appreciated. His final film A Prairie Home Companion (2006), released in the year of his death, put Garrison Keillor's popular radio show on screen. Sound was important to him to the end.
Ron Mann's documentary Altman was released in UK cinemas on Friday 3 April 2015