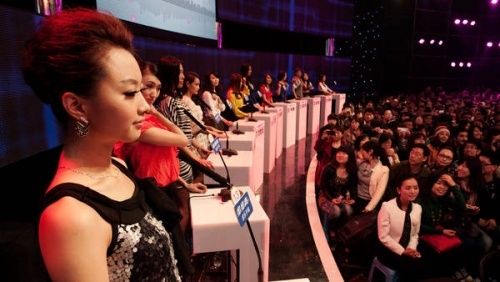 For more entertainment news and business insights, please subscribe Hello!Hollywood's WebTV at http://webtvs.filmannex.com/HelloHollywood
The Author- Larry Namer (Follow Larry at Linkedin), co-founder of E! Entertainment Television, and currently President of Metan Development Group, industry pioneer in developing entertainment business with China. 
On one of my frequent extended stints in China, I had a quiet evening to kick up my feet and to peruse the hundreds of channels Chinese television has to offer (for pure market research purposes of course). Admittedly, I have a short attention span already as-is, so you can imagine the flurry of remote clicking that occurred if the myriads of soap operas and variety shows did not catch my eye. Then, "it" hit me… "It" is like a bad automobile accident you see by the roadside – you know you shouldn't turn your head to see, but out of pure curiosity for the wicked, you simply cannot help yourself. "It" is, at the rawest and most basic form, a great sociological study on everything that is wrong with fame, relationships, and greed… in other words, "it" is great TV.
I'm talking about the hit phenomenon program, "If You Are the One" that is taking water cooler chatter by storm in China. To give context to anyone who has not heard about this program, it's a match-making reality show where singles meet singles in front of millions of people each show (talk about pressure). And the hook for the whole show? The often questionable money-driven (aka "Gold-Digging" antics) requirements that this now very relevant generation of singles are looking for in their soul mates.
The show has taken notice even of the Chinese government prompting them to immediately shut down production and exhibition of the show due to the often sexual innuendos and references to a very anti-traditional moral basis where money is the main driver for many of the singles. Watching this show, it's not that difficult to understand why the government would be concerned with the way the program portrays this new up and coming generation of singles.
Girls' Perspective
On the show, girls are depicted as 'gold-digging' animals – only attracted by the number of RMBs that are attached to the suitor's name.
For more entertainment news and business insights, please subscribe Hello!Hollywood's WebTV at http://webtvs.filmannex.com/HelloHollywood
Related Articles 
About Hello! Hollywood
Hello! Hollywood is China's premiere entertainment news program bringing viewers around the world the latest in Hollywood celebrity news, lifestyle, and culture. The show is produced by Metan Development Group, a leading content provider and distributor focused on delivering western entertainment to China. Hello!Hollywood travels to the red carpets of the entertainment industry's most prestigious award shows and movie premieres, as well as offer exclusive behind-the-scenes looks on movie sets and interviews with Hollywood's elite celebrities. 
About Metan Development Group
Metan Development Group (Metan) is a multi-media company focused on delivering Western entertainment content to China, and conversely, producing and exporting high-quality content in China to be sold and distributed internationally. Launched in 2009, Metan Development Group LLC (Metan) is a venture created to develop and distribute entertainment content and media specifically for international markets. The company's founders are entertainment industry veteran Martin Pompadur, E!
Entertainment Television co-founder Larry Namer and Amerilink founder Jean Zhang. For more information, visit www.metanmedia.com
Facebook- http://www.facebook.com/pages/Hello-Hollywood-Web-TV/218552681531901
Twitter- https://twitter.com/#!/HelloHollywood3
Company website- http://metandevelopmentgroup.com/
Pop!China- http://www.popchina.tv