You have written a blog post to some topic your readers will hopefully find interesting. At least they did in the past. But now you can't come up with a blog title, and whatever you think about, all you feel is confusion. You know writing an enticing headline is essential to make people click. How do you write a blog title that grabs others?
I bet you sometimes come across blog posts whose titles you want to click immediately. Right now. You cannot wait another second, you want to have it in a split second. Just now.

Do you remember that feeling of excitement, when you forget anything else you had on your mind? All those lingering to-do's that keep popping up in your mind are suddenly gone. You have forgotten anything, just this one click and you are eager to read …
You have been triggered by a headline that seduced you, teased you and sparked curiosity. So, did you ever wonder how to write such blog titles yourself? Such blog titles that leap others off the screen?
Well, if you look at this topic closer, you will soon find that there are some techniques behind writing irresistible headlines. Generally speaking, there are four headline types: list posts, how-to's, questions, or generic headlines. In his ebook "52 Headline Hacks - A cheatsheet for writing blog posts that go viral" Jon Morrow explains techniques and gives countless examples on how to write tailored blog titles that get irresistible. It is a helpful reference when learning this marketing technique of writing great headlines, so I recommend you subscribe to his newsletter and download the ebook.
If after reading this resource you still suffer from blog title confusion, I would like to suggest a fine selection of tools that can either help you create topics to write about for your niche, or come up with blog title inspirations and even analyze your blog titles for emotional responsiveness.
Getting clear on what tools can't do for you
No tool in this world can replace your creativity. No matter how extraordinarily smart a tool was programmed, I do not believe it can alleviate the uniqueness, the heart-opening, the fascination, the brilliance that comes with the moment of genius, that comes out of nowhere. It cannot compete with this breath of fresh air - the moment of ingenuity that came so unexpected and is just so welcome!
No tool can do this job. But some tools can support you with subtasks. They can help you out in moments of blank brain states and bridge the times between your flows. They can assist you in enhancing your creativity by crossing the boundaries of domains, making you aware of a relationship, a cause or a connection that moves you one step forward in your thought process.
For that purpose, I would like to introduce five free tools to you that potentially do just that.
Tools for generating topic ideas
The first tool is the Blog Topic Generator from Hubspot. What it does, it randomly creates blog topics for you to write about. It lets you enter up to 3 terms you can imagine writing about, and offers you an array of blog topics that match your terms. You can use the results as an inspiration and modify the titles. Or you can modify your search terms and try again until you come up with some ideas that fit your box.

The second tool is the Content Idea Generator from Portent. This is a fun tool and not to be taken too serious in its outcome. It's like a puzzle service that uses the subject word(s) you entered, puts it into pre-phrased headlines and spits out random fun headlines. It's not always grammatically correct, but it can make you laugh and bring you out of the mood of failed inspiration.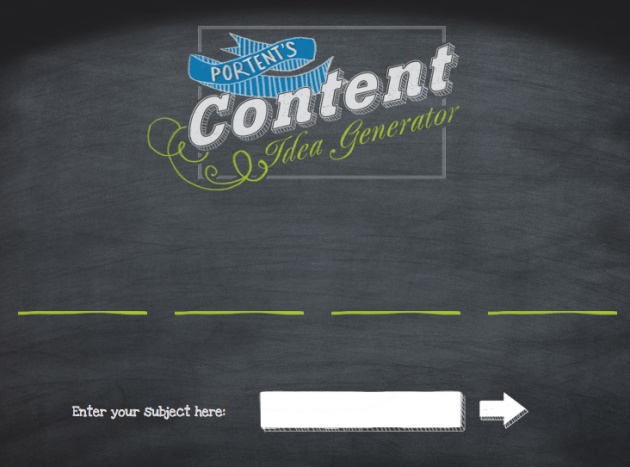 Tools for creating outstanding headlines
Tool #3 is the Headline Analyzer Tool from CoSchedule. When making use of this, you will need to have a headline in mind already. Enter it and get an analysis of the overall structure, grammar, readability, keyword and sentiment. The headline analyzer will assess your word balance by common, uncommon, emotional and power words.
It categorizes your chosen headline type and basically evaluate its conformity with recent SEO rules and mechanisms.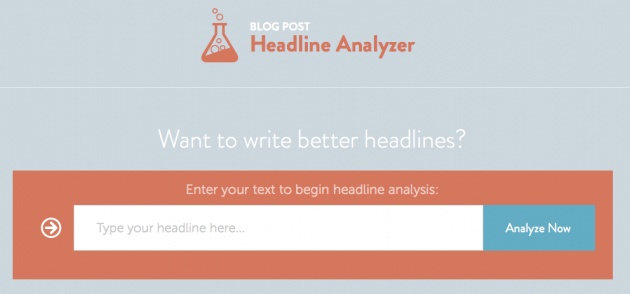 Generally speaking, this tool will probably not so much bring your creative juices into flow but evaluate whether your headline aligns with the rules to market your writing.
Thsrs [The Shorter Thesaurus] is a tool that targets your headline writings. This thesaurus gives you synonyms shorter than the word you are looking up. It helps if you are stuck on a headline and can't think of a concise word to use on a tight headline count. The database Thsrs uses is the Big Huge Thesaurus that comes from Princeton University, but has shown on occasion that its choice of synonyms is questionable. So use consideration and double-check - but it is fun to use and definitely worth a try.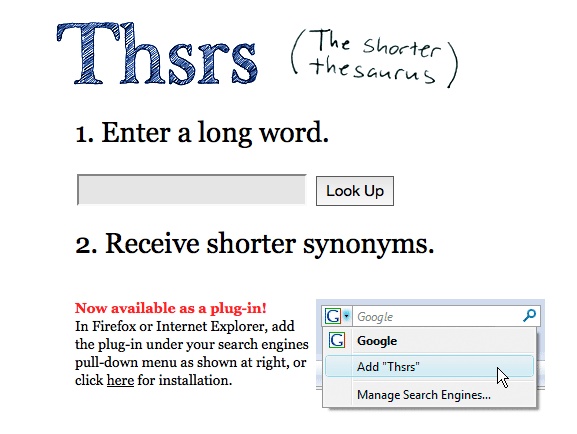 The last tool to introduce is the Value Headline Analyzer from the Advanced Marketing Institute. When using this tool you have to pre-select the type of business or industry that the headline belongs to. The analysis determines the emotional marketing value score and which emotions in your customer would be most impacted.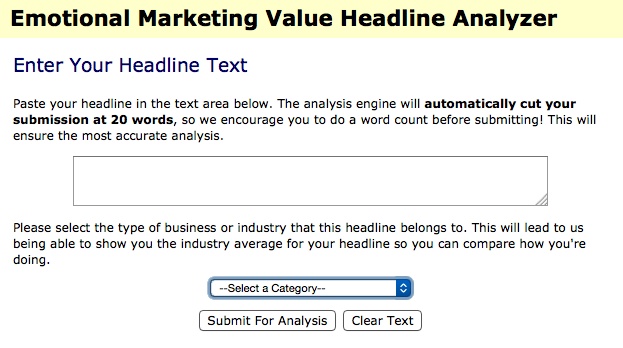 Don't make it a rule, use it as a tool

I personally have used the Headline Analyzer Tool quite often, but I don't make it a rule. Sometimes I just go with my gut feeling, and when I am happy with a title I use it. And sometimes I try using a tool and look where it leads me to. I am not much interested in spending hours looking for the so-called perfect headline when there are dozens of other important things requiring my attention.