"Love may leave you shattered but always bear in mind that there is Someone who is willing to endure the pain of picking up the pieces to make you whole again." - Jeselle Yap
Video credits: Viva ENT via YouTube
My Sunday night was spent at home in Bohol doing some home base work because it was my scheduled overtime, we have monthly overtime job per support and while I was typing on my laptop computer, answering emails, James tuned in the television to a channel which was previewing a movie which had been released a few months ago, no, it has been more than two years but we never had time to watch this.
Since I had spare of time to really have a glimpse of the movie, I unintentionally liked it and started watching it after every advertisement. Today's blog is all about the lessons one can learn from the movie Camp Sawi.
Image credits: starmometer
Camp Sawi the Movie
Camp Sawi the Movie is a Filipino produced film which means Camp Misery. The word "sawi" literally means unfortunate or miserable. The movie is labeled as a comedy-drama which involves a specific group of heartbroken ladies who came to this camp retreat which would eventually help the individuals heal, forgive and forget about their heartbreaking experiences and also the person who had made that scar.
Image credits: preview.ph
Written by Irene Villamor, the movie was interestingly shot in Bantayan Island, Cebu. The main resort where a significant part of the movie was filmed was Kota Beach Resort but there were other parts of the movie which were filmed in different resorts such as the Montemar Beach Resort.
Because of the success of the movie, thousands of local travelers would visit Bantayan Island and would stay at Kota Beach Resort, taking selfies and group photos at the specific entry with the Camp Sawi wooden banner which was featured in the movie.
The Camp Sawi Movie Casts
Camp Sawi the Movie included a number of Filipino artists who portrayed the brokenhearted individual who came to the resort. Only one guy cast had more airtime during the entire movie.
Andi Eigenmann

as Clarisse aka The Mistress
Image credits: rappler
Clarisse loved a man who was already committed. She became a mistress who had been always in a run to hide the wrong relationship. In the movie, Clarisse was an artist and she runs her own art gallery where they usually meet up with her lover.
She's been described as a classy mistress who eventually develops a conscience, went to the camp to fully let go of the guy and end the relationship.
Bela Padilla

as Bridgette "Brij" aka The Fixed Marriage Victim
Image credits: starmometer
The movie started off with Brij being a bank teller who had a 10-year relationship with a Chinese guy who later on had been engaged with somebody else because of the reason that she's not Chinese.
She got drunk and found the site of the retreat camp, later on, she found herself enrolled in Camp Sawi and further met these ladies who were like her, brokenhearted.
Yassi Pressman

as Jessica "Jess" aka The Young Girl Who Loves a Gay
Image credits: starmometer
Jess was a young girl who had been feeling heartbroken after learning the guy whom she was attracted to was a gay! She's a cheerleader which means she's beautiful but young. She felt the world was on her shoulders when she found out the bad news.
She eventually learned to control her emotions and get over with the gay after meeting the other girls who had far more experiences about love. She's also outspoken and very jolly.
Kim Molina

as Joan aka The Almost Widow
Image credits: psr.ph
Out of all the love stories of the rest of the casts, Joan has the most painful. She got engaged but also lost the man of her life a few minutes after the proposal. She felt down, suicidal and became very silent. She would not speak much at the camp and would prefer being alone.
At the camp, she finally let go of the tragic event of her life and found another person afterward who gave her the dream wedding.
Arci Muñoz

as Gwen/Lovejoy aka The Band Leader
Image credits: starmometer
Gwen was a singer of a band, her boyfriend was the lead guitarist. She often finds her boyfriend looking at other girls even in her presence. One time when they had an argument, the boyfriend portrayed by Rico Blanco offered her a breakup song.
She got into the camp, always drunk and always causing trouble. She eventually found friends in Camp Sawi and also a love interest in the person of the camp master.
Sam Milby

as Louie aka The Camp Master
Image credits: starmometer
Louie has been running the camp and helping out the individuals forget their past heartbreaking experiences, he sets up activities and monitors that each one can move on with their lives.
However, Louie became a source of conflict between the girls but at the end of the movie, he became Gwen's love interest.
Camp Sawi The Movie Plot
Brij found herself in Bantayan Island, Cebu at Camp Sawi, the resort which offers a retreat for persons who are going through shattered hearts and would like to move on, forget about everything and continue living.
She was awakened by Jess who was very outgoing, introduced herself in a weird way and soon after, they were already sharing their life stories. Then came Gwen who caused trouble by being drunk all the time. These two girls showed Brij a lot of things about the resort and the do's and do not's. One of which was never to fall in love with anyone while in the camp.
Image credits: wheninmanila
Clarisse came into the picture, the girl who conducts jogging and yoga sessions to relieve emotional baggage but she was also having the problem herself. She learned that Jess has a problem with her dad having an affair with another woman and she thought it was the same guy whom she was in a relationship with. This helped her let go of the feelings and do what is the right thing after the camp.
The movie shows Joan being a lonely girl who dresses in blank and was suicidal because of her tragic love story. She eventually found the courage to forget about the things that had happened and became friends with the girls.
However, the conflict came when the camp master had been seen getting attached to the girls. Jess, Gwen, and even other girls enrolled in were seen always hanging out with him and this caused some misunderstanding between them. However, the movie showed that friendship is better than having an affair. These girls learned their way to freedom from hurt into the realm of forgiveness.
Lessons From Camp Sawi The Movie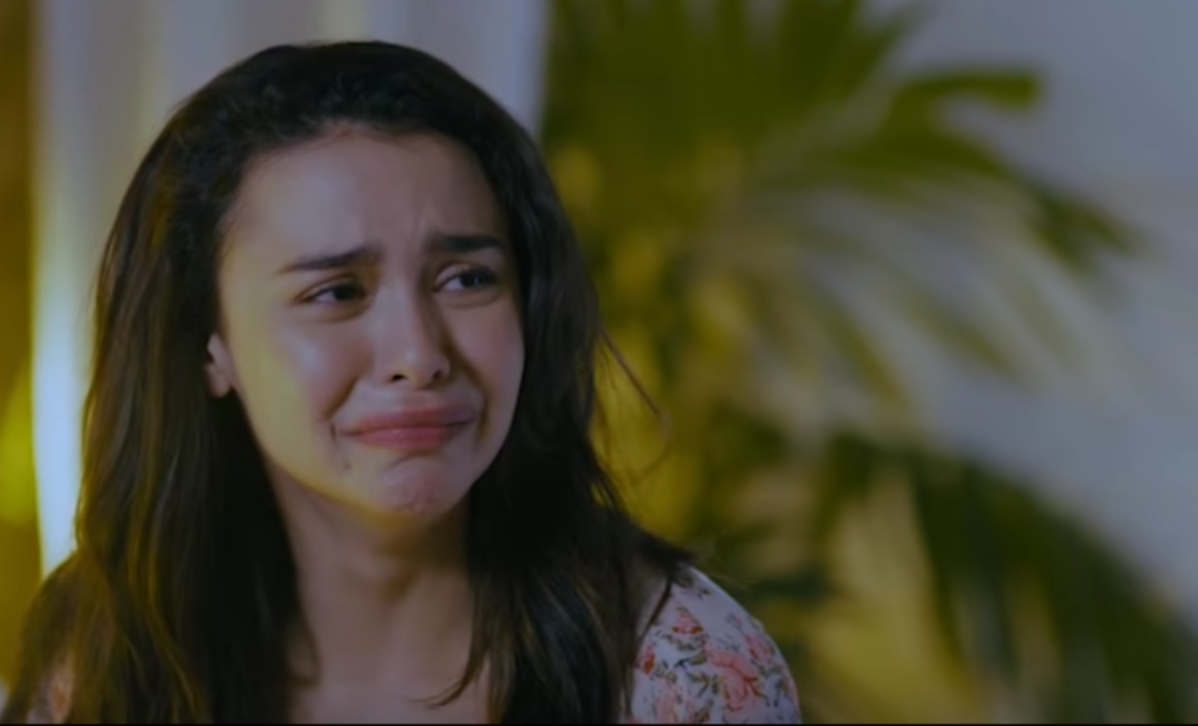 Image credits: rappler
There are different types and stories about love. There are happy ever after stories while several breakup novels, of sad endings and tragedies of love. The movie shows that every one of us has our own stories and although we felt like the world is going to end because of these, the truth is, there are more reasons why we continue to live.
Being broken hearted can be painful, taking a break is necessary to be able to feel the pain, breath, exhale the negative feelings and finally let go.
That to be able to move on, one must be open to other opportunities, to learn new things and meet new people. If one is willing, she can accept the things that had happened in the past, forgive herself and the other party who had caused such misery and continue to live.
Afterall, life is beautiful and if there are toxic people who are keeping you from living it wonderfully, then you must be courageous and brave enough to cut the connection, let go and love yourself first.
Video credits: Mark James D. Villaganas via YouTube
Camp Sawi the Movie is a movie which depicts the struggles of moving on because the truth is, that's how it is in real life but it also bestows that it is possible to get over the past and face the future with smile, embrace each day with the love of the people around who are your true family and friends.
This blog entry was written and published by Jean Beltran-Figues for bitlanders.com.
Join me, click here to sign up.