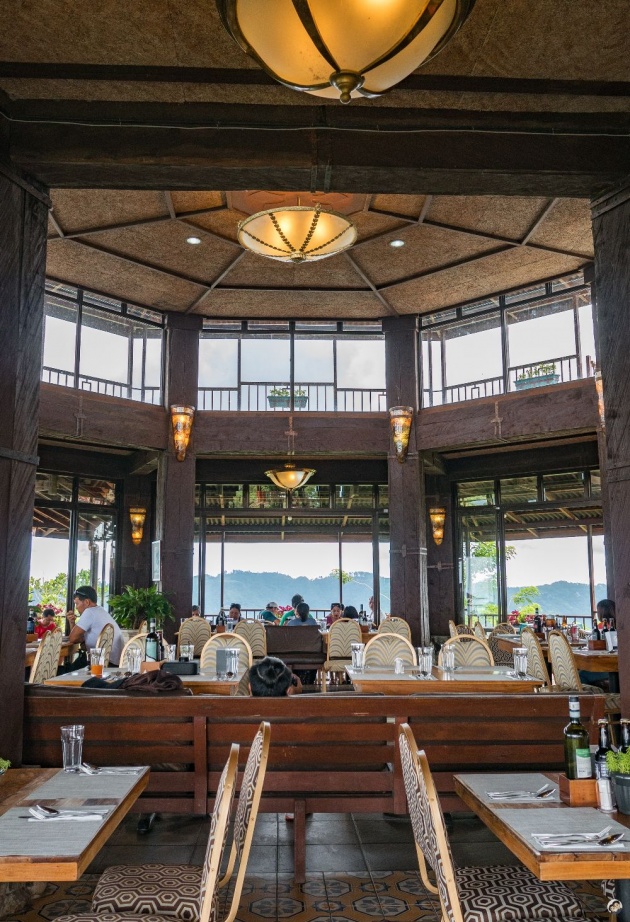 Image credits: Jean Beltran via bitLanders
Last week, James and I had this realization, that we had gone to different parts of the country but we never really had explored the entire Cebu just yet. Then there was something within us that told us we have to go to a near place in Cebu instead of going somewhere this weekend because we originally planned on going to Camiguin Island.
After a few deliberation and thinking, we ended up with a fixed plan: go to Balamban, Cebu, stay for a night and explore what we could find in this town. A day before coming here, I reviewed the spots which we could explore and I realized there are actually a lot of places to check.
It was also timely that there was a scheduled electric maintenance on that Saturday so we needed a place cold and just relaxing. So we got on our motorcycle and although it was super hot in Cebu, we braced ourselves into the mountainous Balamban.
West 35 was our first spot. This resort is nestled on a hill in Gaas, Balamban, almost fully covered by shrubs, pine trees, and local trees, this has been one of the to-go places for Cebuano and other tourists because their restaurant is very well known of serving good dishes! Which is why, for our lunch, we decided to try what has been talked about in the city. With our visit, I have listed here below the good things to love about West 35.
1. The Ride to West 35
Video credits: Jean Beltran via bitLanders
The resort's name was formulated because of its location which is 35 kilometers away from the city of Cebu and it is situated West of it. From Cebu City, the uphill road would be interesting because one will find a lot of interesting places to stop by.
First is there are tourist spots like Temple of Leah, Top of Cebu, Mountain View Resort, Sirao Garden, Terrazas de Flores, Serenity Farm Resort, Buwakan ni Alejandra, Florentino's Eco Park, Adventure Cafe and a lot more.
In fact, when driving, you'll be wanting to stop by each tourist spot! Aside from that, there's no traffic and there are lots of curvy roads which are good to those who love long drives.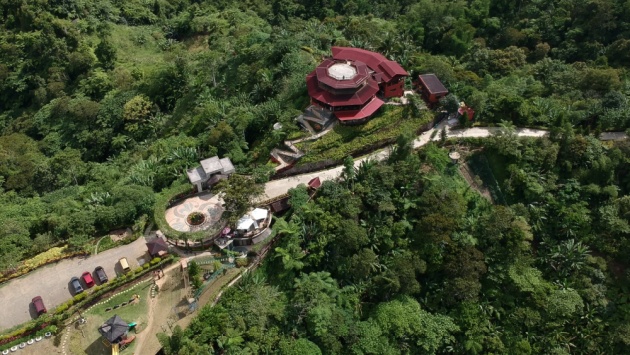 Image credits: Jean Beltran via bitLanders
When reaching the colder part of Cebu City, different varieties of flowers and plants are displayed for sale. They are locally grown and this is where most of the landscape companies buy their supplies of greens!
But there's more to flowers, there are also fruits and vegetables on display! Their best seller is the cooked sweet corn! Most of the vendors have a styrofoam container where they store their newly cooked sweetcorns, the people passing by would often stop and buy pieces of this sweet food!
2. The Weather and Ambiance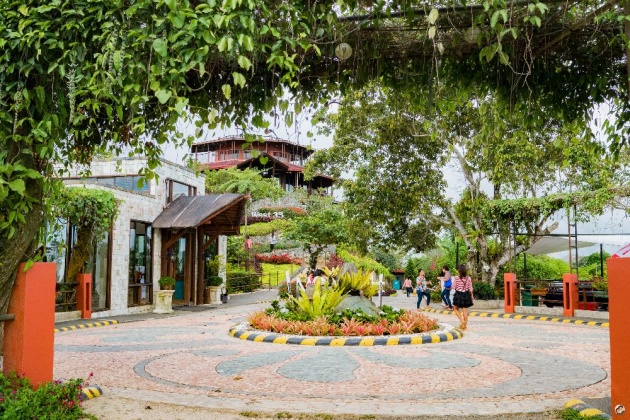 Image credits: Jean Beltran via bitLanders
Since this is located in a mountainous spot of Cebu province, the weather here is definitely colder compared to that in the city. There are thousands of trees too and foliage which covers the resort. When we got there, the pathway going to the main resort has pine trees, ferns, and plants at the sides, the air is fresh and the breeze is cold.
Walking through the pathways going up to their restaurant was something that should be enjoyed because the view reveals a lot of things, first the plants and landscaping greens making the pathway beautiful. Then at the distance are the resort's accommodations, with dark maroon roof color but facing the forest and the mountains.
The playground can also be seen from here as we walk down from the restaurant, we could visibly see some of the kids playing.
3. Their Restaurant: Haven Cafe
Video credits: Jean Beltran via bitLanders
Haven Cafe was our ultimate goal because we were hungry when we reached the resort. As soon as we arrived, we took the table from the center aisle and ordered our food, we didn't bother taking photos of the place just yet because we were just darn hungry.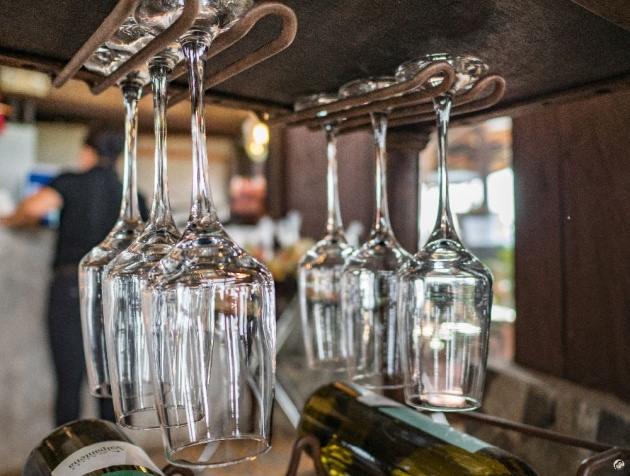 Image credits: Jean Beltran via bitLanders
I ordered their Pomodoro Al Fresco pasta which cooked with white wine, fresh tomatoes, olive oil and parmesan cheese. The serving was huge and it tasted really really good! There are times when I wanted to eat something like this but I feel like the restaurants along Ayala Mall has expensive options. I like the fact that this the price seems like it is good for one person but the serving can cater 2-3 heads!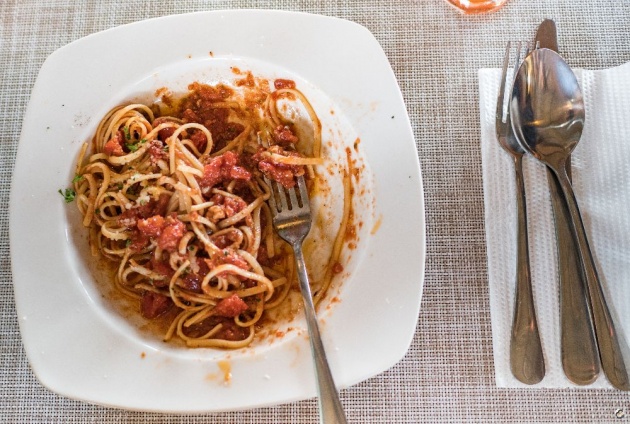 Image credits: Jean Beltran via bitLanders
James, on the other hand, ordered their Grilled Boneless Chicken with basil cream sauce! I don't anymore eat chicken so I asked him how was the chicken and he was all praise about it. Said this was the best grilled chicken that he had tried so far. With him saying that I can tell that Haven Cafe indeed offers good food! We finished it off with a pure carrot juice and a lemon juice!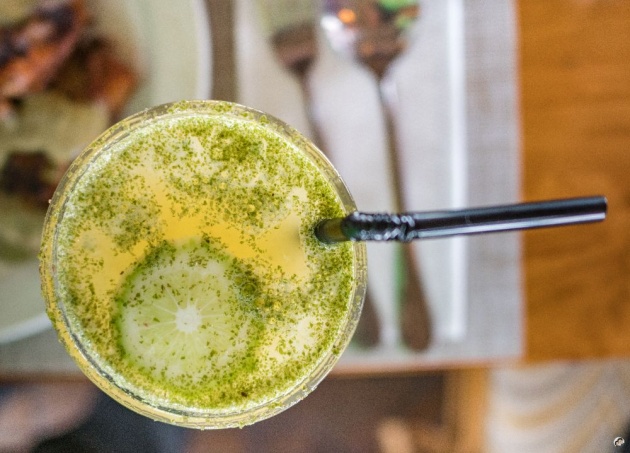 Image credits: Jean Beltran via bitLanders
Then we had time enjoying the restaurant's interior decoration after we got our tummies happy and full.
Rustic but clean and vibrant, that's how I can describe this front area. But in the adjacent section, there's another part of the restaurant which can accommodate a group. At that time when we were there, the place was prepared for the members of Metrobank company. I guess they'll have their seminar over there. The white walls with wooden cutting decoration were really beautiful, the tables' centerpieces fit the room's design, there were champagne and wines displayed too and the artificial plants hanging on the ceiling gave accent to the white walls.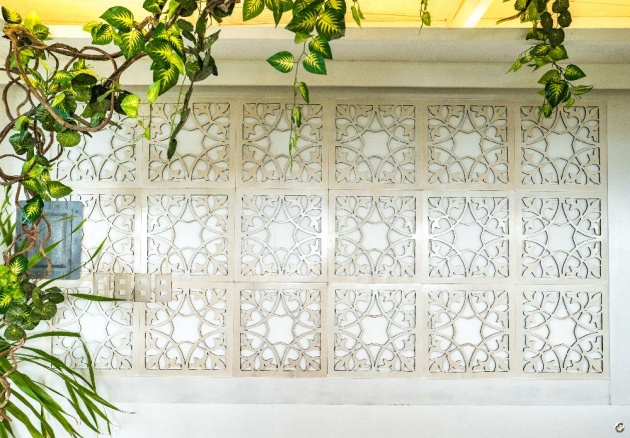 Image credits: Jean Beltran via bitLanders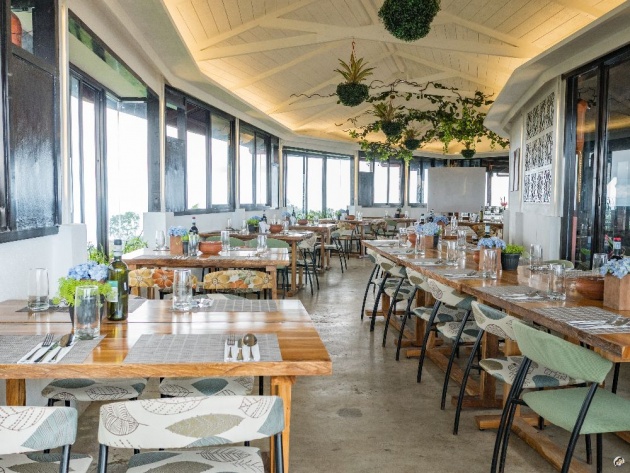 Image credits: Jean Beltran via bitLanders
At the end of the room is a glass door and a further terrace at a distant to those who want to see more of the mountains.
Haven Cafe also has a second and third floor which serve as their viewing deck. James flew his drone over to see more of the resort.
4. Kids Friendly Playground
Kids and those children at heart can also fully enjoy the playground next to the parking space. There's a slide, hanging bridge, hanging ropes, mini zip line and seesaw too!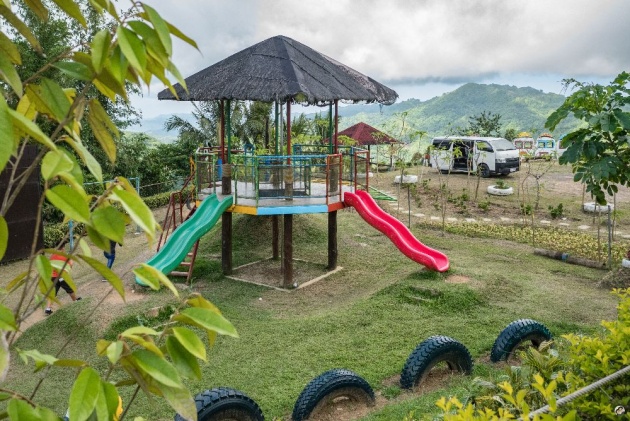 Image credits: Jean Beltran via bitLanders
James even tried their mini zip line as well as the hanging bridge. But since we don't have any kids companion, we ended up just watching some of the kids play.
5. Villa Accommodations
I found their accommodations quite expensive but I truly believe it is worth the price base on the photos I have seen online and just by seeing the villas from afar.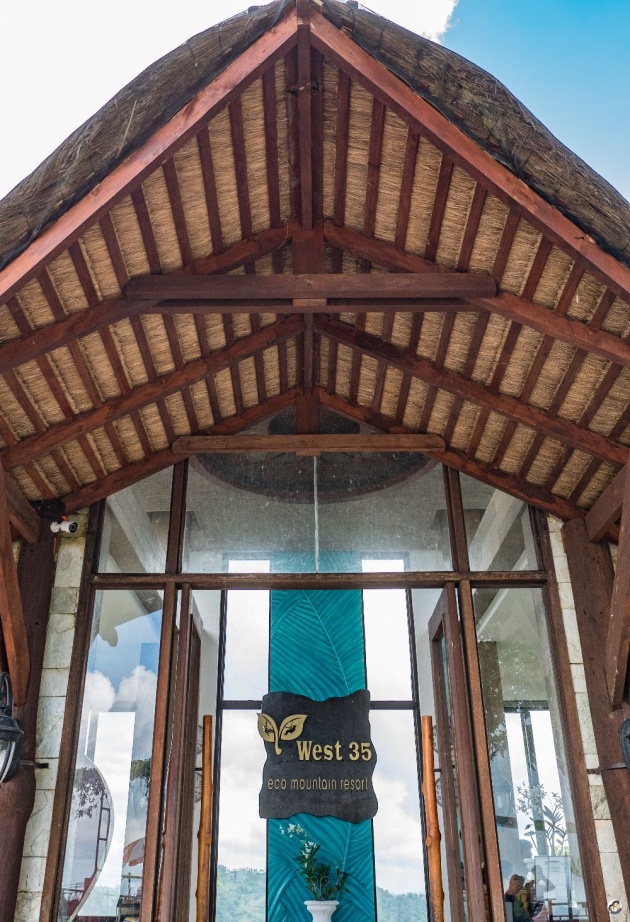 Image credits: Jean Beltran via bitLanders
At the restaurant's viewing deck, the villas which are nestled on top of a steep hill looks like those of the movie scenes. They are facing the mountains, covered with pine trees with the ground to ceiling glass walls.
It has green lawns and an outdoor lounging area with bonfire pit, that would definitely be a good spot for a night bonding with friends and family too! How about some marshmallows over a bonfire?
I'll have to save up so I can afford an overnight stay here and I hope that it will be soon.
This blog entry was written and published by Jean Beltran-Figues for bitlanders.com.