Much has been written and said about the series of wide-reaching updates to Google's search algorithm over the last 2 years or so.

There's been panda and penguins a-plenty. Both normally loveable creatures, but for most digital marketers they've taken on a mean and painful persona. Due to the after-effects that they've had for a lot of SEO practitioners in the less-than-white hat field.
Rankings have been slaughtered
Revenues have soaked away
Link farms put out to pasture
All-round, a lot of carnage.
So how will life be after the latest new Google penguin update?
This great article from the guys at SearchEngineLand explores the ins and outs:
http://searchengineland.com/penguin-2-1-and-5-live-173632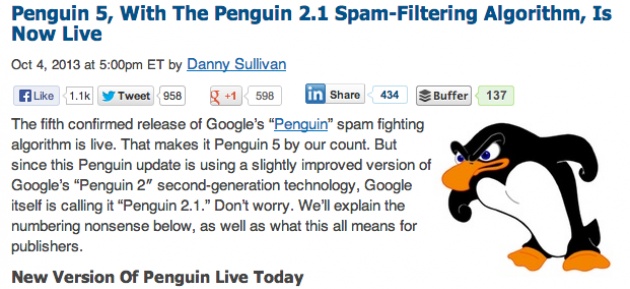 Let me know your thoughts and stories on how this affected you.