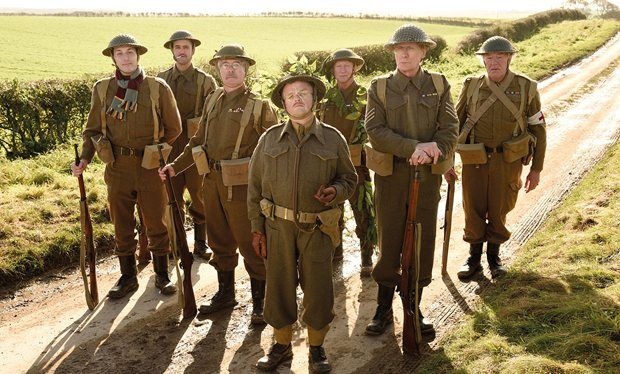 I disapprove fundamentally of war but the title of the new Hobbit film got me thinking. If you could pit five movie armies against one another, which could you choose?
Dad's Army (2016)
The cast of the reboot of the popular BBC television series is obviously my number one choice, seeing as I am old just like the cast of this lot. Toby Jones headlines the film as Captain Mainwaring, he of the 'you stupid boy' catchphrase, alongside Bill Nighy, Michael Gambon and (improbably) Catherine Zeta Jones. (Personally, I think her character might have wandered out of 'Allo 'Allo.) The title refers to the Home Guard, elderly gentlefolk who were Britain's last line of defence in World War Two. The TV cast are of course irreplaceable, which is why I would like this lot taken out by...
Army of Darkness (1992)
The third – and least of Sam Raimi's Evil Dead trilogy catapulted Ash (Bruce Campbell) back to Medieval times, but that didn't stop him saying 'groovy'. Still the zombies could easily take out Jones's Mainwaring and company unless they are stopped by...
The Golden Army (from Hellboy II) (2008)
This lot can kill even Death. Ask Hellboy (Ron Perlman), he's the son of a Devil, who signed up for an Agents of SHIELD-type group run by Jeffrey Tambor for reasons I still can't figure out. I'm not entirely sure why The Golden Army ended up on the Irish coast – don't they know Ireland was neutral during World War II? Otherwise we would have another stock caricature who would need to be taken out by the cast of...
You're in the Army Now (1941)
In which a pair of vacuum cleaner salesman join the armed forces. This offered an early comic film role for Phil Silvers, who became known for wisecracking in uniform in the Sgt Bilko TV series. Silvers is far too frivolous to be trusted to defend his country, which means he would have to be challenged by...
The Army of Crime (2009) aka L'Armee Du Crime
Robert Guédiguian's piece de resistance features one member of his stock cast – Ariane Ascaride alongside Virginie Ledoyen and Simon Abkarian in a film about an Armenian poet who joins the French resistance. I can't say I remember much of it; Guédiguian is not known for heart-stopping drama. See also Jean Pierre Melville's The Army in the Shadows (1960).