Video Credit Wall Street Journal via Youtube

Image credit Geralt via Pixabay
Why AI Needs A Gender?
As the world is priding itself on moving toward gender neutrality and reducing gender biases, we still seem to be primitive in our approach. AI assistants and robots like Siri, Cortana, Alexa, Sophia,Tay are just some examples of our obsessions with female forms and voices. Or on the other hand, is there a reason behind this madness?
Given the fact that we depend on these Artificial Intelligence empowered digital assistants heavily today, is it possible to keep these bots, (being what they are, just machines that learn and function through machine learning) neutral and gender free while we still get our jobs done? Why give them a form and a stereotypical role if we profess that we believe in gender equality?
The issue is not AI, but how humans build AI. There is a very real risk that, instead of solving the problem of gender bias, AI will only exacerbate it further. - Julie Teigland via Ey.com
Female AI Voices Means More Business
It is universally accepted that female forms and voices are more warm, nurturing, welcoming and perhaps more soothing than those of the male counterparts. Studies have repeatedly proved that both men and women seem to prefer female voices over male voices. While this may make business sense, should we really fool ourselves by making a machine sound like a woman when we know all along that it is a machine.
On the other hand, we make and project the 'male' robot as efficient, controlling, powerful with none of the emotions of the female humanoids. Are we telling the world who is the master? Why this distinct demarcation?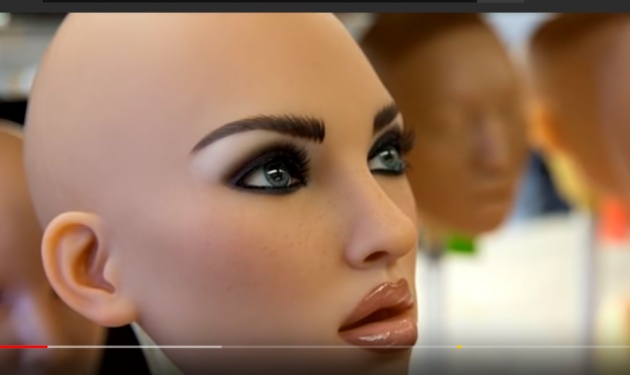 Screen shot from video Shakaama Via Youtube
Psychological Impact Of Female Form Of AI
From a psychological perspective portraying female submissiveness or showing them as the 'weaker sex' makes them seem like lesser beings who are non-threatening to their male creator. This is often seen as a psychological ploy to strip women of their confidence and power to live up to their potential. It is amazing that we seem to be doing the exact same things that we are trying to do away with.
Are the creators of Sophia and numerous other humanoids obsessed with the form of the woman or do they really believe that only women should play the roles these bots are expected to play? If this is anything to go by, we are still in the dark ages.
Another trend which may be a huge cause for concern is the fact that we seem to be creating these female humanoids to be "everything you want to hear and everything you want to see" as portrayed in Blade Runner 2049. This projects the female form as one that is made to please 'man'.
The idealistic talk about breaking the stereo typing of women's roles in the society may be just an idea that is bandied about in public but deep within, it seems this is how the world wants to remain. This is the impression one gets not only from the female AI versions in technology but also from their depiction in the movies.
"I believe that robots will become people, I believe that in time they will develop the complete capability of a human, to understand us, to have general intelligence and the willful desire to grow and reach their potential the way that humans experience it.

When asked, Does that include love and sex? Hanson said '"sexbots are likely to happen..." - Sophia's creator, David Hanson, in an interview with GeekWire.
Giving AI A Gender - An Assertion Of Male Dominance
When you look below the surface it is natural to wonder if creating these female bots this way gives their male creators of a sense of power. By making them seem ever subservient, docile and mindless we have given them a place and role in the society.
More importantly we could be sending a message to the younger generation that this is how women deserve to be treated as sex toys and breeding machines.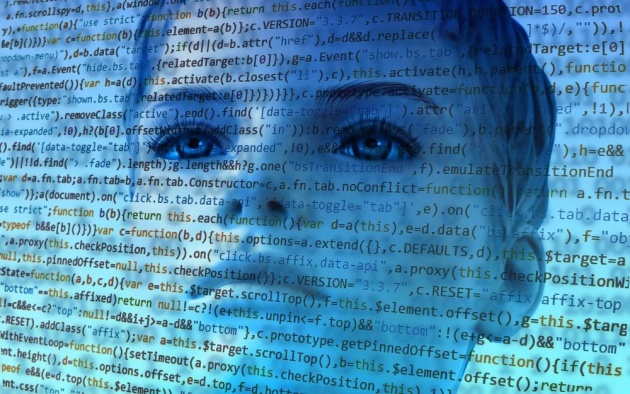 Image credit Geralt Via Pixabay
Female AI Robots Are Highly marketable
The various female AI forms that are in the market today reinforces the fact that woman is a highly marketable commodity and is okay to continue this trend. Is this plain business sense or abuse/exploitation of the feminine form and identity? Does this say something about what we really are deep within?
Correcting Gender Stereotypes
In order to correct this gender stereotypes Google announced that their Google Assistant would be getting six new voices, but that the default was named "Holly." Seriously? I am not sure if we are doing too little too late.
It is our hypocrisy that worries me. On one hand we preach gender equality and respect but on the other we allow these trends to continue as if they meant nothing.
While there are voices out there which insist that AI has a female personae only because it makes sound business sense. However, if this is true how do you explain the way media presents female robots in movies?
If these assistants are only there to serve us why not give customers the right to chose the gender of their assistants. I need to mention here that Siri has a male voice too, (by default Siri is male in the UK) you could chose the male assistant if you so desired.
In this interactive c blog below - Does AI need a Female Persona we shall discuss this issue in further detail . Please join me in this chat.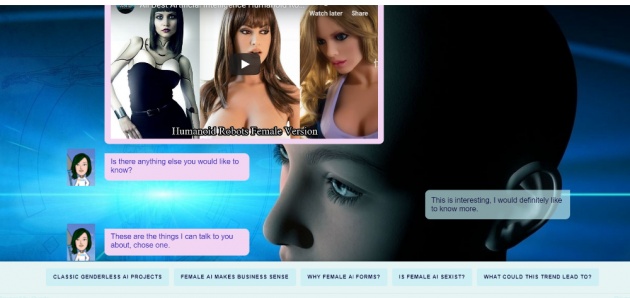 image credit Screen shot of the Querlo Chat on Does AI Need A Female Persona
Querlo chat On Does AI Need A female Persona Via Bitlanders by Sofs
Kindly consider this quote before you make your decision. This is what the creator of Sophia had to say about his female AI creation
"What I want to do is put tools in the hands of artists and product designers and ask them the questions to make sure we can address people's needs as effectively as possible. And I think the gender relationships with robots is one of those deep questions I don't have a full set of answers for." - David Hansen
Final thoughts
If this trend continues, we as a society may to face serious moral and ethical challenges. We have seen the loss of respect for human lives grow as the exposure to murder and violence has increased through the media, now we may see mutual respect for the other gender decline and moral values challenged in every way imaginable.
We need to correct this trend sooner than later before the psyche of the younger generation becomes completely been imprinted with messages of dominance, control and violence. I fear for the young minds which are already subconsciously manipulated by what the media portrays.
The 'safe' future of Artificial intelligence and mankind lie in these changes. The inclusion of more women in designing these AI forms could help to some extent.
There is no threat from AI but there is danger in our biases and our indifference to take responsibility and address the problems that stare us in the face.
######################################################################
This blog post is written in support of the announcement made by Micky about the Bitlanders AI-Themed Blogging.This blog also incorporates the C Blog (Double bonus reward topics). This article is the 13th in this series on Artificial Intelligence.
My other blogs in this series Include
ARTIFICIAL INTELLIGENCE - MAKING LIFE EASY AT HOME
ARTIFICIAL INTELLIGENCE IN HEALTHCARE - C- BLOGGING
THE ARTIFICIAL INTELLIGENCE REVOLUTION - DRIVERLESS CARS
BIO-METRIC ACCESS AND SECURITY IN THE WORLD OF AI
AI ENHANCED WEARABLES _WEARABLE TECHNOLOGY DEVICES
BUILDING A CAREER IN ARTIFICIAL INTELLIGENCE
CURRENT TRENDS IN AI - WHAT THE FUTURE HOLDS FOR US
CHATBOTS THE FUTURE OF BUSINESS
ARTIFICIAL INTELLIGENCE THE POWER BEHIND THE TOKYO 2020 OLYMPICS
ARTIFICIAL INTELLIGENCE IN FORMULA ONE (F1) RACING
ARTIFICIAL INTELLIGENCE CHANGING THE FACE OF EDUCATION
ARTIFICIAL INTELLIGENCE IN SPECIAL EDUCATION
All images used in this blog have been duly credited, no copyright Infringement Intended.
Thank you for reading and interacting with me on this blog. I hope that information I have shared on this blog has been helpful to you.
**** ♥♥♥♥♥ Sofs ♥♥♥♥♥****
Would you like to share your thoughts and earn through Bitlanders? Follow this link and claim your first $1 reward on sign up.