Today, I just realized that there's someone out there much famous than my favorite YouTuber, Peter McKinnon. One of who is just a few millions behind Casey Neistat and who knows might be the next in line to reach the same output as Casey is doing. All of that at the age of 24!
Image credits: blogortech
Yow guys, I was definitely amazed at this kiddo because he is not just producing low-end YouTube videos, he doesn't play the mediocre type of things, he is simply doing his A game in YouTube and he truly deserves what he is having right now.
His videos are those types that you want to watch and be updated right away because he posts reviews from anything that has an "On-Button"!
Here today, let me share my own reasons why you and I should subscribe to this young man!
1. He Has a Decade Experience in Online Tutorials and Reviews.
Image credits: stevens
Marques Brownlee, his real name had been on the YouTube platform since around 2008. I looked up and he was still 14 at that time, today, he is at 24 years old, he started posting on 2009. From high school to graduate in Business and Technology while still using YouTube as just a hobby! Boy, this young man has passion and he never stopped doing whatever is making him satisfied!
While he started YouTube with posting tutorials on software with screencasts videos, he soon moved to gadget and tech topics, reviewing every new released mobile device!
From all those years of being in the platform, he had grown his audience from the hundreds to thousands and then millions, he reached six million subscribers in no less than a year after reaching five million. It was just September 2017, 15th to be exact that he posted about his channel reaching the five million subscriber count and now, he has 6.1 million and 893,663,567 views!
2. He Reviews His Own Bought Gadgets and Even Cars!
Video credits: Marques Brownlee via YouTube
He is a review prodigy, his start was very humble with just 78 subscribers by his 100 videos but because of consistency, he had grown to his huge YouTube Superstar. Imagine, him being a one-man production before he opted to let others join him to create slicker and power video outputs.
With an estimated net worth of $1-2 million and a monthly income of $25,000 to $40,000, it is no wonder that he can afford to buy every single new mobile phone out from every single brand.
He even got a hand on the Huawei P20 Pro which was not released in the United States because he just had the notion to do so after finding others' ratings on that specific mobile phone.
Video credits: Marques Brownlee via YouTube
Note: His favorite Smartphone to date is Google Pixel.
3. He Got the Dopest Camera Gears and Cleanest Audio Studio Office
Image credits: linxspiration
He used to publish videos in 1080p but early in the year of 2015, he started shooting 8K and downgrade it into 4K in YouTube. This is really mind blowing as so you might now, the 4K resolution provides overly good quality videos but in MKBHD's case, he wants to pump it even higher.
He mentioned during a video collab with Peter McKinnon that it could be that others may not truly understand why he is doing what he is doing in terms of video shooting and editing but he has his own reasons.
His videos are reviews on gadgets, most mobile phones which have parts that need extra detail to show to the audience the differences and he want to give that feel to the viewers.
Although 1080p is already good for viewing, there's something better when done through 8K resolution. It provides more options for cropping, alignment, zooming and even adjusting the stabilization of the video image.
Image credits: MKBHD Instagram
In his studio, there are high tech items installed to enhance the audio and lighting arrangement so that he could record the best video and audio quality he could provide to his viewers. Notice that he films his videos with a Weapon Dragon, this is priced at a whopping amount of $70,000! A review with a personality is what he aims for!
4. He Collaborates with Other YouTubers, Sports Superstars, and Even Huge Company Heads!
Image credits: appadvice
Sundar Pichai, CEO of Google, Will Smith, Kobe Bryant and Motorola CEO Dennis Woodside, not to also mention Craig Federighi, Apple's senior vice president of Software Engineering, these are just some of the personalities he had collaborated with, interacted, interviewed and had one on one conversation. He had interviewed them for their tech sides.
So those who want to be updated with their idols and those whom they look up to, you must follow him to watch that latest news straight from the celebrities or the company heads of huge brands!
5. He Starred in Forbes' Top 10 Tech Influencers of 2017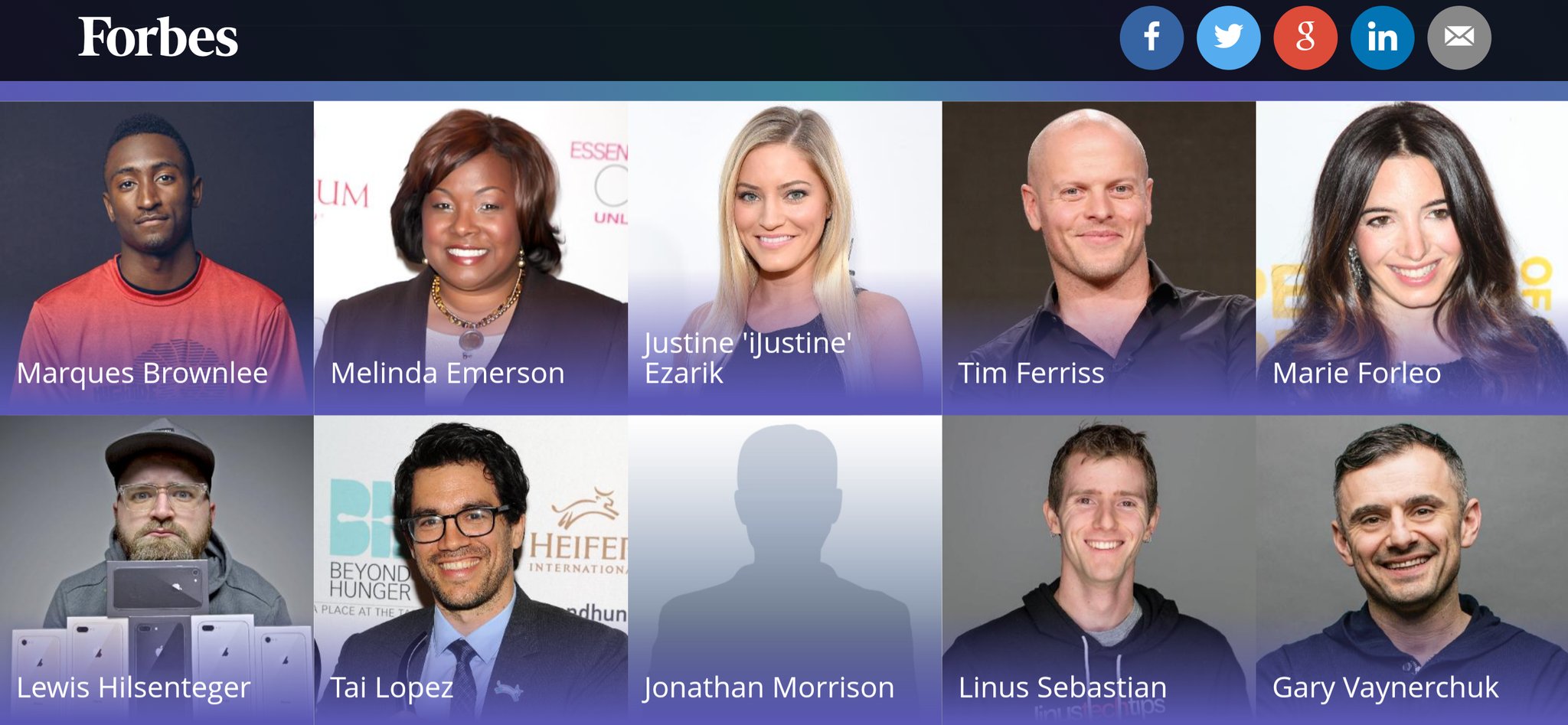 Image credits: MKBHD Twitter
Labeled as the "best technology reviewer on the planet", that line is something and I don't know how would I feel if I'll be in his shoes! But true to his dubbed name, he has revolutionized and brought about a different kind of label when reviewing tech gadgets.
Thus, when the new 2017 Forbes' Top 10 Tech Influencers was revealed, he sure was included together with Gary Vaynerchuk, Melinda Emerson and more.
Image credits: MKBHD Twitter
This exemplary award gives chill and for someone at a young age to receive one is worth treasuring. I believe his parents and family members are truly proud of what he is right now.
And to top that, he also won the Creator of the Decade by Shortyawards.
6. He is an Athlete!
Image credits: recode
Whilst all of these tech reviews and overwhelming earnings from creating content on YouTube, MKBHD is also an active person because he plays professional frisbee player. His former team was the New Hersey Hammerheads but moved over to New York Rumble.
His six foot three in height with a wingspan of six foot seven something,
Now, we can't really tell that this guy is just all about technology, he sure has his own way of keeping up and making use of his muscles and energy than just gadgets!
7. He Gives Good Items to Fans and Subscribers
Image credits: MKBHD Twitter
This is probably the top reason why you should subscribe to his channel. With his monthly huge earnings, he has also set up giveaways for his fans.
The latest one was a $1000 Smartphone Giveaway, what can I say? Just congratulations to the winner, you lucky one!
That's seven reasons why you should subscribe to MKBHD and I am just overly excited about what this man's future would be, he is just 24 and there's a long way to go. He will surely become more successful in the next months!
Image credits: fastcompany
MKBHD, by the way, stands for his name, Marques K. Brownlee HD, that's high definition of how he shoots his video, now I believe it should be changed to MKB8K or 4K!
What are you waiting for? Click that Subscribe button!
This blog entry was written and published by Jean Beltran-Figues for bitlanders.com.