Hello, my co-bitLanders!
It's been five days since my husband and I visited Bacolod and I felt like I wasn't able to really make the most out of that trip just yet due to the circumstances which occurred when we went there last Thursday.
But even so, I am still thankful that our day trip there was still worthwhile. If given a chance, I would want to go back and perhaps explore it more.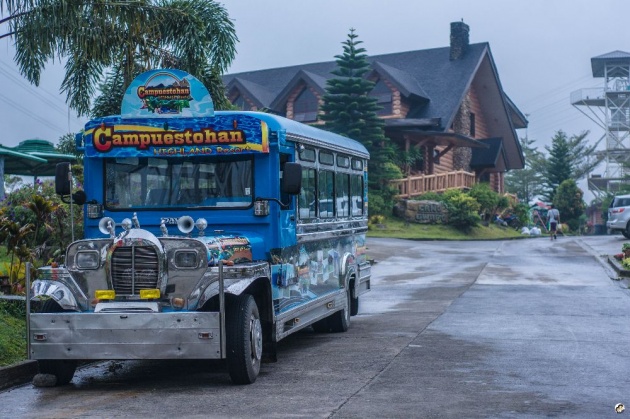 Image credits: Jean Beltran via bitLanders.com
"Campuestohan Highland Resort is the brainchild of the visionary couple Ricardo "Cano" Tan and Nita Tan. Its history is as lovely and grand as the present beauty that awaits visitors who take the time out to commune with nature in this glorious haven in Negros Occidental." -

Information reference: www.campuestohanhighlandresort.com
It has almost everything you would like to have in a resort. There are different reasons why I would still want to go back and in this blog, I will be sharing the list:
1. Multiple Pools
Part of the inclusions for day tour was a free use of the swimming pools in the resort. I have to check their site to verify the number of swimming pools around but in my own counting, I believe they had around three.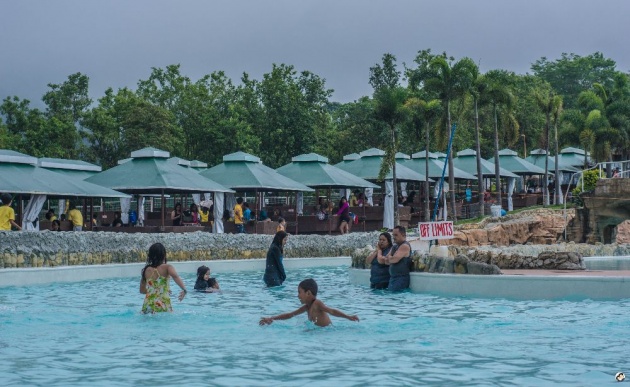 Image credits: Jean Beltran via bitLanders.com
One which stunned me really was the big footprint pool which I didn't realize is actually a foot until James, my husband flew his drone and I saw the pool in its fullness.
Another pool which is free to use for all guests is their wave pool! It's huge and most guests would come here for a swim. It was gloomy and foggy when we arrived which was a surprise because the weather from the city was really hot and sunny!
Image credits: Jean Beltran via bitLanders.com
I saw lots of kids enjoying the wave pool plus the ambiance from there was really great, there were numerous wave pool cottages all over the surrounding this plus there's a shark hanged next to the pool and a shark head which is cute for picture taking. Quite a beauty than a scarer though, if there's such thing as that.
Not to also forget the ambiance you'll see while in that huge pool because its close to the picturesque and panoramic view of Negros' lashes!
2. Indian and Hobbit-ish Huts Village
Campuestohan Highland Resort has a huge land area. I can't really tell how huge it was but I for one wasn't able to explore everything in the whole afternoon that we've been there. There are different parts of the resort which I think I was teleported to a different country, a different dimension and very opposite to what we have here in the Philippines.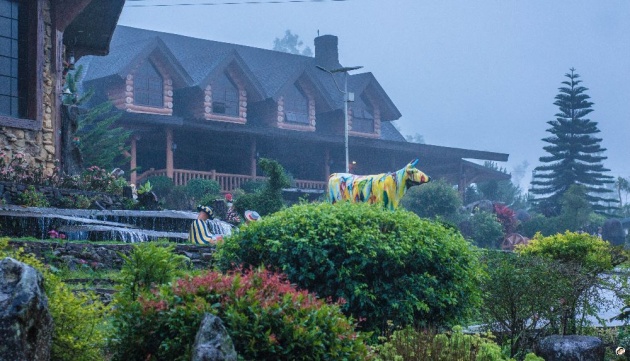 Image credits: Jean Beltran via bitLanders.com
One of those things are the villages they had set up for their checked in guests. I am not sure if there are still other rooms available aside from these two but they were my favorite:
Indian Village
Their colorful Teepee huts had me in awe as I was approaching the Indian Village. There were two entrance I suppose but not really sure about it as I mentioned before, it's a huge resort so I am not certain if those two were just the only entrances they had.
But then again, colored teepees are something that had attracted my visuals and I had to follow my gut by going into the Indian Village.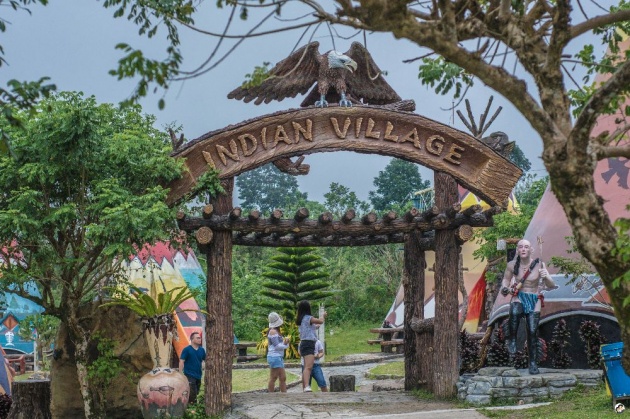 Image credits: Jean Beltran via bitLanders.com
An eagle rested on top of the wooden-looking banner which has the sign imprinted as Indian Village which was at the same time guarded by a half-naked native-American (I suppose) welcomed me as well as the rest of the guests who came in here.
Upon entering, another native American on his horse comes in the frame. He has this typical headdress which at a single glance you'll realize right away that this place is run by native Americans. He also holds a spear in his right hand.
I didn't get to check how the inside looks like but, the resort's website has a cool and interactive Virtual Tour , click that link to check it out.
Bonita Huts
With a front garden and a bonfire area, one can truly want to stay here, a room which stands for itself. It has its own comfort room too, well actually all their rooms have.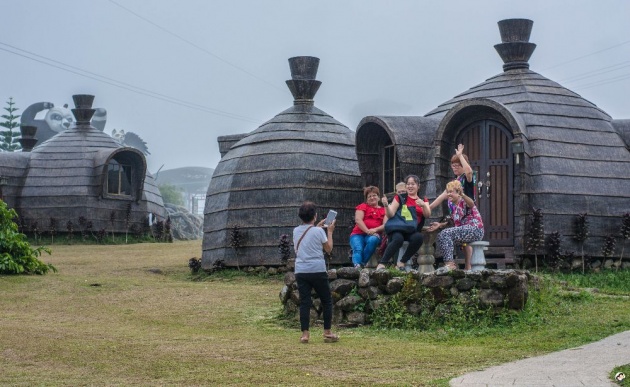 Image credits: Jean Beltran via bitLanders.com
I like how one can feel like a hobbit while staying here. The outside view is definitely eye-catching and it feels nice to stay outdoor while watching over the entire resort. It is just next to the Indian Village which is also cool as you can just chill there too.
Aside from those, there are also other types of rooms and villages such as the King Kong Rooms and Log Cabins.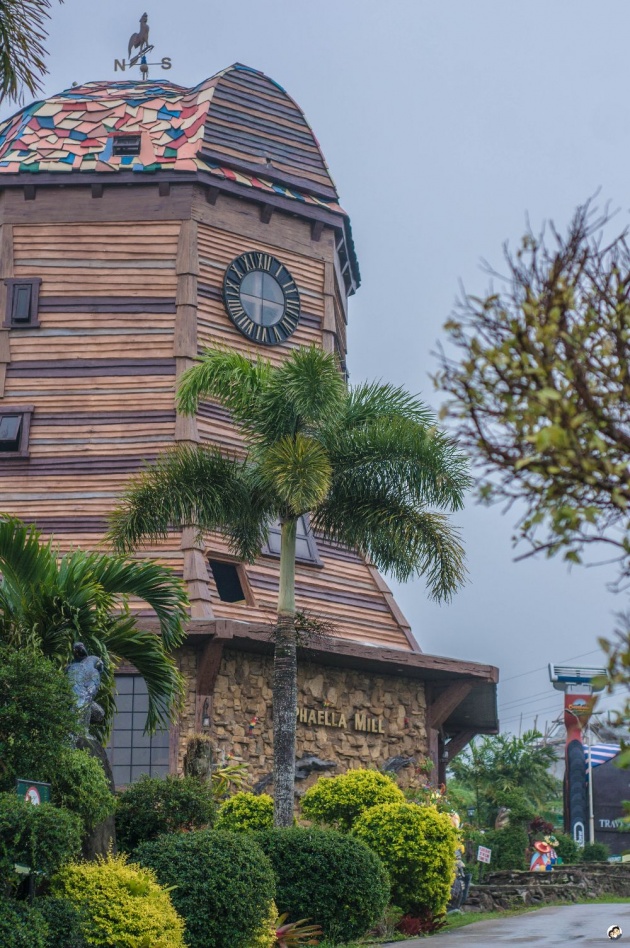 Image credits: Jean Beltran via bitLanders.com
3. Variety of Ambiances and To-See Statues
Checking our photos made me think that there were still so many other spots in the resort which we missed to see. One was the Heroes' Hall. But then I realized perhaps it might be because they were undergoing major maintenance on most of the resort corners.
Image credits: Jean Beltran via bitLanders.com
Such as their wave pool, half of it was not working. The KingKong was also under maintenance with all these woods and bamboo poles surrounding it from bottom to top making it hard for us to take photos of it. But nonetheless, there were still more to see and we have to move on because time was running out.
You know, if you are going there for day tour and you got no plans of swimming or getting wet at all, just roaming around will still be perfect. Here are some interesting things to find at the resort:
Sharkwave Shark head
Its stunning huge mouth would scare you or make you smile because of its a perfect spot for taking souvenir photos! Most tourists would pose and act like they were scared or being eaten by it.
Plus the wooden-feel look of the house where the shark is attached made me felt like I was in a different country, somehow very close to sci-fi movie scenes like that of Stardust.
Video credits: Jean Beltran via bitLanders.com
Shoehouse
That interesting shoe styled house will definitely capture each kid and kids at heart's attention. Plus the surrounding cottages and structures like the personalities such as an NBA basketball player with the jersey number 32, a Zapp inspired statue wearing a USA flag hat, Optimus Prime and Bumble Bee structures too chilling around the playground.
Disney's Kung Fu Panda Characters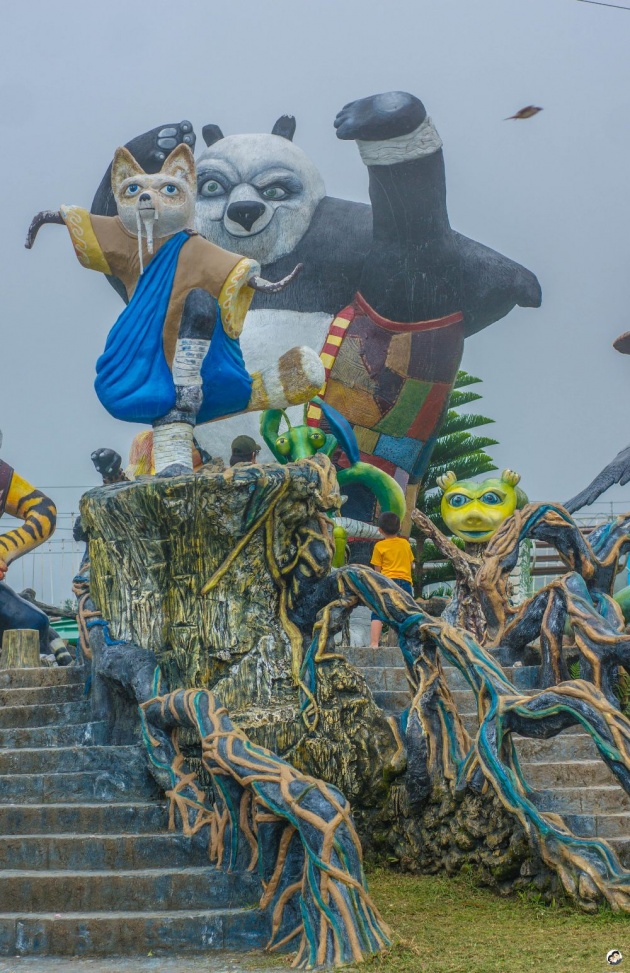 Image credits: Jean Beltran via bitLanders.com
I kept looking for the life-size replica of Superman, Spiderman, Batman, Ironman, Wonderwoman, Green Lantern, and The Hulk. But I couldn't, I only found the characters of the Disney movie's Kung Fu Panda.
I found out after watching our drone shots that the replicas were also under major maintenance! That was super bad, we had gone to the resort in a bad timing. But anyways, I felt like a kid at heart again after seeing them.
Life-Sized Extinct Animals
In my lifetime, I believe that I won't see these animals in real life anymore and I am okay with it, that's reality. But thanks to Campuestohan Highland Resort, I was able to get a glimpse of these animals, huge and extinct already.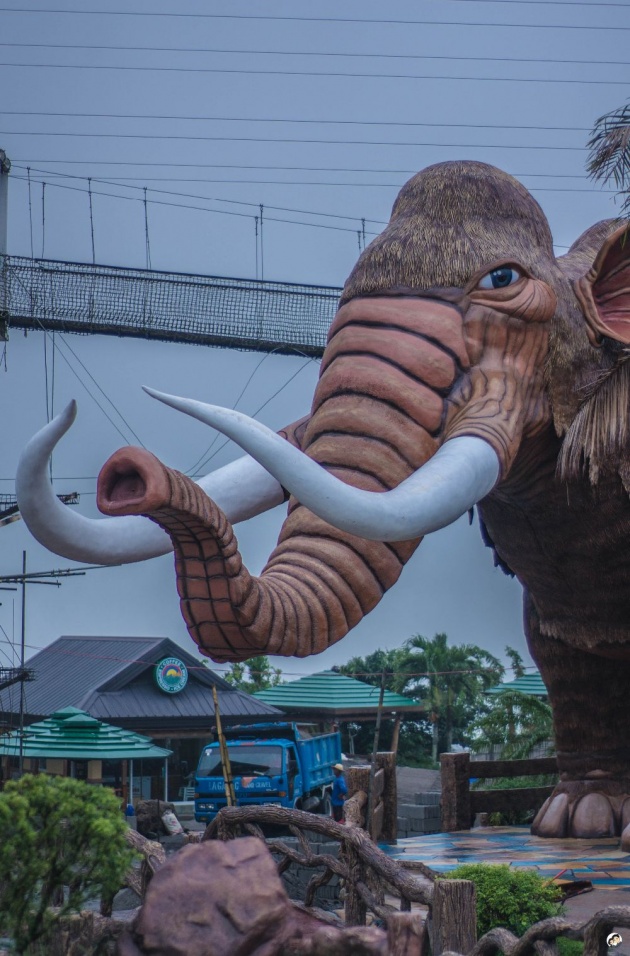 Image credits: Jean Beltran via bitLanders.com
Mammoth, I got to learn about this animal only through the movie sequel Ice Age. Then I found Rhinoceros too lying in the lushes of the log cabin house.
A colorful cow stands in front of the Raphaella Mill which by the way stands on a platform with its flowing water.
4. Fun Activities Available All Year Round
The Campuestohan Highland Resort boasts of them all year round activities. With just Php 150 entrance fee per person, a guest can take advantage of facilities such as the swimming pool, their playgrounds, ambiance and even their hanging bridge!
Video credits: Jean Beltran via bitLanders.com
But aside from those inclusions, there are also other activities which can be done inside with a certain amount fee. Some of them are the following:
Suspended in the air rides such as Sky Bicycle, Hamster Wheel, and Bungee Trampoline. These activities are really best to conquer those who have fear of heights. Plus, while doing such, one can get a view of the resort from that height.
Another set of joy rides and activities are the following with their respective fees:
Zipline = Php 200
Rope Course = Php 200
Horseback riding = Php 150
Grand carousel = Php 30
Mini Train = Php 30
Coming soon are their outdoor gym, Windmill and Chairlift. I believe the resort owner is really into developing the resort more and I can't wait for us to get back to Bacolod so we can immerse ourselves more on the resort and the culture within the city.
There are still other reasons why we have to go back. There are other services which I had not dealt with such as their Pavilion, their transportation services and a lot more. I had enjoyed our stay although it rained during the middle of our stay and had to wait for the skies to clear up so we can continue exploring.
Recent Blogs:

Blog entry written and published by Jean Beltran-Figues, A Pinas traveler and photography hobbyist, find more travel blogs in my blog section, click here.