MARRIED AT FIRST SIGHT
US Reality Television Series
(My Personal Review)
I was busy researching something on the internet yesterday while my mom was watching television when I heard her say "parang hindi komportable yung babae." In English, it means the girl does not seem comfortable. I was curious about the reaction of my mom so I began to watch the show she was watching that I did not even know existed.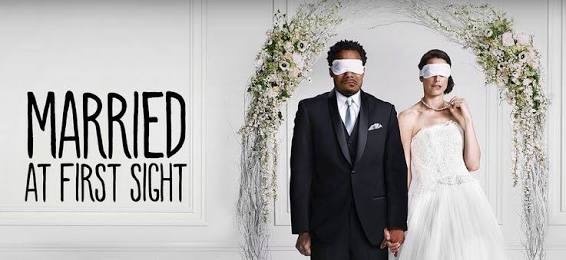 Source: Source: www.starcasm.net
For me, the title is weird. "Love at first sight" is experienced by many but "married at first sight" is an idea that I think few sane people will entertain like the participants of this reality television series. After watching the show, the concept of marrying a complete stranger still seems strange. I did a research and this is what I have learned.
What is Married at First Sight?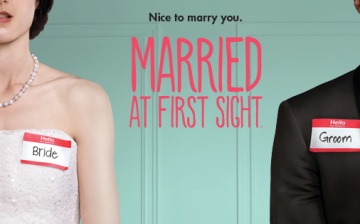 Source: www.en.yibada.com
Source: www.youtube.com
Married at First Sight is a US reality television series aired on July 8, 2014 at FYI. It was originally based on a Danish program with the same title. It is a social experiment consisting of a team of experts aiming to create scientific matches and will select three couples who will get married legally. The six individuals who got selected will let the experts decide their future partners. It is an arranged marriage made on the 21st century and is aired on TV. It is an "arranged marriage" but with the consent of the participants involved. The participants trusted the experts to find the love of their lives. It is going to be nerve-wrecking because the selected six individuals do not know the person they are going to marry until their wedding day. Their first meeting together with their families will be on the day they will tie the knot. Starting on that day, they will have all their "firsts" like first eye-to-eye, first hug, first touch , first kiss, and so on. After their honeymoon, they will move in together in the same house and treat each other like husband and wife. And after six weeks, they will sit and talk to the panel of experts. This will be the day that they will make their biggest decision: stay married or get a divorce.
Who are the Experts?
Source: www.youtube.com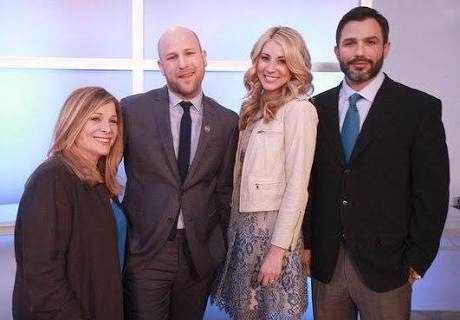 Source: www.starcasm.net
From left to right: the team of experts are Dr. Pepper Schwartz – Sociologist, Greg Epstein – Spiritual Adviser, Dr. Logan Levkoff – Sexologist, and Dr. Joseph Cilona – Clinical Psychologist. They have used scientific methods to find the perfect match basing it on a lot of factors like personality, family backgrounds, demographic characteristics, relationship beliefs, and religious preferences. It is not up to them to make the marriage a success but it is for the couples to go figure out and make it work. During the experiment, they will be guiding the couples in their married lives.
Who are the couples?
The show released three seasons. Some of them found the love of their lives but some of them were heart-broken.
SEASON 1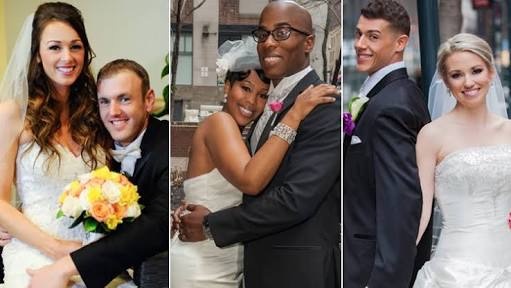 Source: www.zap2it.com
From left to right: The couples are Jamie Otis and Doug Hehner, Monet Bell and Vaughn Copeland, and Jason Carrion and Cortney Hendrix.
Jamie and Doug
Jamie had a lot of trust issues before she met Doug. It was very hard for her to open her heart to anyone. At first, Jamie was not attracted to Doug but Doug stayed with her and let her feel that she was special to him. After sometime, Jamie fell in love with him because of his character. His confidence and patience made Jamie realized that he was the guy she had been waiting for. I think the experts have done a great job in matching these two.
Monet and Vaughn
In the beginning, they were compatible with each other evidenced by their sweet gestures. Physical attraction was a big check for them. They had no spiritual or sociological issues. But later on, they always fought because of communication problems. They ended their marriage.
Jason and Cortney
These two couples proved that Married at First Sight can have a happy ending. They had their first kiss after their exchange of vows. Based on their youtube videos that I had watched, I can see that they were physically attracted to each other the first time they met and their distinct characteristics jelled. Jason's love for Cortney grew deeper when his mother died and Jamie was with him all the time. When he was vulnerable, Cortney was his strength to move on.
Present Status:
Monet and Vaughn got divorced. The two couples are still together.
SEASON 2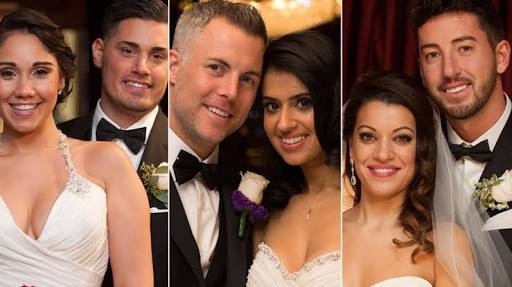 Source: www.zap2it.com
From left to right: The couples are Jessica Castro and Ryan DeNino, Sean Varricchio and Davina Kullar, and Jaclyn Methuen and Ryan Ranellone.
Jessica and Ryan D.
They were emotionally and physically attracted to each other at first because they had similar backgrounds. Both of them were raised by men who were not their biological fathers. Eventually, their relationship became sour because they had a lot of issues so they split up. Jessica also filed a restraining order against Ryan for the reason that he was very controlling and he threatened to kill her. This gave me goose bumps.
Sean and Davina
Like the other couples, they were both physically attracted to each other in the beginning. But their marriage failed because they felt they were different in a lot of aspects. Both of them had their own personal issues. They belonged to different races. Sean was American and Davina was Indian. They had different ideologies too.
Jaclyn and Ryan R.
They had a smooth relationship at first but they were not able to make their relationship work because Ryan spent most of his time in his mother's house while they were not filming. When the experiment ended, they split up.
Present Status:
They all got divorced.
SEASON 3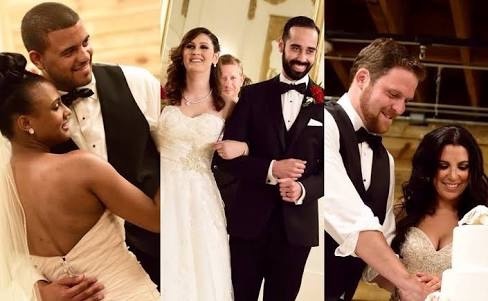 www.movienewsguide.com
From left to right: The couples are Vanessa Nelson and Tres Russell, Samantha Role and Neil Bowlus, and David Norton and Ashley Doherty.
Vanessa and Tres
They had a spark in the beginning. Their marriage ended because of lack of intimacy.
Samantha and Neil
On their wedding day, Neil felt Samantha might be the one while she felt the opposite way. While their story progressed, it turned the other way around. Samantha fell in love with Neil but Neil did not have any romantic feelings for Samantha anymore because Samantha was being rude and harshed to Neil. During the Decision Day, Neil said he wanted a divorce while Samantha wanted to stay married. She was shocked by what she heard and felt crying because she thought Neil will say "yes". Unfortunately, her expectation was wrong. He was concerned about the feelings of Samantha but he was firm in his own decision.
David and Ashley
For me, they really look good together but Ashley was not physically attracted to David. David fell in love with Ashley but Ashley chose to get a divorce. She did not make an effort to fight for their marriage.
Present Status:
They all got divorced.
Result of the Experiment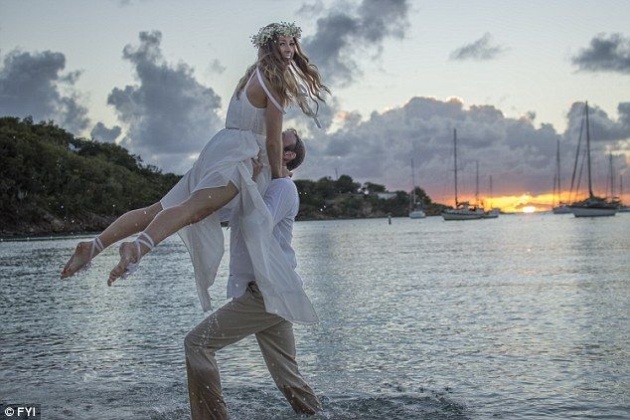 Source: www.dailymail.co.uk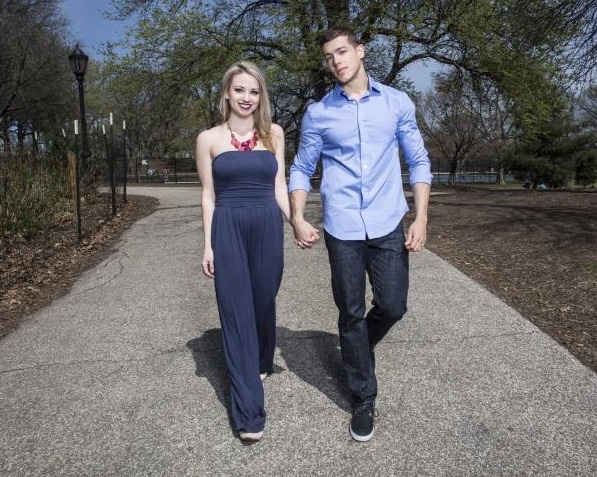 Source: www.neverseriousblog.com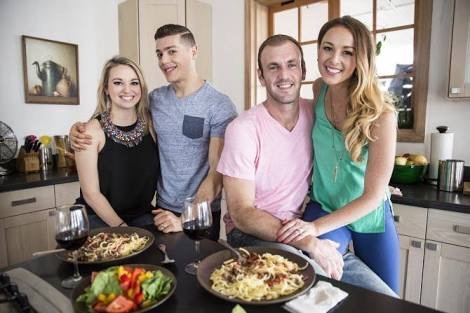 Source: www.ibtimes.com
Out of the nine couples involved in the experiment, two of them are still married. Jamie and Doug are happily married. They have already renewed their vows as seen in the picture above. On the other hand, Jason and Cortney still lives together and believes that their future is bright. Their pictures and youtube videos says it all.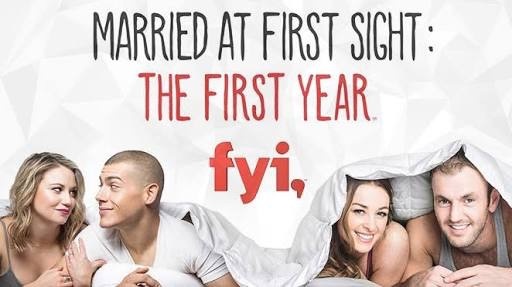 Source: www.christiantoday.com
The two couples of Season 1 were also featured in FYI's "Married at First Sight: The First Year" wherein the show featured how they were coping in their relationship issues. In that series, Jamie and Doug were having some financial problems and Doug was being too dependent on his parents. While Cortney had jealousy issues. The two couples had experienced a lot of struggles in their marriage however they were able to make it work.
Will you marry a person you have never met?
As a viewer, I do not have anything against the show but I do not like the idea of getting married with a person whom I do not really know. The reaction of my mom that I previously stated at the beginning of this blog caught my attention. What if I were stuck in that situation expecting my knight in shining armor to save me but unfortunately the monster came and ate me. Haha. Kidding aside, I think it takes time to know a person and marriage is not a joke. It is a life-long commitment and I value the sanctity of marriage. I believe that for a marriage to be successful, couples should love, nourish and cherish each other. They should be faithful and treat each other with respect. They should not hate, cheat or hurt their partners verbally, physically or emotionally. Divorce should never be an option. I am happy that some of the participants of the social experiment did not only find a friend, best friend and a confidant but also a lifetime partner. Some of them were left broken-hearted but they still managed to move on. Overall, the show was entertaining and lessons can be learned.