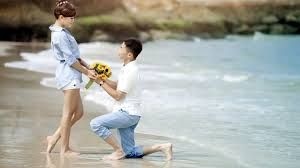 I did not forget the day when we met first
It was routine day
I did not feel much
I believe not in all case it is first sight love
some time it takes time to get aquented
It all went gradually
We started liking eachother slowly,
But our love became stronger as each days passed
I dont remember day when my like converted in to love
Your awesome talks
A cute baby talk
Deep eyes inviting me to sink in
And telling how much you love me ,
More on how your feelings ,
Also tells how you will react !!!
Once I stated to know more bout you ,
I realized thatyou are opposite than your first look,
You are more awesome from within and from outside…
A divine beauty that is always smiling for me!!!
It is easy to like you
But Once I understand you
I did not see any other option left for me!!!
I wish we will always remain together
I wish we will get few more momerable moments ,
I wish we may plan our whole life together
I wish something more beautiful between us.
Will You Marry me?
source : http://www.bubblews.com/news/8269268-will-you-marry-me-heart-touching-poem