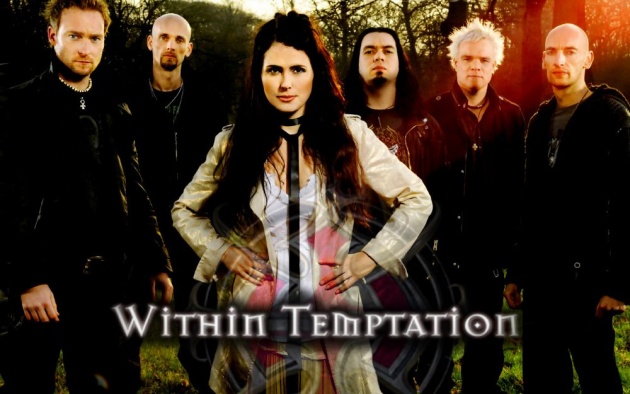 Goth metal stars Within Temptation marry the guitar-driven force of hard rock with the sweep and grandeur of symphonic music, and the results have made them one of the most popular bands ever in the Netherlands. Within Temptationwere formed in 1996 by guitarist Robert Westerholt and vocalist Sharon den Adel, who are partners on stage and off.Within Temptation's early material caught the attention of the Dutch label DSFA, which signed the group to a record deal; the band's first album, Enter, was released in 1997. Up until this time, Within Temptation had been a studio project, but the success of the album led to invitations to play several live shows, including the Dynamo Music Festival, one of the biggest live music events in the Netherlands.Within Temptation demonstrated their strength as a concert act, and began playing Germany, Austria, Belgium, and the Czech Republic. Booked to play Dynamo's main stage in 1998, Within Temptationfelt recording new material was in order, and they released the Dance EP for the occasion. Shortly afterwards, Within Temptation went on hiatus as the group's members dealt with personal commitments and Westerholt and den Adel built a studio for their ambitious recording projects.
In late 2000, Within Temptation returned with their second full-length album (and first for Sony), Mother Earth, and the band continued to appear at major music festivals in Europe and the Netherlands; the album was a major commercial success, and the song "Ice Queen" was released as a single, rising to number two on the Dutch charts. After several years of steady touring (including major festival appearances in France and Mexico), Within Temptation returned to the studio to record their third album, 2004's The Silent Force, an ambitious project featuring a full orchestra and 80-voice choir accompanying the band. It was their first disc to be released simultaneously in the Netherlands and elsewhere in Europe, and became a major commercial success, going platinum at home and reaching the Top Ten in Germany, Belgium, Spain, and Finland. Having become the Netherlands' best-selling international act, Within Temptation finally landed an American record deal with the venerable metal imprint Roadrunner, which released their fourth album,The Heart of Everything, in 2007. Black Symphony, a live CD/DVD recorded at the Ahoy Arena in Rotterdam with a full choir and orchestra, followed in 2008.
Their 2011 effort The Unforgiving was a concept album heavily influenced by '80s pop and rock, and supported by a series of short films as well as a comic book written bySteven O'Connell. It was a great commercial success, hitting the top ten in seven European countries, and the band toured heavily in promotion of it. In 2012 the band's contract with Roadrunner came to an end and they decided to self-release their next album, signing distribution deals with Nuclear Blast for the USA and, strangely, Dramatico, Mike Batt's pop label and home to Katie Melua, for the UK. Their sixth album,Hydra, was slated for release in February 2014 and saw them branching out into a number of new and unexpected styles, as symbolized by the titular, many-headed mythical beast. It included guest vocal performances by Howard Jones of Killswitch Engage,Soul Asylum's Dave Pirner, rapper Xzibit, and former Nightwish vocalist Tarja Turunen on the single "Paradise (What About Us?)."