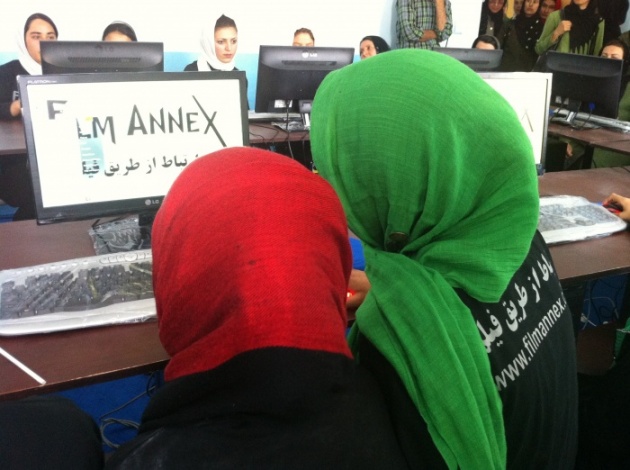 Photo by Angela Shah*.
The Internet is a great space for keeping up on current events, following your friends and learning more about the world. Thanks to the new subscribe embeddable buttons on Film Annex, the world just became a smaller place. Now you can keep up with your friends and role models - and let people know what's going on in your life.

Embeddable buttons, a new feature of Film Annex and Women's Annex, lets you share your profile easily on your website or blog. You can help your friends stay up to date with your profile and the blogs you're writing. For example, to keep in touch with what's happening at Women's Annex, you'd simply click this button:


It's the little things that make a huge difference online. Shareable buttons may seem like a small thing, but just think about how easy it'll be to connect with the rest of the world - and help them find you. It's things like online connectivity measures that are helping schools in Afghanistan stay connected to the rest of the world. Initiatives like the Afghan Development Project have given Afghan education an exciting new technological twist. Social media is an important part of today's world, and these little touches, like embeddable buttons, make it even easier to connect the world.

Even though you may never meet your "friends" on social media, by staying connected with them and reading what they're writing about things like Afghanistan women, you can expand your knowledge base and get to know somebody a little better. Bringing the world together through social media gives expanded opportunities to people in other countries. Learning as much as you can about issues that affect others around the world helps you become a truly global citizen. Schooling in Afghanistan, for example, has not traditionally included a social media component, but by adding this to the students' curriculum, they're better able to understand the world.

Click here to subscribe to Francesco Rulli, the founder of Film Annex:




Try this one to connect with Roya Mahboob, an inspirational Afghan woman:




Click this button to see more Fereshteh Forough, one of our favorite women in Afghanistan:




These buttons, of course, are simply the tip of the iceberg. But by staying connected with people who write about important issues, you can learn about others and develop a better understanding of issues around the globe in places like Afghanistan. Social media is great, isn't it?
*Angela Shah is a freelance journalist based in Dubai. She has written for The New York Times, TIME magazine, Newsweek and Institutional Investor magazine, among other publications. Angela is the author of "In Afghanistan, Roya Mahboob Connects Girls With Computers".