Video Credits: NCRFW via YouTube
Image Credits: Yogi Atlin via LinkedIn
Gender and Development (GAD) refers to the development perspective and process that is participatory and empowering, equitable, sustainable, free from violence, respectful of human rights, supportive of self-determination and actualization of human potentials. It seeks to achieve gender equality as a fundamental value that should be reflected in development choices and contends that women are active agents of development, not just passive recipients of development.
Source: POPCOM.GOV.PH
I was hesitant to discuss Gender and Development (GAD) topic for several reasons. One is that I am a somehow lucky to have a very loving and considerate husband. Oftentimes, the examples being given to several GAD discussions and training sessions which I previously attended may not be applicable to me or should I say, "I can't relate."
Most often, the speaker would play a video depicting the common scenario inside the house and one of most usual example was both the husband and wife are working on a regular 8 to 5 job. The video would show that while the wife is busy doing household chores such as cooking and taking care of the children, the husband is watching television and drinking beer. With my more than twenty years of being married, I can say that I never experienced such thing. Hubby does the cooking... and me, I have a very important task - I taste the food.
Second, being exposed to different online communities, I know that women are competitive individuals that we can excel in any given field and this is because most organizations nowadays recognize the value of women in the society.
Let us consider Bitlanders as an example. The top rank in the Leader Board is a woman. On the same Leader Board, it will be noted that out of 30 top members, 14 of which are female. It is a good thing to know that the site is giving equal opportunity to both genders in terms of earning. Thank you Bitlanders!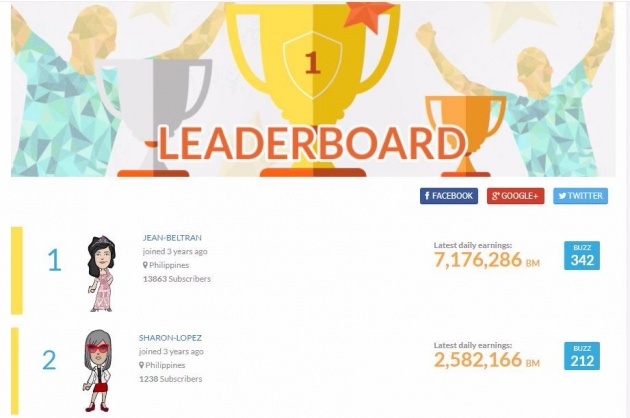 Image Credits: Bitlanders LeaderBoard
Being a person who spends most of my time online, I must admit that somehow, I don't give much attention about the prevailing incidence of violence against women and children nor the basis for the clamor for promoting empowerment and equal opportunities for women and men.
GAD approach is not concerned specifically with women, but with the way in which a society assigns roles, responsibilities, and expectations of both women and men
Quoted from: Wikipedia
>>>Issues on Gender Biases<<<
All the while, I was thinking that this issue on gender biases has already been settled. Gone were the days when women are considered the weaker sex. Yes, even the Bible has some passages wherein women are considered a commodity. I had this misconception that everything is already okay because of my current situation. I hadn't realized earlier that there is still so much to do. Especially on my part who is in the local government sector which is supposed to be providing technical assistance to the local government units for the implementation of various programs in this relation.
>>>The Marginalized Groups<<<
Maybe many of us here in Bitlanders might not encounter any instance that our rights as a woman have been violated. Maybe we are okay with our present situation.
But that shouldn't make us feel complacent. Because while we might be in a good or better situation, there are some or should I say a quite large number of women who are experiencing difficulties from where they may be right now.
With the current technological advancement that we have, still, issues involving violence against women and children is still rampant. Even high-ranking officials are not exempted from this. Much more those who belong to the marginalized groups?
While browsing the web, I found this data from the Social Weather Station which conducted a survey on women and children. The result is so alarming which made me ponder on a lot of things.
Image Credits: GMA NEWS ONLINE
I also had a personal encounter with some women who are victims of physical violence, sexual violence, domestic violence, and rape. Not all of them came from the poorest group. Believe it or not, some are working in the government, some are teachers and yes, some are high officials of the government.
The Philippine government had already passed and approved several laws that could address this current issue in our country. In fact, our country has been recognized and we are on the 9th ranked on the Global Gap Index of 2014 based on the report released by the World Economic Forum. It means that our country is doing good in terms of women's participation in the economy, health, education and political empowerment.
Despite the implementation of different laws protecting women and children, the number of reported cases in violation of women and children's rights seems to be on an alarming stage. This can be attributed to the passage and implementation of several laws for the protection of women and children.
Take this report for instance:
>>>Annual Comparative Statistics on Violence Against Women, 2004 - 2012<<<
Source: Philippine National Police - Women and Children Protection Center (WCPC)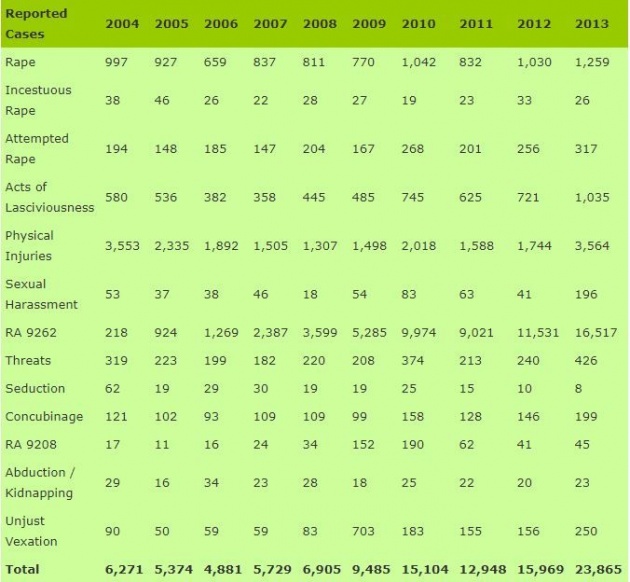 Image Credits: Philippine Commission on Women
The implementation of several laws such RA 9262 or Anti-VAWC Act of 2004, may have contributed to the increase of the number cases due to awareness. However, even the implementation of such laws, there are those who kept the information to themselves. Some victims preferred to keep silent for some reasons.
Being assigned in a certain local government unit (LGU) for several years, I know that there are some victims who opted not report their cases to the proper authority due to fear and intimidation. There are even instances when some victims who filed a report and yet, after some time, would decide to forego making the report unofficial and could not be recorded.
The government, through the collaboration of different sectors, was able to launch several programs that would address the issue of violence against women and children. Different laws for specific needs has already been in place. These laws which are complementary to each other are currently being implemented through the different agencies and local government units.
>>>What Can We Do?<<<
As a citizen, we can help in every way possible. Being mindful of others around us can be a great help. Don't hesitate to report any unusual incidents to the proper authority near our place.
The only thing NECESSARY for the triumph of evil is for good men to do NOTHING.
by: Edmund Burke
Image Credits: PakistanGenderNews.org
Did you know that a WAVC victim-survivor of Violence Against Women and Children (VAWC) is entitled to a 10-day VAWC Leave?
Please watch this video for further information:
Video Credits: Department of Labor and Employment via YouTube
Reference Materials:
Written for Bitlanders
by Sharon Lopez
Thank you for reading.
Please visit my blog for more articles. Have a great day!
Sharon Lopez is a graduate of Bachelor of Science in Commerce Major in Banking and Finance and currently working in the government handling programs on Business Friendly and Competitive LGUs.
You may visit me on Facebook.
*******************************************************************************************************************************
Disclaimer: The views and opinions expressed in this blog post are that of the author and does not in any way represent the agency or department she currently belongs.