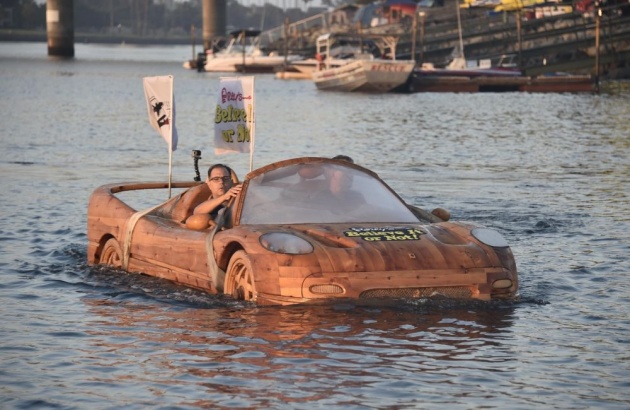 A replica Ferrari F50 weirdest in the world has arrived at San Diego Bayfair a few days ago. The car is entirely made ​​of pine wood and can be ridden like a boat.
Last weekend, Ripley's has just showed off a replica Ferrari F50. Uniquely replica is not displayed on the streets and track car. Vehicles made ​​of wood in the water was actually on display at the San Diego Bayfair. The car ride like a boat.
Ferrari replica output in 1995 was made in 2001 by an artist named Livio De Marchi from Venice, Italy. Since 2009, the work of the De Marchi belongs to Ripley's Believe It Or Not!. The replica was kept at the San Diego Air & Space Museum for nearly two years as part of a traveling exhibition. However, Ripley's finally decided to take him to the water and show it off in the event the San Diego Bayfair.
The last time the replica was in the water in 2002 when the carnival in Venice. In his explanation on The Huffington Post, Terry Brennan stated that "preparing the boat after 12 years of being out of water is not easy. The boat was only slightly since dried up out of the water. We think we were able to drain it dry the same as any wooden boat, but we found some cracks along a half-inch. We need a lot of caulking the bottom ... "
Curious as to what the rate of the Ferrari F50 in water? Just look at the pictures below.