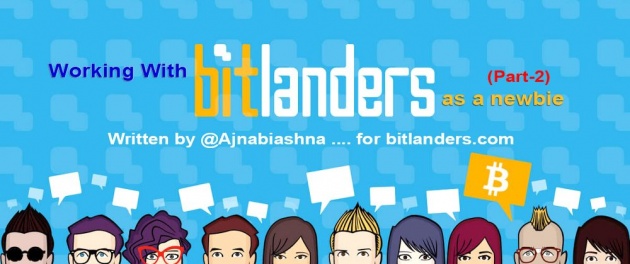 (Photo captured from bitlanders website and edited for this blog)
Hi Guys! This is the Second Part of "Working with Bitlanders as a newbie". We already discussed some initial steps and confusions faced by every newbie here, so if you missed that part just read it here:
working-with-bitlanders-as-a-newbie
Well when I started this Topic I have not searched about it, but now I know there are a lot of Articles and Blogs already written on this topic, and all are very well written and good tutorials for newbies, so I just changed my mind and don't wanna discuss those Patron things that what is Bitlanders? How to use it? How you will make money on bitlanders? And introduction of all section of bitlanders website, because they all are already discussed in other Blogs, you may easily google them. Before started this Topic I already captured and make pictures for this Blog but now they are useless, so it is better that I will write this blog in chit chat style, as a freely conversation, I don`t believe in Professional Blogger type language, Because everyone is not perfect in ENGLISH language here, users of this site are from different regions and not very much familiar with English language but have some basic know how, to use and understand this language, so it is just an idea that I will write this blog as a chit chat style as users from different region and countries have different mother tongue but when they use Global chat they easily communicate and share their thoughts with each other without hesitation. Hope you will like this style too.
So now start the conversation where we left in Part-1, we were discussing about Buzz score, Buzz points and daily rewards, Obviously our Daily rewards depends on our daily activity and buzz score, so all we have to get much BUZZ as we can. So where to find those BUZZs? Can we ask/ request and deal to others for BUZZ? Strictly NO. Because BUZZ and SUB request are strictly prohibited here. Most of the newbies don`t read FAQ and RULES section so they lost their account just in initial days, It will be better if newbies read the FAQ section in start.
Account suspension & termination

The following activities may lead to the suspension or termination of your Account:

1. Spamming in micro-blogs and comments, and on the chat with buzz/sub requests.

2. Posting duplicated content copied from the web, blogs and videos.

3. Using text scramblers and posting unreadable blogs.

4. Posting sexually explicit, offensive or racist content.

5. Cheating, using external software to control, modify or automate the usage of the website. Some of these tools or websites are known as 'Autopilots'.

6. Providing fake or doctored ID documents for payment requests.

7. Repeatedly not using English in global chat (you can speak any language you like in private chat)

Publishing a blog post copied from the web (even partially) or with scrambled (nonsense) will result in the immediate termination of your account.
The unrequested balance on your account will be lost after the 3rd suspension.
(This FAQ section copied from Bitlanders website)
I noticed most the newbies still requesting in Global chat for SUBSCRIBE, don`t do this because it will terminate your account.
TIP to GET BUZZ:
So what you have to do for getting more BUZZ. There are a lot of ways to get Basic BUZZ and direct power ups. Remember you may get BUZZ for purchasing in BIT-fashionista/ cloths for your avatar, in GEM purchasing and also in donation section. Here is a tip for you to getting BUZZ on your posts from other users, just find some good and active users, subscribe them, visit their profiles and posts and give them buzz and comment daily, As I am doing same, I have 100 subscribers this time, I just visited all of them one by one, visit micro-blog section, and give them a BUZZ and also comment so they will find some notification from me, in return most of them BUZZ me back on my posts. It is better that you will posts something valuable, another tip for posting is that you will post minimum one micro-blog in every hour, don`t post too much things at once, just do it one by one, post micro-blog in every hour as much as you can login daily, must upload one video and one photo gallery daily and try to write one blog daily, if not possible to write daily blog, must do it once in a week, But it should be unique, attractive, meaningful.
Remember: Helping each other will give you a chance to earn more. :)
Now I wanna share picture of my position, in first Blog I was far away from top 30 position but this week after follow these tips I am at 24th Position, and also Daily Reward increased. :P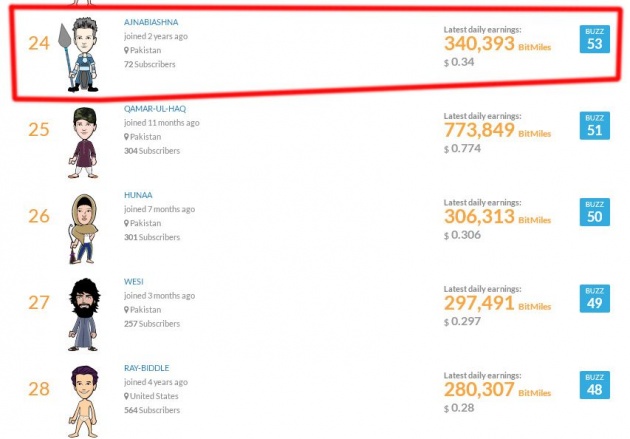 (Pic captured by printscreen option from original website)
Here is a youtube video for Pakistani users of Bitlanders in URDU, it is a little bit old but very helpful for Pakistani users.
This is not the END, just wait for my next Blog :P
Wish you good luck for your earnings.
If you like this blog just give me a feedback. It will be appreciated,
Thank you
Ajnabiashna