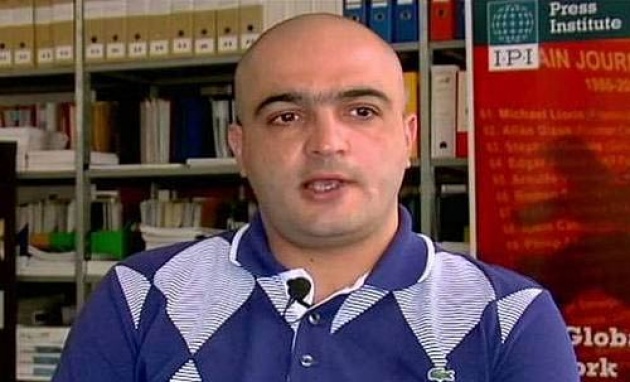 Azerbaijani journalist and human rights activist Eynulla Fatullayev, 35, was announced as the laureate of the 2012 UNESCO/Guillermo Cano World Press Freedom Prize, named in memory of a Colombian newspaper publisher murdered in 1987 for denouncing the activities of powerful drug barons in his country. (Award will be presented on May 3, 2012). Mr. Fatullayev is the former editor-in-chief and founder of the popular independent Russian-language weekly Realny Azerbaijan (Real Azerbaijan) and the Azeri-language daily Gundalik Azarbaycan (Azerbaijan Daily) newspapers. Throughout his career, he has unfailingly and steadfastly spoken out for freedom of the press and freedom of expression. Imprisoned in 2007, he was released last year by presidential pardon on Azerbaijan's Republic Day, 26 May - an event that was welcomed by the international community. In July 2011 Mr Fatullayev founded the "Public Union for Human Rights", a non-governmental human rights organization.
Nominated by Related NGO's & Member State Representatives:
Candidates are proposed by UNESCO Member States, and regional or international organizations that defend and promote freedom of expression. The UNESCO Guillermo Cano World Press Freedom Prize was created in 1997 by UNESCO's Executive Board. It is awarded annually during the celebration of World Press Freedom Day on 3 May, and honors the work of an individual or an organization defending or promoting freedom of expression anywhere in the world, especially if this action puts the individual's life at risk.
Since its creation the prize has been awarded to the following laureates: Ahmad Zeidabadi (Iran, 2011), Mónica González Mujica (Chile, 2010), Lasantha Wickrematunge (Sri Lanka, 2009), Lydia Cacho (Mexico, 2008), Anna Politkovskaya (Russian Federation, 2007), May Chidiac (Lebanon, 2006), Cheng Yizhong, (China, 2005), Raúl Rivero (Cuba, 2004), Amira Hass (Israel, 2003), Geoffrey Nyarota (Zimbabwe, 2002), U Win Tin (Myanmar, 2001), Nizar Nayyouf (Syria, 2000), Jesus Blancornelas (Mexico, 1999), Christina Anyanwu (Nigeria, 1998), Gao Yu (China, 1997).  See Film for Blog Report Regarding Last Year's Winner from Iran Ahmad Zeidabadi, "Jailed Journalist"
Selection Jury:
Laureates are chosen by a jury whose members are named for a once renewable three-year term by the Director-General of UNESCO. The media professionals in the Jury that selected Eynulla Fatullayev are: Diane Senghor, President of the Jury (Director-General, West Africa, Panos Institute, Senegal), Alexandra Föderl-Schmid (Editor-in Chief, Der Standard, Austria), Bulbul Monjurul Ahsan (CEO and Editor-in-Chief, Boishakhai Media Limited, Bangladesh), Miklos Haraszti, Former OSCE Representative on Freedom of the Media, Hungary), Ognian Zlatev (Managing Director, Media Development Centre, Bulgaria), Daniel Santoro (Editor, Diario Clarín, Argentina), Steven Gan (Editor-in-Chief, Malaysiakini.com, Malaysia),  Fatuma Noor (Features writer, The Star, Kenya), Rossana Fuentes-Berain (Editorial Vice President, Grupo Editorial Expansión, Mexico), Rana Sabbagh, Executive Director, Arab Reporters for Investigative Journalism (ARIJ), Jordan), Gamal Eid (Executive Director, Arabic Network for Human Rights Information (ANHRI), Egypt), Florence Aubenas (Journalist, Le Nouvel Observateur,  France).
Ambassador Muhamed Sacirbey - FOLOW mo @MuhamedSacirbey

Facebook-Become a Fan at "Diplomatically Incorrect"







Twitter – Follow us @DiplomaticallyX







See more at our Popular Video Blogs & Current News Event Articles – www.diplomaticallyincorrect.org
UNESCO Photo: Azerbaijani journalist and human rights activist Eynulla Fatullayev, winner of the 2012 UNESCO/Guillermo Cano World Press Freedom Prize. Photo: UNESCO