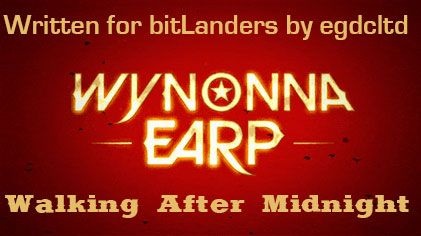 Image Credit: Wikipedia

"Walking After Midnight" is episode seven of season one of Wynonna Earp, the fantasy western series based on the graphic novel series of the same name about Wyatt Earp's descendant. In this episode, the Stone Witch crashes an engagement party Waverly is holding.
Doc is In the Woods
This episode opens with Doc sleeping by a fire in the woods, apparently suffering from bad dreams, when a revenant, John, last seen in "Purgatory", holds a knife to his throat. Things might have gone badly for Doc if Wynonna hadn't shown up at that point and shot John.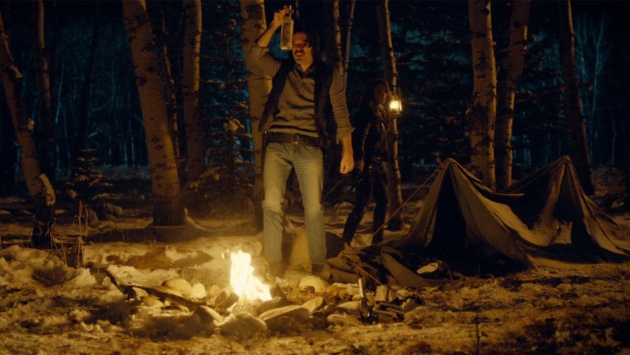 Image Credit: SyFy
Doc Wants a More Equal Partnership
Wynonna had actually come looking for Doc to see if he could help with identifying the seventh and final revenant - six are now 'dead' - in the picture of those who attacked her family, resulting in the death of her father and sister. Doc is not feeling very cooperative, and says that he nearly got his throat slit for helping the Earp heir - her. He wants a more equal partnership.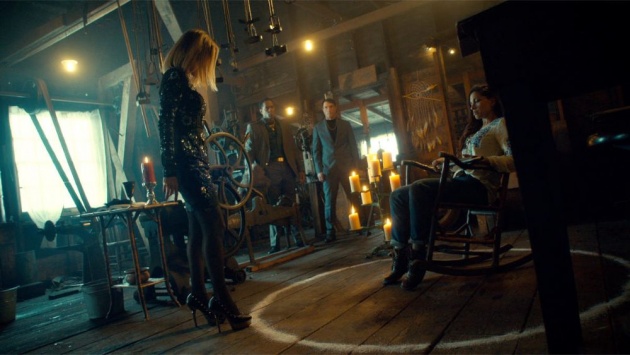 Image Credit: SyFy
The Stone Witch is After the Blacksmith
In the previous episode, "Constant Cravings", the Blacksmith, Mattie Perley, had bound Waverly to a skull left to her by her Uncle Curtis. In the process, Mattie had discovered that the skull belonged to the son of Constance Clootie, the Stone Witch. Which had panicked her. Mattie is asleep in a chair that's surrounded by a ring of salt when she jolts awake, as the Stone Witch has arrived. She tells Constance that she doesn't have what she wants; Constance can't cross the ring of salt either. She can, it seems, cast spells on Mattie even though she is in the circle. Surely the circle should keep harmful magic at bay as well?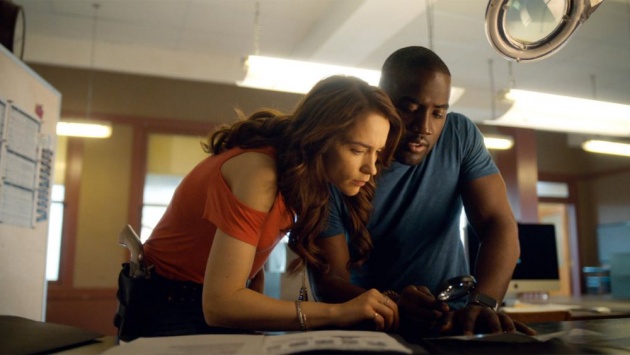 Image Credit: SyFy
Dolls May Recognise a Symbol
Waverly is in the bar and Wynonna asks if she's going to show the skull to Dolls. The answer is no; Curtis left the skull to Waverly and she doesn't trust the Black Badge division to give it back once they have it. At the sheriff's, Dolls examines the photo of the last revenant, and then Wynonna spots what appears to be a symbol of a spade on a ring. Dolls looks as if he might have recognised this, but goes to get Chinese.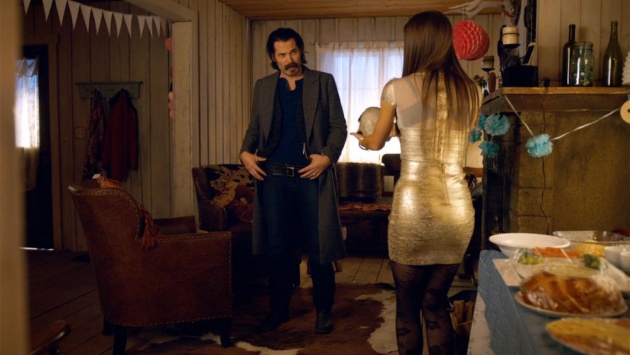 Image Credit: SyFy
Waverly is Throwing an Engagement Party
Waverly is decorating the Earp ranch when Doc shows up. She says she's throwing an engagement party that night, girls only, but Doc can stay on the ranch so he doesn't get murdered by revanants in his sleep. Waverly wants to show the other girls that she's normal, not a freak. Doc says that never ends well, involving normals. He also sees the skull, and examines it, telling Waverly that it isn't human. He also tells her that Bobo has assembled two skeletons - one of which is missing a head.
Dolls' Bosses Want a Chat With Him
Dolls has been some time with the Chinese, and eventually calls Wynonna to tell her that he's going away for some time. She tells him to say something if he's being held against his will, but he doesn't. Dolls is driven off by two men in black; given his reactions, they would appear to be from the same organisation. It has seemed that Dolls' bosses have wanted some proof of events, which he doesn't appear to have got as yet. They may not be happy with the lack of progress in the matter.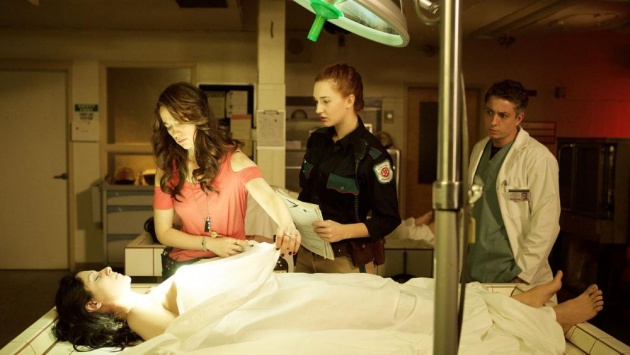 Image Credit: SyFy
Wynonna Wants to Look at Some Dead Girls
That evening, Wynonna is at the station when she notices that Officer Haught is still there. Officer 'Hot' would appear to have liked to go to Waverly's party too but, along with Wynonna, wasn't invited. So the two share a drink. Then Wynonna notices a case that Haught is working on, related to three dead girls. And says she needs to go to the morgue to see the bodies. Which appears to cause a nosebleed. There is something odd about the killings.
Trouble at the Ranch
At the Earp ranch, the Blacksmith, rather the worse for wear having finally succumbed to the Stone Witch, tells Doc that Constance is coming and that he needs to get Waverly to safety before she does. Mattie also tells Doc, after he promises to do so, how to possibly defeat Constance. Doc is rather fixated on his revenge, and would rather the Stone Witch turns up at the ranch so he can kill her than take Waverly away. Which endangers everyone.
There's a bit of a cliff-hanger ending leading into the next episode, "Two-Faced Jack".
Wynonna Earp Season One Trailer
Video Credit: AlexKost1223 via YouTube

More Blogs From This Television Series:
Want to earn from blogging on bitLanders? CLICK HERE to sign up and get a reward.