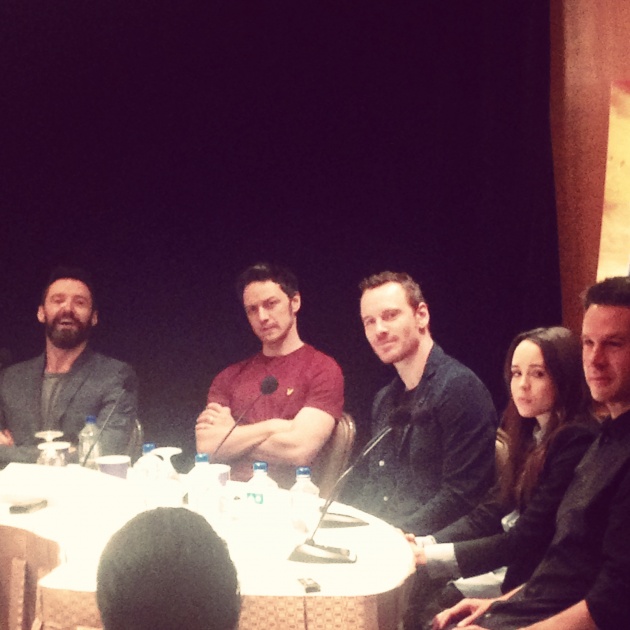 Yes, I know it's not that current, but I've been pretty busy preparing an article for Russian Cosmo. That's weird but Russians are so crazy about Fassbender, and only him! Basically they thrown away Hugh Jackman, James McAvoy, Ellen Page, Peter Dinklage and Patrick Stewart form my text, and kept only Michaels quotes... AND! (ATTN) played it out like he said that today in Moscow. I guess Cosmo just wasn't approved for the press-confrence. Well, I was. For the New York one.
I was talking to Michael for the second time already and can officially claim, that he's not the most charming and witty from all the X-Men cast. He is that type of actor that I call "template". Whatever you (or your colleagues) ask him, he would say: "That was a joy... a pleasure... fun... so wonderful... such an amazing experience... such a great actors." I kind of realize that those are the answers that had been discussed with producers and pr team, but there are some actors who can show their individuality though.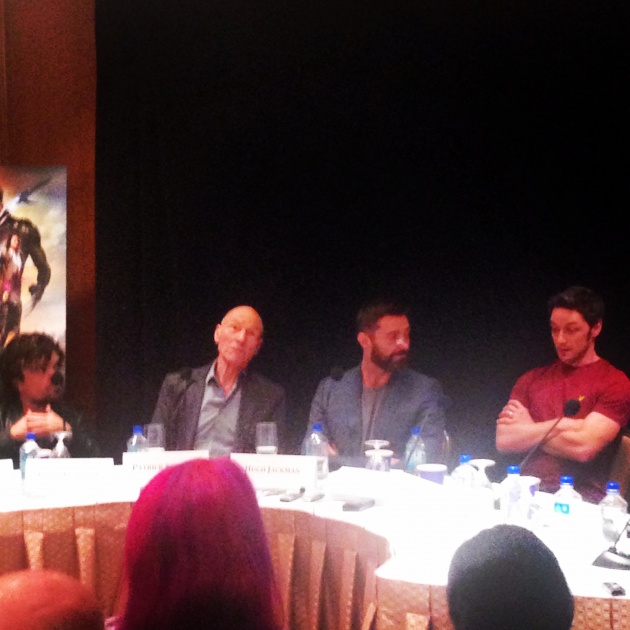 For example, Peter Dinklage has a very strong personality, his own opinion, thoughts and OMG! he is so sarcastic! That's the sign of great intellect, for sure. I encourage you to watch the movie, and you will be surprised to learn, that Peter doesn't think his character is a villain. "Define villain. He really believes that he is doing a right thing, he wants to save human kind worldwide and at the time of the Vietnam war, one of the worst wars in history, he thinks there is an opportunity to bring the world together. War profiteering that's what true villainy for me. The guy screaming at the tree in Central Park, he is crazy, and I get that being a New Yorker, but the guys down on Wall street in suits, that's villainy to me."
James McAvoy truly charmed me too. There is some kind if a competition between young and the "more experienced" X-Men cast and they moke each other. But James always wins.
Patrick Stewart: I really like to go back and shoot all the other movies again. Now that I know exactly where I came form and what I was, I could get so much of James McAvoy into that performance.
James: Everybody needs their own James McAvoy in them... I don't understand why are you laughing.
Anyway Patrick and James did a brilliant job with their nose-to-nose scene, it was a conversation between Professor X and his younger self form the past.
Patrick: You are looking into the eyes of yourself. It was James's day first on the movie, and it was my last day at work on the movie. My bags were packed I was ready to get out of there. I don't recall rehearsing it. We knew the lines, and they rolled the camera. It was forty minutes work, that's what I recall. I shouldn't have said that. I should have said we worked on that for weeks.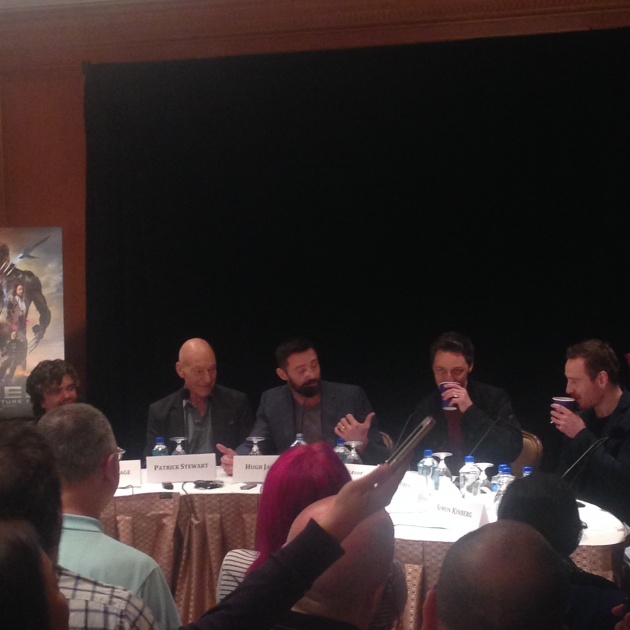 Hugh Jackman is so merged with Wolverine that he played his younger self by himself, like a boss. "For Wolverine going back into 70s is just perfect.! And I think Wolverine never wanna leave the 70s. The hair, the mutton chops, the clothes, the car. I mean the moment of Tears for Fears, Flock of Seagulls … just came along with him."
Also I have to speak of Ellen Page. She is not very enthusiastic of talking to journalists, but there is no need to. She is a good actor. That's what I think.
I really hope the awards will go to the "less experienced" cast of "X-Men: Days of Future Past" cis they rock!