Xcorps 27. CABO - FULL SHOW - Action sports in exotic locations is TheXcorps and this show delivers both in high doses with sports fishing off Cabo San Lucas Mexico, Baja offroad racing in the desert and spectacular fire dancing at the Melia Cabo beach resort.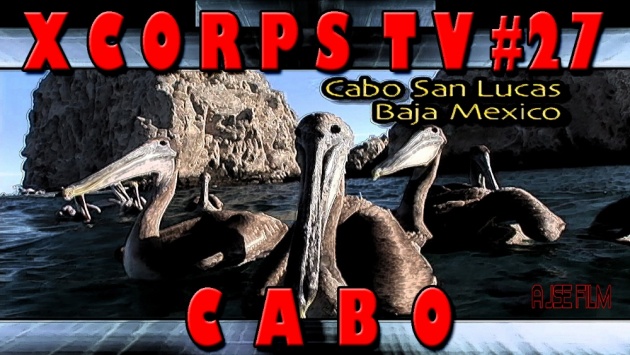 Xcorps 27. CABO - FULL SHOW
http://www.filmannex.com/movie/xcorps-27-cabo-full-show/51205/
The show opens with music from Maverick Records mega artist Alanis Morissette and XC front man host Bob Woodard in his element-on board captain Randy Hinton's Cabo sportsfisher-the Incognito- heading out into one of the best fishing areas on the planet- the Pacific ocean at the end of the scenic Baja peninsula 1000 miles south of San Diego Ca. Check out the action with Bob and the crew hooking up to striped Marlin in grand Hemingway style! Included are underwater shots of the huge fighting fish along and many scenes of local wildlife such as jumping Grey whales and giant flocks of pelicans. Xcorps promotes tag and release in sports fishing demonstrated by Bob wrestling one of the underwater monsters one handed-getting the hook back and sending it on its way in the mile deep waters below. Music from the So Cal band The Dorados and their song "Hooked On Hookin Up" fits the action like a glove. This band knows their fish songs!
The next segment rolls ashore and into the desert with Bob hooking up with Gala Ancona and Fernando Cancino from Baja Wide Open Adventures for some offroad race action. See the dust fly as Bob straps in and hits the test track with cool music and scenes from Les Claypool's Frog Brigade "Buzzards of Greenhill". Also here is an insane clip of XC host Rat Sult dragging his new V8 sand rod at Glamis dunes Ca. Another good fit thanks to the local Cabo buzzards and our friends at RIVE. After the break the action returns to the deck of the "Incognito" for more world class hookups with Bob and the boys landing and releasing 2 more Marlin for the X CAMS! After the sun sets its over to the resort for a special look at the nightlife in Cabo with Malabara an exotic fire dance team-performing. Slow camera shutter speeds capture the flowing fire action as the dancers spin fire to music from island irie legend Eddy Grant doing his song "Everything Irie". Cool hot stuff on Nikki Beach! The show wraps with Bob sampling a tasty seafood feast prepared by Melia cooks accompanied by a festive mariachi band jamming the classic song "La Bamba"! Viva Mexico! Additional music from Unloco.
A J.S.Edmondson Film 2/06 TrT-22:00
See the Action Hear the Music Join The X Corps! ©2014TheXcorps
Xcorps 27. CABO - FULL SHOW
http://www.filmannex.com/movie/xcorps-27-cabo-full-show/51205/