Xcorps TV X PRESS Saturday April 5, 2014 San Diego California
Xcorps MUSIC – EARLY JEWEL – now published on Film AnneX!
If you're a Jewel fan you will dig this featured video! Early Jewel…jamming out her early tunes at a Carlsbad California coffee house shot by Xcorps producer Stu Edmondson in 1994!
Xcorps MUSIC SPECIAL EARLY JEWEL 1994 – Early career 1994 video shoot of 20 year old Jewel performing live at a Carlsbad California coffee house music venue called The Art House.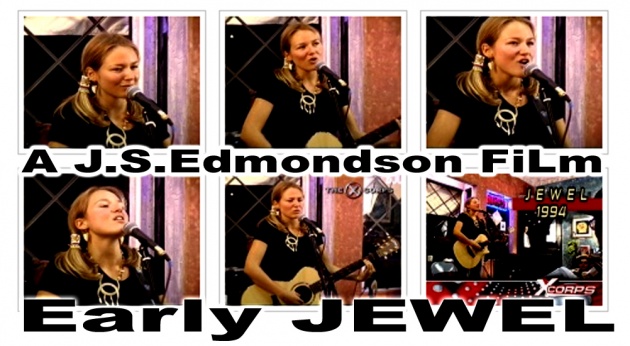 Xcorps MUSIC producer and host Jason Lazo open up this special local flashback segment featuring RARE well lit with good audio - video footage of Jewel gigging a local San Diego coffeehouse and thrilling those – including me – who happened to be lucky enough to be there seeing what was musically new on the scene!
Shot with a Sony VX-3 pro 3 chip HI-8 camera which was a pretty decent video camera in 1994 though the tape format had issues the lens was pretty sharp!
Xcorps producer and film maker Stu Edmondson was there at The Art House shooting the magic night of local music with a venue that included The Joel Raphael Band, Elizabeth Hummel Band, Gregory Page, Mary Dolan, NurfBall and Jewel. The question IS...who is the guy hanging outside watching through the window in this video!?
Stay tuned here on Xcorps MUSIC for a song from each of the artists that appeared that musical night in 1994!
Jewel Kilcher who was born in Utah and grew up in Alaska and moved to San Diego in 1983 performs the song "She Cries" in this video - to a full house audience at The Art House – a cool freestyle art gallery converted Euro styled house not far from downtown Carlsbad which in 1994 was part of the local San Diego musicians gig tour.
This particular local talent night was promoted by local Carlsbad radio station 95.9 KKOS. Both the Art House and KKOS radio are history now but both played a participating role in Jewels career moves from San Diego on to The World!
Xcorps MUSIC SPECIAL EARLY JEWEL in 1994
Stay tuned! See The Action Hear The Music Join The Xcorps!
TRT- 5:08 A J.S.Edmondson Film 1994
©2014 The Xcorps