Xcorps TV Adds Over 1000 PRESS Photos to FILM ANNEX
Xcorps Action Sports and Music TV has recently added over 1000 photo's representing all 55 current episodes of the broadcast TV series to the FA platform.
Film Annex is the online film and blogging platform of choice for Xcorps.
The FA revenue sharing concept with filmmakers, bloggers, and viewers is one of the few fair and real online publishing options and Xcorps TV has now chosen FA now to feature 1200+ promotional press photos taken from the actual video footage from each Xcorps episode 1-55.  Xcorps is very happy to feature these great action and music photographs as part of 55 NEW PHOTO ALBUMS created to contain these press shots.
Film Annex must be complimented on the creation of its great PHOTO GALLERY platform which is well designed with easy responsive functions and ease of uploads and deleting of files with minimal steps. Creating 55 individual new photo galleries and uploading over 1200 photo files to these galleries - though taking almost a week - was entertaining and went on with the least of frustrations! In other words it was FUN making these photo albums and publishing them to the world on Film AnneX!
Xcorps is happy to find a place for these PRESS photos and promo POSTERS representing over 10 years of shooting our action sports TV series! We hope our viewers will enjoy them as well and blog them on along with FA video links!
The Xcorps is a half hour journalistic action sports TV news and music mediazine created by Stuart Edmondson in August of 2001. The broadcast network format TV show currently airs 55 half hour format episodes worldwide on broadcast, cable and satellite TV as well as on multiple online video platforms. Film Annex is THE PLATFORM of choice for Xcorps to promote with direct portal links from the Xcorps website directly to FA. Production is on going so STAY TUNED to Film Annex for our newest releases!
Xcorps is a 5 segment broadcast TV show focusing on non traditional action sports and music along with motor sports and is edited with music videos and is hosted by a fun reporter team who ARE The X Corps!
See The Action Hear The Music Join The Xcorps!
©2013 TheXcorps
 XCORPS TV FILM ANNEX PAGE
http://www.filmannex.com/galleries/browse/Xcorps/1
http://www.filmannex.com/galleries/browse/Xcorps/2
http://www.filmannex.com/galleries/browse/Xcorps/3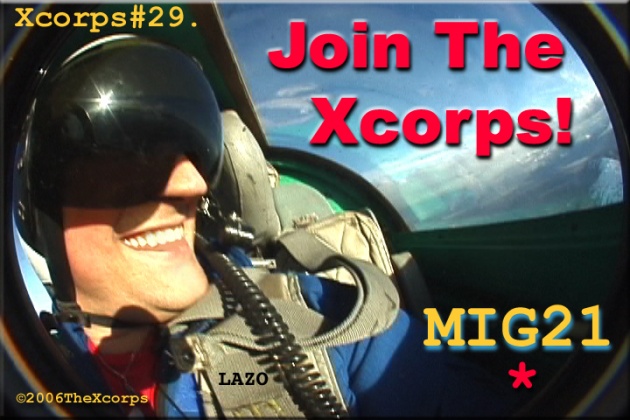 XC#1.INVERT – BMX bike action and Tony Hawk skating
XC#2.BASE – BASE jumping Kjerag Norway with Ray Murphy
XC#3.SNOWBIKE – Snow Biking Big Bear California with Eric Ducharme
XC#4.AIRBORNE – Xcorps hosts Roslyn and Jason First Skydive Perris CA
XC#5.PAINTBALL – Paintball marker action with team Xcorps
XC#6.MX – MX action with Mike Metzger and the MX Girls
XC#7.SPEEDSKI – Long Beach to Catalina Speed Waterski Races
XC#8.SURF – Early days of PIPELINE with Gerry Lopez
XC#9.SUPERBIKE – Superbikes at the California Speedway and BASE Jumping
XC#10.HAWAII – Blue Marlin fishing in Hawaii with Bob Woodard
XC#11.MTN.HIGH – Winter Action at Mountain High resort Ca
XC#12.LUGE – Barrett Junction Shootout Street Luge Racing
XC#13.WHEELMAN – Rim Drive Foot Motorcycle
XC#14.BASE 2 – BASE Jumping Mexico Cave of Swallows
XC#15.RAT – Wild XMAN Rat Sult Street Luges For Xcorps
XC#16.The MUSIC – Jason and Roslyn host a Music Special
XC#17.MOTOWN – Jason Lazo in Detroit Bob Woodard Rides Powerski
XC#18.MTN.BOARD – Off Road Skate Action Mountain Board
XC#19.DUNES – High Powered Sand Rods at The Glamis Dunes
XC#20.XPO – Extreme Action Sports Circus Del Mar California
XC#21.ASR – Action Sports Retail Convention San Diego
XC#22.WAKEBOARD – Pro Wakeboard Action at Lake Elsinore Ca
XC#23.XBIKE – Snow Bike Action with Rat Sult at Mount Baldy Ca
XC#24.RCX – Remote Control Racing with Rat Sult in Temecula Ca
XC#25.MOTOSK8 – Motorized Inline Skating in California
XC#26.WAKE 2 – Pro Wakeboarding with Wakeworld
XC#27.CABO – Marlin Fishing and Dune Buggies in Cabo Mexico
XC#28.WINTER X – Snowsports Tom Whitaker Climbs Everest
XC#29.MIG21 – Xcorps Host Jason Lazo Flies a Russian Mig-21
XC#30.BMX – Riding BMX with Rick Thorne at Fade To Black
XC#31.THUNDERBOATS – Hydo Boat Racing in San Diego
XC#32.DUNES 2 – Sand Vehicles at Glamis Dunes Ca
XC#33.WAKE 3 – Pro Wake Boarding Lake Elsinore Ca
XC#34.TOTAL COMBAT – MMA Fighting in San Diego
XC#35.VIPER – Rat Sult Sand Vehicles Glamis Dunes Ca
XC#36.SKATE –  Steve Caballero Skate Event in San Diego
XC#37.XCORR-1 – Offroad Outdoor Track Truck Racing
XC#38.XCORR-2 - Offroad Outdoor Track Truck Racing
XC#39.SPEED – Bonneville Salt Flats SPEEDWEEK
XC#40.HELLS CANYON – Jet Boat Fishing Snake River Idaho
XC#41.HAWAIIMANA – Surfing Hawaii with Hawaiimana
XC#42.) MX GIRLS – Michelle Johnson and the MX Girls
XC#43.) MUSCLE CAR – Hot Rods and The Unit
XC#44.) PADDLEBOARD – Surfing With Garrett McNamarra
XC#45.) SKATEPIPE –  Steve Alba Skating The Pipe Upland Ca
XC#46.) SNOWBIKE-2 – Snow Biking Big Bear and Mountain High
XC#47.) BIG AIR – X Riders FMX Action in Del Mar Ca
XC#48.) ROAD TOUR-1 – Xcorps Cross Country Tour
XC#49.) ROAD TOUR-2 - Xcorps Cross Country Tour
XC#50.) X DRAGS – Drag Racing at Barona Race Track Ca
XC#51.) SKATE X – Coastal Carnage Skate Action Ca
XC#52.) MARKER X – Paintball Wars Camp Pendleton Ca
XC#53.) WHITEBIRD – Jetboating and Camping Hells Canyon Idaho.
XC#54.) AEROBATS – Aerobatic Stunt Plane Competition
XC#55.) NITRO CIRCUS – Extreme Circus starring Travis Pastarana
 SEE THE ACTION HEAR THE MUSIC JOIN THE XCORPS!
©2013 The Xcorps 1106 2nd Street #406
Encinitas Ca 92024 Tel.619-223-8659